The Return of Romney
He has become the most effective Republican surrogate for the midterms, going 6-0 in contested primaries.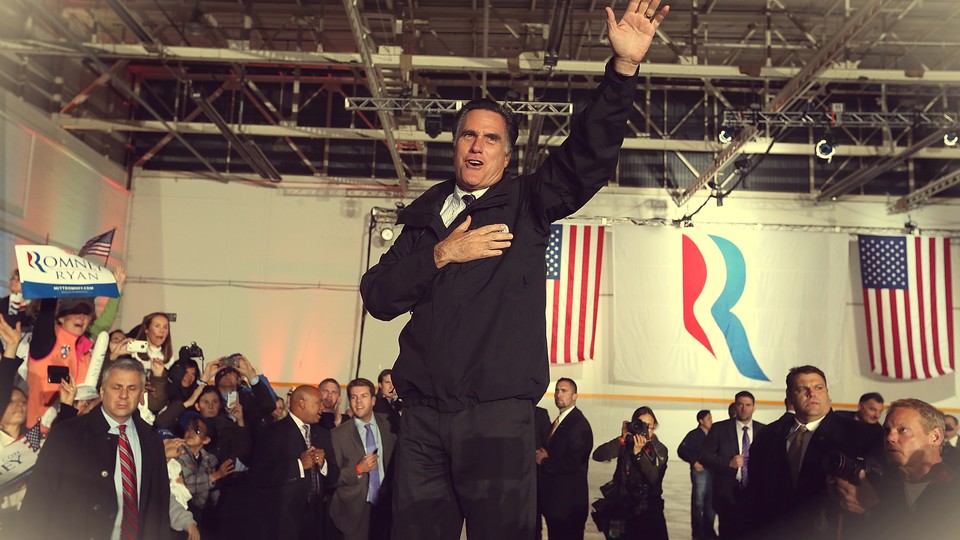 Looking for another sign that the Republican establishment is holding the upper hand in contested GOP primaries? Mitt Romney has been the most effective Republican surrogate on the campaign trail this year.
Just review the results: In races where he's endorsed 2014 candidates facing competitive primary challenges, he's undefeated so far. He was the star of a U.S. Chamber of Commerce ad endorsing Rep. Mike Simpson of Idaho that aired in mid-April, around the same time the congressman pulled away from his tea-party-backed challenger Bryan Smith. He backed pediatric neurosurgeon Monica Wehby in the Oregon Senate race, giving the political outsider a degree of establishment credibility. And he was one of the first Republican officials to jump on the Joni Ernst bandwagon in Iowa, endorsing the upstart Senate candidate when she was still lagging in the polls. (He's headlining two events for Ernst on Friday in Cedar Rapids and Davenport, his first campaign rallies of the cycle.)
While many politicians endorse candidates who are safe bets to win primaries, the normally risk-averse Romney has eagerly put his reputation on the line, backing candidates in next month's primaries who face challenging odds. In California, Neel Kashkari is vying to finish ahead of tea-party candidate Tim Donnelly in the governor's race, while Romney-endorsed Nevada state Sen. Mark Hutchison is hoping to defeat former Senate candidate Sue Lowden in the state's lieutenant governor's primary. In Colorado, he weighed in on behalf of former Rep. Bob Beauprez, running in a competitive gubernatorial primary. And Romney just announced support for former Paul Ryan aide Elise Stefanik, facing well-funded opposition running for a New York congressional seat from GOP businessman Matt Doheny.
"He's not afraid to make a choice. He sees a candidate who he thinks will be good and have a shot at winning, he's going to get involved," said Tom Rath, a longtime Romney adviser who remains in touch with the former presidential nominee. "He's a very smart guy. He understands the process now, and sees the difference outside validation can make if it's done the right away and it's done early enough."
The normally risk-averse Romney has eagerly put his reputation on the line, backing candidates who face challenging odds.
To be sure, Romney's effectiveness stems more from the GOP establishment's growing success over grassroots conservatives, more than his own individual influence. His favored candidates include many longtime allies, including Virginia Senate candidate Ed Gillespie, Romney's 2012 senior adviser; Virginia state Del. Barbara Comstock, a Romney staffer in 2008; California state Sen. Tony Strickland, a former Romney California state chairman running for Congress; and Stefanik. But they also contain some up-and-coming prospects, like Ernst and Wehby, along with leading Senate challengers like former Sen. Scott Brown in New Hampshire, Rep. Bill Cassidy in Louisiana, and Rep. Steve Daines in Montana.
Romney's successful postpresidential campaign involvement is a reminder that for all the tea-party influence within the GOP, there's a "Romney wing" of the party that's alive and well even past the candidate's sell-by date. The Washington Post's Dan Balz wrote a thought-provoking column in March, arguing that "somewhat conservative" voters make up the largest faction within the party. "These voters like candidates with governing experience who have conservative values but do not push radical policies and are optimistic about the country. They reject culture warriors," Balz wrote. It's a good description of the candidates Romney has backed this election year.
Indeed, the lineup of Republican Senate candidates in 2014 reflects a degree of country-club Republicanism, based on their biographies, if not their ideology. Three of the party's nominees have, like Romney, career experience with blue-chip consulting firms. In North Carolina, Thom Tillis served as a partner at PriceWaterhouseCoopers before pursuing a political career, first running for office to get a mountain-bike path built in his hometown. Conservative favorites Ben Sasse and Tom Cotton spent stints at McKinsey & Company, employing Romney-like career tracks before jumping into politics.
Romney himself will be attending a National Republican Senatorial Committee fundraiser on June 9 in New York, according to The Washington Post. And later in the month, he's hosting a retreat on the future of American leadership at his mansion in Park City, Utah, inviting leading prospective contenders in 2016 to attend.
"Mitt's the closest thing we have to a party elder right now, someone who's been through the fire. His stature is presidential, and I think people miss that," said Rath. "He lost an election, but he didn't lose interest. He really does have concern about the direction the country's headed."