The Primaries That Could Determine the Future of the House
Because these districts are not battlegrounds in the traditional sense, the campaigns aren't getting much attention. But the ultimate effects could be enormous.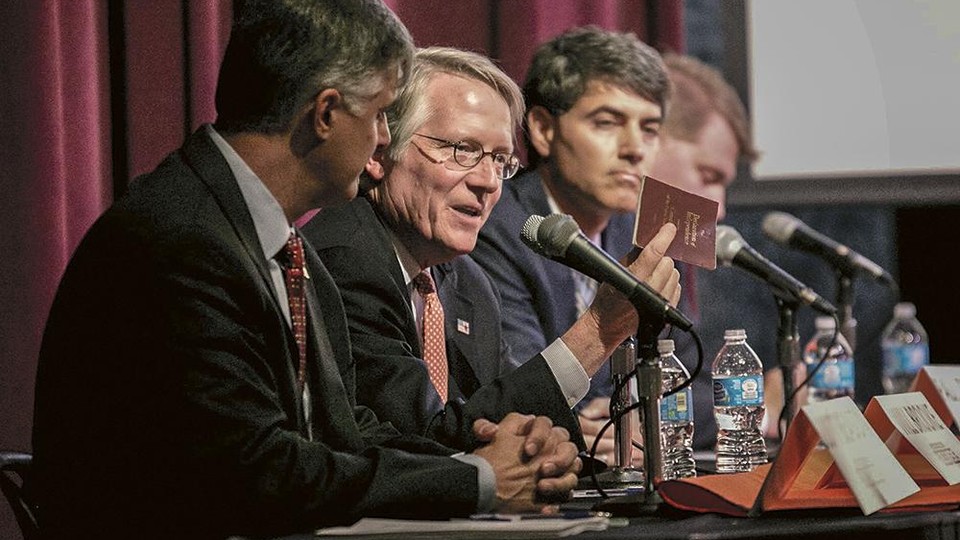 In Mountain Brook, Ala., on a recent Wednesday, Will Brooke — a bespectacled businessman who is running in the GOP primary in his state's 6th Congressional District — speaks to a crowd in the driveway of his sister-in-law's tree-ringed house. "You're going to elect a Republican in Alabama 6. Period. End of story," he says. "We will send a Republican to Congress. So if you're going to send one, send a good one."
It's a pretty fair summation of the stakes in Alabama's 6th. The district is among the safest Republican seats in the country: The current GOP House member, Spencer Bachus, never got less than 70 percent of the vote during his two decades in office. Bachus is retiring, opening the way for seven would-be successors who are crisscrossing the district for votes ahead of the Republican primary on June 3. Whoever wins is virtually guaranteed to coast to victory in November.
Brooke carries a copy of the Declaration of Independence and the Constitution in his jacket pocket, and his first big introduction to voters was a self-described "silly video" in which he fired increasingly large-caliber bullets through a copy of the Affordable Care Act before finally tossing the damaged remains into a wood-chipper. Yet the candidate — who says he agrees with tea-party ideas but prefers to label himself "a solutions guy" — isn't conservative enough for everyone in the district. Chad Mathis, a smiley-faced orthopedic surgeon, has gathered significant support from what you might call the tea-party establishment — the Madison Project, FreedomWorks, the Senate Conservatives Fund. On May 1, the powerful Club for Growth endorsed him. "He's the ideal candidate we look for in races like this," a spokesman for the group, Barney Keller, told me, comparing him to Ted Cruz and other conservative firebrands.
In Washington, the headline fight this year is for control of the Senate, and the stakes don't look as high in the House of Representatives, where Republicans' 17-seat majority appears quite safe. But the true undercard to the Senate fight isn't the tug-of-war between Democrats and Republicans over a dwindling number of purple districts. It's the primary campaigns in open safe seats like Alabama's 6th. Because these districts are not battlegrounds in the traditional sense, the campaigns for them aren't getting much attention. And they're not as sexy as primary challenges to incumbents. But the ultimate effects could be enormous. "Our goal is not to beat incumbent Republicans in primaries," Keller says. "Our goal is to build a sustainable pro-growth majority of the majority, and the way we do that is by focusing on what we call 'A' races: safe open Republican House seats."
There will be at least 45 open House seats throughout the country this year; you could call as many as 23 of them virtually safe Republican districts, with another 15 highly likely to be permanently Democratic. Those 23 new Republicans will represent something close to 10 percent of the House GOP majority next year.
Who wins these elections could have a dramatic effect on governing. All but two of the retiring Republicans supported Speaker John Boehner's reelection in January 2013; many of the Republicans running for open seats are noncommittal or even openly hostile to the idea of him retaining the gavel in 2015. Moreover, of the 80 House signatories to the letter demanding that Obamacare be defunded before the government shutdown last year, nearly half were first- or second-term Republicans from safe seats, as is the member who circulated the letter, freshman Rep. Mark Meadows of North Carolina.
Bachus has been a fairly reliable vote for the GOP leadership during his career. As members like him head to the exits, small pockets of Republican voters are about to determine what the House GOP will look like going forward.
BATTLEGROUND: ALABAMA
Alabama's 6th could make a reasonable claim to being the capital of Red America: The region gave George W. Bush his second-highest margin outside his home state of Texas in 2000, and it was among the staunchest slices of anti-Obama territory in the last two presidential elections.
These statistics came to life at an April radio forum in a local high school auditorium — an even better place than the cafeteria, on that particular Monday, to get red meat on campus. The seven Republican candidates took turns over 90 minutes agreeing with each other about flattening income tax rates, cutting the deficit, repealing and replacing Obamacare, stopping new federal regulations and rolling back old ones, and eliminating the Education Department.
About an hour into the program, one of the moderators asked if any of the candidates supported the Common Core educational standards — a program that has become exceedingly controversial among the GOP base. None of the candidates raised a hand or voiced support, and the silence quickly gave way to applause from the audience, the only such interruption of the event.
No one is likely to win a majority of the vote in the crowded June primary, so the top two candidates will probably be headed for a runoff in July. Public and private polling shows that of the seven candidates, four have real shots at winning. They come from different backgrounds — and geographically distinct parts of the district. The 6th boomerangs around downtown Birmingham like a backwards "C," excising most of the metro area's sizable African-American population. The gerrymandered borders take in wealthy, heavily white suburbs, none better-off than Mountain Brook — or, as some next-door neighbors call it, "the Tiny Kingdom." Mountain Brook is one of the country's richest enclaves, home to about 20,000 people and two country clubs. The average household in the rest of the district makes less than half as much as one from here.
The town is Will Brooke's home court. Noticeably more of Brooke's campaign signs sprout from front lawns as soon as you cross into the Tiny Kingdom, where nearly half of his donations originate and where many of his fellow business executives make their homes. Brooke's business and political experience are intertwined: He once chaired the state chamber of commerce, and in 2010 he ran the group's political action committee. Brooke's personal wealth has played a key role in his campaign, giving him some of the resources necessary to beam his previously little-known face to local TVs. His "solutions-oriented" approach may not include everything prescribed by his old organization, the Business Council of Alabama, but it's impossible to call him anything other than a business candidate.
State Rep. Paul DeMarco represents part of Mountain Brook but lives in nearby Homewood, one of many neighboring suburbs that are plenty comfortable, if not quite as affluent. A lawyer by trade and a member of his local chambers of commerce, he has doggedly built himself a foundation for his congressional run. DeMarco has spent nearly a decade in the state Capitol, and he is a lanky, eager fixture at community events all over his district — and beyond. "He's everywhere at once," says Alabama political consultant Brent Buchanan.
One evening in late April, DeMarco gave a stump speech to five men gathered in the meeting room at a firehouse in Mount Olive, a small, rural community north of Birmingham. The attendees, who were there for a fire-district meeting, greeted the candidate knowingly, even though they are miles from his state legislative district. DeMarco has helped them with grants, and they've taken notice of his work. "A lot of the stuff he's been doing in the Legislature is just commonsense stuff," said Dwight Sloan, the president of the fire-district board.
After attending other events that evening, DeMarco returned home, ate a peanut-butter-and-jelly sandwich for dinner a few hours before midnight, and rose early to cut a ribbon over the results of a different grant: new playground equipment at an elementary school. Off to the side, a small new sign bears DeMarco's name. Whether because of all this political groundwork, or because of his well-stocked campaign account, DeMarco is at or near the top of every survey of the district's GOP voters.
Mountain Brook, Homewood, and the like are packed about as full as can be, so much of the recent growth in Birmingham's booming suburbs has taken place farther south, in Shelby County, which has doubled in population over the last 20 years. Winding residential lanes curl far into the green hills that flank the main roads heading south from Birmingham, filling up more and more each year with additional Republican voters. "I think you would say fairly close to eight or nine out of 10 voters are Republicans in Shelby County," Freddy Ard, a Birmingham construction-company manager who moonlights as the county GOP chairman, says with a hint of pride. His county was the plaintiff in last year's Supreme Court decision striking down a part of the Voting Rights Act that required federal supervision of Alabama's redistricting and other election activity.
Just as Shelby County has a more spread-out, newer feel to it than the older communities closer to Birmingham, Chad Mathis has the feel of a newer style of Republican primary contender. While DeMarco made local connections in his legislative capacity and Brooke did the same through the business world, Mathis has laid a different kind of groundwork: He forged ties with some of the national conservative groups that eventually endorsed him while volunteering on Ted Cruz's Senate bid and other efforts. In this campaign, Mathis has taken on the role of defender of the faith, running radio ads criticizing his GOP opponents for past proposals, donations, and votes that broke from conservative orthodoxy.
The current representative isn't immune, either. Mathis's website says his frustration with the Wall Street bailouts of 2008 inspired him to get more involved in politics. Bachus, who chaired the Financial Services Committee for two years, bucked most of his congressional Republican colleagues and supported the proposal despite intense opposition from constituents. To critics, votes like that demonstrate when a safe Republican seat is being wasted. "I think we have to really focus on building a stronger conservative coalition in the House," Mathis told me.
State Sen. Scott Beason comes from the more rural, northern section of the district, where he has established a reputation as a hard-line conservative in the state Legislature. In numerous cases, as with his recent bill allowing employees to keep guns locked in their cars at work (which passed the state Senate but died in the House), this has put Beason in conflict with Alabama's business lobby — but endeared him to a grassroots conservative following. "I have sponsored and passed legislation through the years that some people deem controversial," Beason says. "The interesting thing is, 80 percent of Alabamians support those measures."
He has also said some controversial things: While wearing a wire for an FBI corruption investigation in the Legislature, Beason called African-American casino patrons "aborigines" and lost his committee chairmanship in the ensuing uproar. But that didn't stop him from winning a quarter of the vote in a primary challenge against Bachus in 2012, and his last-second entrance into this race could prove a problem for Mathis, whose campaign seeks some of the same voters. Beason's lack of campaign funds probably limits the percentage of the electorate he can capture — but in a crowded primary, he needs only a fraction of the vote to make a runoff.
The U.S. Chamber of Commerce endorsed Bachus over Beason in 2012, and he could attract more opposition again in 2014 if it looks like his campaign is making moves. So could Mathis; like magnets, the outside groups supporting him seem to draw the same antagonists from the traditional Republican establishment wherever they go.
Establishment money isn't everything, however. Outside establishment groups went in big for Republican Bradley Byrne in a special election in southern Alabama late last year when the controversial tea partier he matched up with in the GOP primary runoff, Dean Young, appeared to be running too close for comfort. Byrne won, but his 4-point margin against the baggage-laden Young still frayed nerves.
WIDER ISSUE
Alabama is only one example of the fierce fight underway for safe, open House seats. In Georgia, the rush of candidates hungrily eyeing the Senate has left three unassailably Republican House seats open for new representation. And under-the-radar fights in all three districts mirror the rifts in the national Republican Party. Bob Johnson and Barry Loudermilk, candidates in two of the districts, are explicitly running against Boehner's continued leadership. (Reps. Jack Kingston and Phil Gingrey, the men they are trying to succeed, both voted for the speaker in 2011 and 2013.)
"In all three of these races, you have the potential for either more establishment, chamber-type conservative Republicans getting elected, or more of these firebrand, tea-party-type folks," says Joel McElhannon, a GOP strategist in the state. A Republican strategist in Washington puts it more vividly: "Honestly, the biggest primary problem we have is Georgia — not the Senate but the House. It's a clown show, and there's no way around it."
McElhannon works with candidates in two of the open districts and lives and votes in the third. He may be tracking the Georgia congressional races more closely than anyone. Yet even he can't claim much insight into the potential outcomes. "Frankly," he says, "it's hard for anyone to know what's going on, because nobody can do much advertising."
The Senate race and Gov. Nathan Deal's reelection run have sucked up most of the state's political funds, making the House campaigns hard-to-parse grassroots affairs. That means the eventual result could surprise. It also means an outside group with a few hundred thousand bucks to spare could step in and easily become the loudest voice in the room on the question of who gets a shot at a lifetime congressional gig.
This is exactly what happened in two early primaries, one in North Carolina and one in West Virginia — but with opposing results. In North Carolina's conservative 7th District, where Democratic Rep. Mike McIntyre is retiring, the real contest was the primary battle between Republicans David Rouzer and Woody White. White criticized Rouzer for getting support from House Minority Leader Eric Cantor and other Washington Republicans and called him soft on immigration; in response, three establishment-oriented groups spent nearly $500,000 on late, unanswered advertising bashing White. In the end, Rouzer won convincingly.
In West Virginia, by contrast, the Senate Conservatives Fund led a collection of antiestablishment outside groups directing several hundred thousand dollars into the 2nd District on behalf of Alex Mooney, one of seven Republicans gunning for the open seat there. This week, Mooney claimed the nomination.
MIRROR IMAGE
The internal battle over open safe seats comes with lower stakes on the Democratic side, given that the party is unlikely to win control of the House this year. Nevertheless, there are still plenty of safe Democratic seats up for grabs, as well as plenty of people who want to win them — and the outcome will help shape the party's future in Washington.
No group is taking a keener interest in those seats than EMILY's List. The organization has one goal: Elect pro-abortion-rights Democratic women to local, state, and federal office. "Because of the way things look right now, we could add to the ranks of Democratic women even if it's a tough uphill battle for Democrats overall," says one strategist who works with the PAC.
The number of Democratic women in the House has increased fivefold since EMILY's List formed in 1985, according to tracking by Rutgers University's Center for American Women and Politics. Societal shifts can take much of the credit, but EMILY's List has also played a key role in the transformation. And while plenty of candidates endorsed by the group contest and win battleground seats, arguably its biggest gains have come from helping women advance through lower-budget primaries in safe Democratic districts. That's where the money the organization raises from its 3-million-member list goes furthest.
In 2012, contributions from EMILY's List members helped keep Democrat Michelle Lujan Grisham's campaign afloat when she was running in third place in an open House primary in New Mexico. As the race between two male front-runners turned nasty, Lujan Grisham rocketed into the lead, with the help of $100,000 in independent spending by a division of EMILY's List. She now has a second-floor office at the Capitol.
This year, EMILY's List has already endorsed candidates in more than half of the safely Democratic open-seat primaries. In North Carolina, the group helped state Rep. Alma Adams win her crowded primary, without a runoff, in early May. After supporting Wendy Greuel in her losing bid to become the first female mayor of Los Angeles in 2013, EMILY's List is now trying to help her take over retiring Rep. Henry Waxman's safe seat. In Arizona, Maricopa County Supervisor Mary Rose Wilcox has the group's support ahead of her run for a deep-blue district in Phoenix.
As hundreds of Democrats, including some prominent male lawmakers, flooded a Washington hotel ballroom at the end of April to fete EMILY's List, Wilcox spoke about her — and her allies' — rationale for getting involved in a congressional seat guaranteed to stay Democratic. "Women bring a different perspective," she said. Their perspective is gaining influence within Capitol Hill's Democratic caucus, which is now almost one-third female. That proportion will likely be even higher when Democrats someday reacquire the House majority.
BOEHNER'S FUTURE
Back in Alabama, the candidate forum at the high school auditorium is over, and Chad Mathis is taking a minute to ponder what the future holds for John Boehner and other House Republican leaders. Mathis, who hasn't taken a position on the House GOP leadership, says, "It's going to be interesting what happens with that over the next session."
"I don't know what's going to happen now," he adds. "I'm just focusing on trying to get there."
Although "interesting" might be a bit of an understatement, Mathis is right: We don't know what will happen to Boehner in 2015. But we don't need to wait until the next Congress to start making educated guesses. The answers will play out across the country over the course of this primary season.
---
Brian McGill contributed to this article