The Odd Couple Behind the Push to Build a National Women's History Museum
Marsha Blackburn seems like an unlikely partner for Carolyn Maloney's long-standing legislative effort, but she may be just the ally Maloney needs.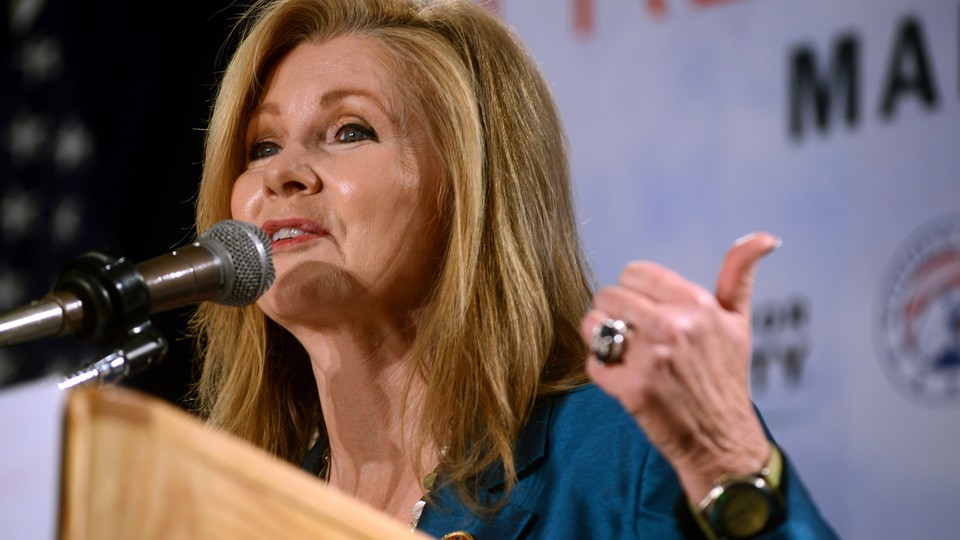 At first blush, it's comedic — New York Democrat Carolyn Maloney and Tennessee Republican Marsha Blackburn seldom agree on anything. Now, finally, the two House members have found some common ground. Not that it was easy.
Maloney's a staunch gun-safety advocate; Blackburn's pro-NRA. Maloney supports Obamacare; Blackburn voted for repeal. Maloney's pro-abortion rights; Blackburn opposes abortion. Maloney's liberal even for New York; Blackburn's repeatedly scored 100 percent on American Conservative Union's ratings of Congress.
But if, as Madeleine Albright once said, "There's a special place in hell for women that don't help other women," Maloney and Blackburn won't be found there. The conservative and progressive lions have come together to promote an effort to build a national women's history museum.
The bill, which would authorize exploration for a museum site, will come up for a vote before the House on Wednesday.
"Quite frankly I'm amazed that there's not a major museum anywhere dedicated to the achievements and contributions of women," said Maloney, who first proposed the project in the late 1990s and has been fighting to get a bill passed ever since. Now she may finally have the ally she needs.
While critics note that dozens of museums devoted to women's history already exist, Maloney says that's simply not true. There are museums that honor women's contributions in specific areas — for example, in the arts. But there's no space chronicling women's overall achievements in fields as diverse as math, science, and public policy.
The bill has been gaining momentum since the beginning of the year, picking up 48 cosponsors and the support of House Majority Leader Eric Cantor. Given a midterm-election year in which both Democrats and Republicans are seeking to make inroads with women voters, the museum project could find strong support in both chambers.
"It shows what freedom and opportunity do for women, and it's a manner in which the accomplishment of women can be chronicled," Blackburn told National Journal. While she's staunchly antiabortion and doesn't identify as a feminist "at all," she says she's always looking for ways to encourage women to seek opportunity and further themselves. And the aim of her book, Life Equity, she notes, is to help women translate their skills to success in the workplace.
Another conservative leader, Rep. Renee Ellmers, who's facing a primary challenge from economic commentator Frank Roche, recently penned an editorial praising the effort as well.
Ellmers, like Blackburn, is not someone who's typically an ally of Maloney's, and that is something she's decidedly proud of. "Women contribute in this country and they're conservative, they're moderate, they're liberal, and they're all shapes and sizes," Maloney told National Journal. "This is a museum for all women and it's important that all voices are part of creating it and will be part of seeing it through."
The alliance is also, of course, strategic. Antiabortion groups have voiced concern that the museum could serve as a rallying point for abortion groups, and the involvement of a conservative with Blackburn's antiabortion bonafides helps assuage that fear.
Current estimates for the cost of building the museum range from $300 million to $500 million, in addition to $1 million to support the exploratory commission that Maloney's bill would establish. While the project would be financed by private funds, it still needs congressional approval to be built on federal land.
If it finds a home on the National Mall, as Maloney is hoping, it would be one of the few museums there that doesn't rely on any taxpayer money. "We're used to wearing high heels and walking backwards and multitasking all the time," Maloney quipped. "So what's new that there's a more difficult standard in the creation of a women's museum?"