The Most Influential Jobs Bill You've Never Heard Of
Could an overhaul of the Workforce Investment Act be a key to solving unemployment?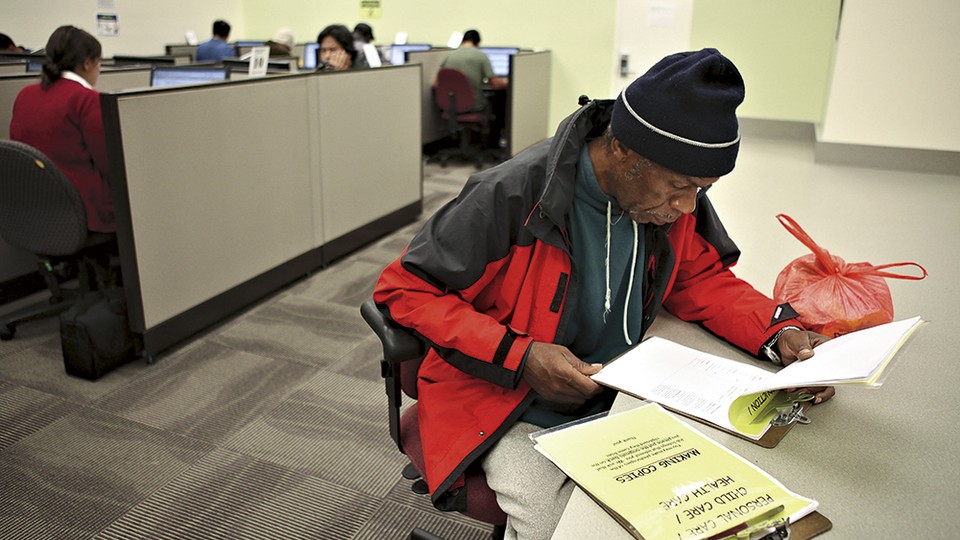 It's the most influential jobs bill you've never heard of, and this summer it might be updated for the first time in 14 years.
When the Workforce Investment Act was signed by President Clinton in 1998, the idea was to consolidate what had typically been separate state offices — the unemployment office, the job-listings office, the training-services office, sometimes even the welfare office — into One-Stop Career Centers, in order to help more Americans connect with employers' needs. But Congress has ignored the law since it went into effect in 2000, and lawmakers and advocates say it badly needs a face-lift. Its focus on short-term training and rapid reemployment for laid-off workers is outdated, according to the National Skills Coalition, a job-training advocacy group.
The act grew out of a debate in the mid-1990s. After Clinton signed the welfare-reform law that for the first time linked welfare benefits to jobs and training, policymakers turned a critical eye toward existing government training programs and found them disconnected from the job market. The Workforce Investment Act sought to get businesses more involved in the system. It also imposed reporting requirements on the One-Stop Career Centers, mandating that they track employment outcomes for the people they served — but not whether those receiving job training were also taking college classes or pursuing a certificate, for example. Thus, it prioritized immediate employment over investments in long-term job-readiness.
Congressional staffers say that the law's emphasis on employment outcomes also paradoxically made it harder for the One-Stop Career Centers to provide services to the very people it was intended to help, such as low-income youth, or adults who need remedial schoolwork or help with child care. Directing a self-sufficient client to a job-listing kiosk, available at all One-Stops is, after all, a more efficient route to success than providing individual attention or intensive job training to a client who is especially hard to employ.
Lawmakers want to clear up these problems. Republicans and Democrats in both the House and the Senate want the new Workforce Investment Act to encourage every One-Stop Career Center to offer more types of training to more clients. What's more, both the House and Senate bills say clients should be getting some sort of degree or certificate, and that it's OK if that process takes a few years. Under the proposed changes, that wouldn't count against a One-Stop's year-end tally of clients and their employment outcomes.
There are disagreements between the two chambers. The House passed its version of the legislation last year along party lines, with only two Democrats voting in favor of it; Democrats say Republicans gutted the law. A more bipartisan effort passed the Senate Health, Education, Labor, and Pensions Committee last summer on an 18-3 vote. While the House bill combines 35 different job-training programs into one and gives states money in the form of block grants, the Senate version retains most of the original law's programs, consolidating only five.
At first glance, differences seem irreconcilable, but aides say the negotiators, including Sen. Patty Murray, D-Wash., and Rep. John Kline, R-Minn., are actually pretty close on many thorny issues. They all acknowledge that some of the current law's 47 separate programs will have to go. Many of the programs are tailored to serve specific populations — youth, laid-off workers, disabled job seekers, veterans — but the Government Accountability Office says they are overly duplicative. The final deal won't consolidate all the programs into to a single block grant, but the two sides can meet in the middle, aides say.
If negotiators are able to reach a deal in the next several weeks, their compromise could be on the Senate floor sometime this summer. With House members involved in the talks now, that agreement should, in theory, easily pass the House.
It's a tall order, but it's not impossible. Murray has been working on the bill and related issues for years. Republicans lately have been talking about the need to update job-training programs. In January, one of the negotiators, Sen. Lamar Alexander, R-Tenn., said the Senate should vote on a job-training bill during the debate on unemployment benefits. House Speaker John Boehner touted the House-passed job-training bill last month in a weekly radio address, chastising the Senate for not taking up the issue.
The negotiators are hoping to provide lawmakers with something to vote on to back up their public statements. But it has to be just the right bill. Democrats will run into problems if they go too far in curbing the individual programs. Advocacy groups will not easily let go of money set aside for specific groups of job-seekers, especially when they don't trust that the states will serve those people on their own.
The House bill is "totally unacceptable," says Chanelle Hardy, executive director of the National Urban League's Washington bureau. The Urban League supports the Senate effort because it directs federal dollars to programs that help young people who have dropped out of high school, or have been involved in the criminal-justice system, get trained and find jobs.
That language isn't in the House bill, which makes the legislation a nonstarter for the Urban League. "A single workforce investment fund block grant would totally undermine and dismantle our nation's workforce-development system's response to the very population of adults and youth most in need of its services," Hardy says.
Strong statements like that are going to have to be tempered for a new law to make it to President Obama's desk. But if Republicans and Democrats could agree on a budget, maybe they can do this too.
This article is part of The Next America project.