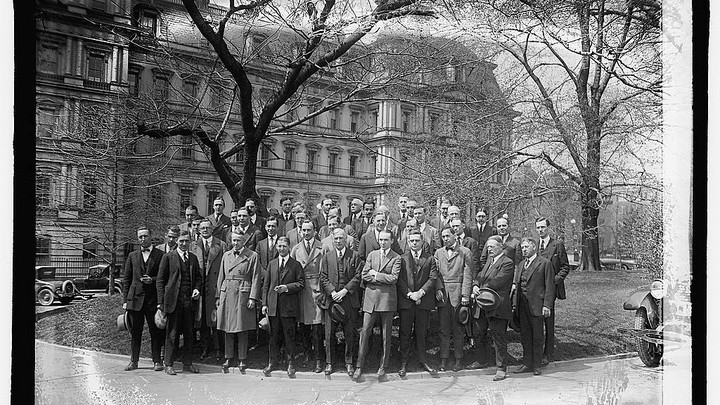 Certainly, Harry McAlpin didn't look threatening. According to his Secret Service background report, he was, at age 38, only 5 feet, 6 inches tall and weighed just 148 pounds, with brown eyes, black hair, and a medium build. He was also soft spoken and unfailingly polite.
Yet to the reporters who ran the White House Correspondents' Association in 1944, he loomed large. To them, McAlpin was a threat, for he was not one of them: He was not white. And that one difference was enough to make the white journalism establishment battle to prevent McAlpin from attending White House press conferences. Even after President Franklin Roosevelt overruled the Correspondents' Association and McAlpin became the first African-American reporter to cover a presidential press conference, the group continued to undermine him. It remained totally unrepentant.
Until today. Seventy years after Roosevelt's decision and almost three decades after McAlpin's death, we at the White House Correspondents' Association are using this week's annual dinner to say we are sorry. WHCA President Steve Thomma will announce the creation of a scholarship named after McAlpin. And he will introduce his son, Sherman McAlpin, to President Obama—who, as the nation's first African-American president, dramatizes just how much things have changed since Harry McAlpin was fighting the establishment in the 1940s.
That fight was not something I expected to find when I started researching the history of the White House Correspondents' Association in preparation for writing a book on the group and for commemorating its centennial this year. I thought I would focus on 100 years of presidents and their dealings with the giants of Washington journalism. Instead, as I read about McAlpin, I found myself drawn to the story of a man who is little more than a footnote—if that—in books about White House press relations. As a former president of the WHCA, I suggested that we keep McAlpin's memory alive by naming a scholarship after him.
Such recognition has been a long time coming for a man who fought for his community on several fronts. The reporters who called the shots at the White House were not the first to put roadblocks in front of him. McAlpin was a St. Louis native whose dream of studying journalism at the University of Missouri was blocked by the school's all-white policies, forcing him, instead, to attend the University of Wisconsin. Upon graduation in 1926, he went to Washington as a reporter and city editor for the Washington Tribune, which was then in its fifth year as a weekly paper serving the city's black community. After taking a break from journalism while getting his law degree and working at other jobs, McAlpin returned to reporting in 1942, covering Washington for the Chicago Defender, an African-American newspaper.
He soon found himself in the middle of an ongoing battle. For years after FDR's inauguration in 1933, the editors and publishers of the nation's black press had fought to get one of their reporters into the president's twice-weekly press conferences. A file in the FDR Library is filled with requests from the black press and rejections by the White House Correspondents' Association.
It was estimated that close to 5 million African-Americans—more than half the total black population over age 14—read a black newspaper each week. But with the exception of the Atlanta Daily World, all the papers were weeklies. And that was the WHCA's rationale for keeping them out. The correspondents were not wrong to limit attendance to dailies—at times, more than 400 reporters were jammed into the Oval Office for press conferences, making them unbearably overcrowded. But they looked the other way when exceptions were made to let in some other weeklies. Only for African-Americans would they permit no exceptions. In a 2002 paper chronicling the battle, Earnest Perry Jr., then a journalism professor at Texas Christian University, wrote that the Correspondents' Association confronted the black press with "a more overt form of racism" than anything they saw from White House officials. Historian Betty Houchin Winfield noted that the WHCA had become "an exclusive fraternal club" with "definite admission requirements and unwritten codes, including 'no blacks admitted.' "
Things started to slowly change in 1943. On May 26, Edwin Barclay, the president of Liberia, became the first black head of state to visit the White House. The visit shook up the town. (One of FDR's aides even urged the president to clean White House toilets with Lysol out of fear that African men carried venereal disease. The president did not take the advice.) McAlpin chronicled all the historic firsts in his stories for the Chicago Defender, noting that "ol' man Jim Crow took a terrific licking" during the visit and that Barclay "wrote a page in history by being the first Negro to stay overnight as a guest in the White House." He was also the first black speaker to address a joint meeting of Congress. "Through the State Department, doors opened for him which had never opened for Negroes before," McAlpin wrote. "And because Washington was on its best behavior, his presence opened doors for other Negroes which had been sealed tightly hitherto—as in the White House and the House press gallery where Negro correspondents were allowed for the first time."
More doors were soon to open as well. In November 1943, black editors and publishers began meeting with White House press secretary Steve Early to work out the credentialing of a black correspondent. The lobbying to get an African-American reporter into press conferences had intensified in 1940, but it wasn't until late 1943 that the editors rallied behind McAlpin. By Jan. 18, 1944, it had been worked out that he would request accreditation for both the National Negro Publishers Association and the Atlanta Daily World—finally meeting the "daily" requirement. On Jan. 26, the Treasury Department gave the White House the results of a Secret Service investigation of McAlpin. The worst investigators could find on him other than "three minor traffic violations" was that on Oct. 16, 1942, McAlpin had spoken at what the D.C. police considered a suspicious meeting at Lincoln Congregational Church. The meeting was called "to plan strategy for elimination of Jim Crow in the District of Columbia and vicinity, particularly in the field of athletics. More particularly, they hope to eliminate Jim Crowism in organized major league baseball." On Feb. 4, McAlpin was cleared for his White House pass.
All that was left was for Roosevelt to weigh in, because he was the only one who could overrule the Correspondents' Association. On Feb. 5, the president met with 13 editors and publishers from the NNPA. It is hard to overstate the significance of this meeting. Historian Patrick Washburn said it was the first group of black editors in U.S. history to meet with a president. The editors read a 21-point manifesto "for assuring the Negro first-class citizenship," according to one participant. At one point, they told the president they "desperately" were trying to get a reporter into his press conferences. Roosevelt asked several questions before saying, "Well, you'll have a representative accredited to the White House."
And that was that. After more than a decade of arguments and lobbying and resistance, an African-American reporter would attend a presidential press conference for the first time only three days later. The man making history would be Harry McAlpin. But as he would quickly learn, just because the president of the United States had invited him did not mean the white correspondents would welcome him.
He found that out when he was summoned on Monday—the day before the scheduled press conference and the day he received his White House credentials—to the office of Paul Wooton, the president of the Correspondents' Association. A Washington reporter since 1911, Wooton was a longtime champion of keeping the press corps all-white. McAlpin's unpublished memoir, which he shared with Washburn, describes his exchange with Wooton, who was a reporter for The Times-Picayune in New Orleans:
"Harry, you have been accredited as a White House correspondent by President Roosevelt and there is nothing we can do about that. But I asked you to come in because I believed we could arrive at some agreement in connection with your attending the president's press conference. We are anxious to cooperate with you in every way possible.

"Now, I suggest that when you come down tomorrow, you sit out in the reception hall. One of us regular correspondents will be glad to tell you what went on in the conference as soon as it is over. And, of course, if you have any question you would like to have asked, if you would let one of us know about it, we'd ask it for you and as soon as the conference is over, we'd let you know what answer the president gave.

"Now the reason I made these suggestions is because there is always a large crowd at the conferences. They gang up to the corridor leading to the president's office, and when the signal is given to enter, there is a grand rush. It's possible that you might step on someone's foot in the rush … and there would be a riot right in the White House."

While I was seething inside, I listened with an outward calmness to this suggestion. Then I said: "I'm somewhat surprised at what you have said, Paul (it was probably the first time he had ever been addressed by a Negro using his first name). I have always had the impression that the men who reached the pinnacle of the reporting profession by becoming White House correspondents were the cream of the crop of journalism. I'd be surprised if any of them should start a riot in the White House because someone inadvertently stepped on his foot, but if they did it would be one of the biggest stories of the year and I'll be damned if I'd want to miss it. Thanks for the suggestion, but I'll take my chances. I'll be going in to get my own stories and to ask my questions myself." …

As I left his office, I said to myself, "Well, they're still at it. White folks won't let me forget [that I'm black]!"
The next morning, McAlpin was at the White House. But the slights continued. While it was standard practice for the president of the WHCA to introduce newcomers to the president, Wooton did not introduce McAlpin. Not that Roosevelt needed someone else to tell him that, for the first time, a black reporter was in the room. When the session ended, McAlpin later recalled, Roosevelt "smiled warmly, stuck out his hand, and said, 'I'm glad to see you, McAlpin, and very happy to have you here.'" McAlpin later wrote in a column that the president "put me entirely at ease with his magnetic personality with that brief but warm greeting."
McAlpin was fully aware of the history he had made. "Its significance cannot be emphasized too much," he wrote later. "From this source has come and will come some of the most startling and world-shaking news. That the colored press is now in at the source of such news with the privilege of asking questions, too, is a step forward without parallel in the 117-year history of our newspapers."
It was McAlpin's ardent wish to blend in. "I didn't want to appear any different from any of the other correspondents covering the White House," he told Early. But the white establishment running the Correspondents' Association was not ready to accept defeat. Going forward, the group would refuse to offer WHCA membership to McAlpin. And on that first day, of the 60 correspondents near him in the waiting room before the press conference, he said "only two of them came over to where I sat."
McAlpin did not criticize the others, calling this "natural. No one knew me. I had no sponsor. I preferred it that way, going in on my own and getting the natural reactions. I was there for business and so were they. They were chatting with friends—I hadn't made any yet."
When he came back three days later for his second press conference, he acknowledged that "the icy 'newness' of my being there had not worn off." He was grateful when "a charming member of the female contingent of White House correspondents" came over and introduced him to some others. To his relief, he wrote, "every introduction was graciously accepted, and no one turned or ran away immediately." McAlpin added that this woman continued to introduce him to more colleagues at the next five press conferences. "I have yet to meet one who hasn't proved to be a gentleman or a lady. Some of them probably are learning for the first time that it is possible to meet a Negro on a plane of equality and not have the world come tumbling down." But McAlpin was surprised to learn later that the woman making the introductions was the Washington correspondent for the Soviet news agency TASS.
Yet another bit of history was made that summer when McAlpin was given a seat on the special all-Pullman train arranged to take reporters from Washington to the Democratic National Convention in Chicago. "It turned out that I was the only colored American on the whole train as a passenger," McAlpin wrote in a column in which he reported sitting in the lounge car drinking with other reporters and administration officials. "It's peculiar (or is it) how one brown face stands out so in a sea of white ones."
The white journalism establishment that tried to block such firsts came in for heavy criticism in the black press of the day. "Thanks to the president, color discrimination which had been imposed on the press at the White House and Capitol has been broken down," editorialized the Baltimore Afro-American. "It is a reflection upon the white press that it was not fair and decent enough to do it without being forced."
When Roosevelt died in 1945, his funeral arrangements quickly became ensnared in the same racial divisions that the fallen president had overruled a year earlier. At the heart of the dispute was the press pool that would be covering the memorial service in the East Room. Because the room was too small to hold many reporters, they fought over who would be inside. That was enough to reignite the simmering dispute over race.
The White House decreed that McAlpin should be one of the reporters in the East Room. But, suddenly, his name was dropped from the list, prompting McAlpin to write: "Before President Roosevelt's body could be reverently placed underground, some of the forces he held in check by his courage, personality and insistence on what is right were flaring up anew. The White House Correspondents' Association, which controls news gathering at the White House and which has never accepted into membership the only Negro White House correspondent, excluded that Negro from the funeral services for the deceased president in the East Room." Fortunately, the White House resolved the situation by increasing the pool to 13, putting McAlpin back on the list.
Years later, McAlpin was able to laugh about the experience, telling his son that he was such a good note-taker that the white reporters huddled around him to get the complete story of what had happened during the funeral service. He was proud of that and proud of his professionalism as a reporter. This pride even drove him in 1943 to sit down for an interview with Senator Theodore Bilbo of Mississippi, considered the most openly racist senator of the 20th century. McAlpin felt he had to explain to his readers why he had calmly listened to Bilbo's hate. "You wonder how I took it," he wrote. "Well, that's one of the tough angles of being a newspaper man."
By the end of 1945, McAlpin had left journalism, moving to Louisville, where he practiced law and headed the local chapter of the NAACP. In the 1950s, he appeared on Edward R. Murrow's This I Believe radio show, outlining his philosophy of life. He stated that his late father had "abhorred injustice" and taught him that all men were created equal. "To live by these beliefs, I have found it necessary to develop patience, to build courage, to pray for wisdom," he said.
McAlpin, who died in 1985, left Washington never having been invited to join the WHCA or attend the annual correspondents' dinner. On Saturday, Sherman McAlpin will do what Harry McAlpin never could—to the applause of the president of the United States and the Correspondents' Association that battled his father.
We want to hear what you think about this article. Submit a letter to the editor or write to letters@theatlantic.com.