The Left's Least-Favorite Judicial Nominee Had to Defend His Record on the Confederate Flag
Michael Boggs, an Obama nominee for U.S. District Court Judge, faced some harsh questioning from Democrats on the Senate Judiciary Committee on Tuesday.
This article is from the archive of our partner
.
Michael Boggs, an Obama nominee for U.S. District Court Judge, faced some harsh questioning from Democrats on the Senate Judiciary Committee on Tuesday. Although he's been a judge for a decade, Boggs was a Georgia state legislator from 2000 to 2004, during which he cast several votes against abortion rights and same-sex marriage; and in favor of keeping the state's old flag, which prominently featured the Confederate battle flag.
Although Boggs, for example, assured the panel that he would "absolutely" adhere to the Supreme Court's Roe v. Wade decision, and that it "would be inappropriate" for his personal opinions the drive his decisions, his record presented a difficult trifecta of issues to contend with. First, Boggs supported aggressive bans on same-sex marriage in Georgia while a legislator, even referring to "activist judges" writing decisions against the constitutionality of those bans. Second, Boggs supported several bills to restrict abortion access in the state, along with a bill that would have created a "pro-life" license plate to fund anti-abortion groups. And third, Boggs supported keeping the Confederate battle flag on Georgia's state flag.
Here's how Boggs defended himself on those issues:
Same Sex Marriage:
"My position may or may not have changed on that over the last decade." 
That quote comes from a response to a question by Sen. Chuck Grassley, who went relatively easy on Boggs. Later, when asked directly by Sen. Rick Blumenthal whether he would currently support a constitutional ban on same-sex marriage, Boggs said "no, sir." He also pledged to follow the Supreme Court's precedent on the issue, including the influential Windsor decision from last summer. Boggs supported a constitutional amendment banning same-sex marriage as a legislator in 2004.
The Confederate Flag: 


 "

I was offended by the flag, Senator...

I'm glad the flag was changed."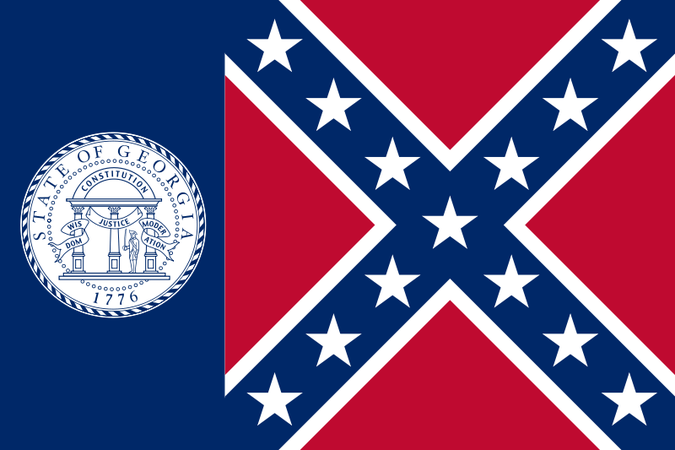 Facing questioning from  Senate Majority Whip Dick Durbin over his support for Georgia's old state flag (visible, left), Boggs suggested that he opposed the flag at the time of his vote, yet ended up going with the majority opinion of his constituents, as Talking Points Memo noted. "One of the most challenging things of being a legislator," Boggs added to Durbin, "was deciding when to vote the will of my constituents and when to vote the will of myself."
Boggs also noted, under questioning by Sen. Al Franken, that the flag vote came 17 days into his time in office. However, Franken grilled Boggs over what the legislator believes was a "slight misrepresentation" of his thinking at the time on the Confederate flag issue. Privately, Boggs told the senator that he was voting with the will of his constituency to have a referendum on the flag. However, there never was a referendum, and Boggs did not introduce legislation to create one. Franken added that what he believes to be a misrepresentation of his intentions "gave me pause" on how to cast his vote.
Abortion:
"

My personal position on that matter... is irrelevant to how I have decided cases."
That quote comes in response to Sen. Blumenthal, who like many skeptical Democrats on the Committee, focused on one piece of legislation in particular that Boggs supported in office: a bill that would have publicly disclosed the number of abortions every doctor in the state performed. Those bills likely endanger the safety of the doctors performing the procedures.
Although Boggs disowned the bill, some legislators seemed baffled by his explanation. "In light of what I subsequently learned," Boggs said about that endangerment of doctors and their families, Boggs said that he no longer "think[s] it would be appropriate to" support a bill like that. Franken asked Boggs how old he was when he supported the bill — he was 37 — and somewhat sarcastically expressed wonder that a man of that age could not have been aware of the risks of that bill.
When asked directly by Blumenthal whether he's ever handled a case on reproductive rights issues, Boggs added that he dealt with just one case in his judicial career on abortion. It was while he was serving on the Georgia Court of Appeals, and he was not the panelist who authored the court's opinion. That, Blumenthal suggested, complicates Boggs's argument that his record speaks for itself. Boggs declined to give his personal opinion on abortion, when asked.
The questions at today's committee meeting, particularly those from Sen. Dianne Feinstein, focused on parsing out whether Boggs will be able to separate his conservative voting record as a legislator from his work on a more influential federal court. Based on today's hearing, Boggs was struggling to convince the lawmakers that he would be able to do this. Referring to previous pledges from nominees — including some successful Supreme Court nominees — who pledged to put aside their personal convictions on social issues as a judge, Feinstein indicated that she isn't prepared to accept Boggs's similar pledges at their word. "For my vote," Feinstein said of Boggs's confirmation, "I have to have certainty. I don't know how quite to get it in view of this record."
Boggs's presence on the Obama nomination list is itself a bit curious, and apparently the result of a compromise in order to get Georgia Sens. Saxby Chambliss and Johnny Isakson to lift a years-long hold on an Obama nomination to the conservative 11th Circuit Court of Appeals. As Jamelle Bouie wrote in Slate, the deal itself could be enough for some Senators to reject Boggs's nomination, as it essentially hands for U.S. District Court Judge spots — lifetime appointments — to Republicans during the tenure of a Democratic president, and a Democratic majority in the Senate: "Even with Boggs' admirable work on Georgia's Special Council for Criminal Justice Reform," Bouie wrote, "this is a terrible deal."
This article is from the archive of our partner The Wire.