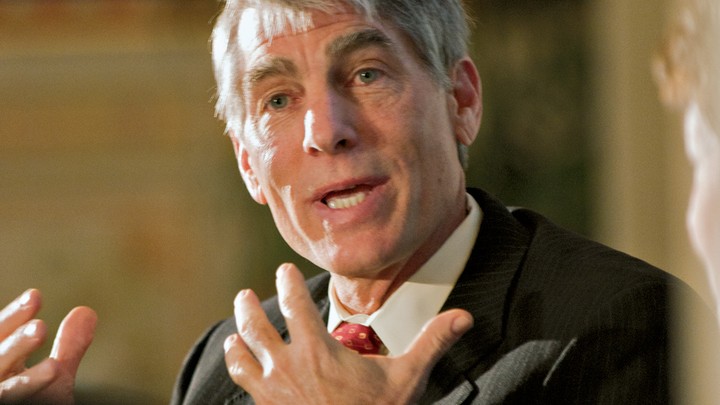 The Keystone XL pipeline wouldn't run through Colorado, but it's about to take center stage in the state's politics.
The Senate is near certain to vote this week on legislation that would approve the oil-sands pipeline, and that's leaving Sen. Mark Udall — a Democrat facing a tough reelection challenge — with an unenviable choice to make.
Udall told the Denver Post Monday that he'll vote against the pipeline bill, consistent with his previous votes. But that's not stopping either side from lobbying for his attention and trying to force his hand.
If Udall votes yes, he'll anger a liberal base that has put blocking the pipeline at the head of its environmental charge. But if he votes no, his opponent promises to use it as fodder for painting the Democrat as too liberal for a moderate state. 
And neither faction is making its case quietly.
The anti-Keystone group 350.org will hold a protest outside of Udall's office Tuesday, one of several protests across the country on the pipeline. Jason Kowalski, the group's policy director, said the attention on Udall's race makes it a natural place to begin the grassroots march before heading to the office of Sen. Michael Bennet, another Colorado Democrat.
On the other side, the American Petroleum Institute will run ads in Colorado and four other states lobbying for the pipeline.
Udall was a "no" the last time the Senate weighed in on Keystone, a pipeline that would take carbon-intensive Canadian tar sands from Alberta to Gulf Coast refineries. But analysts on both sides of the aisle say that he remains wishy-washy on the issue, and his decision on the latest measure is closely watched.
The expected vehicle, a bill from Sens. John Hoeven, R-N.D., and Mary Landrieu, D-La., had 56 cosponsors — including all Senate Republicans — last week, leaving supporters searching for four more Democrats that could tip them past the 60-vote threshold.
The Keystone bill could come as a standalone or as an amendment to the Shaheen-Portman energy-efficiency bill. Instead, he has said repeatedly that he believes the decision is up to the administration. That position seemingly puts him against the latest approval bill, but it also leaves him plenty of wiggle room.
That room closes this week, when Udall faces the binary yes-or-no vote.
And therein lies an opening for Udall's challenger, Republican Rep. Cory Gardner.
Gardner has repeatedly called on Udall to clarify his position, saying that a no vote for the Senate legislation functions as a vote against the pipeline. In a statement last month, Gardner blasted Udall for his "decision to sit on the sidelines as America comes closer and closer to losing a project that would create thousands of jobs and help bolster economic growth."
Udall is not the only Democrat who would have an easier week were the Senate to go Keystone-free, with Bennet also in the spotlight. Bennet voted yes on the nonbinding resolution that was attached to the federal budget in the fall, but hasn't backed the latest measure.
Among the other Democrats considered possible gets are Sens. Thomas Carper and Christopher Coons of Delaware, Robert Casey of Pennsylvania, Tim Johnson of South Dakota, and Bill Nelson of Florida. But with Johnson saying Monday that he'll vote no and Coons and Nelson also reportedly out, it appears the motion will fall short.
Updated with new information from Udall's office.
We want to hear what you think about this article. Submit a letter to the editor or write to letters@theatlantic.com.
Jason Plautz
is a Colorado-based reporter covering energy and environment policy.