The Inhumanity of the Death Penalty
In America, the history of the criminal justice system—and of executions—is inseparable from white supremacy.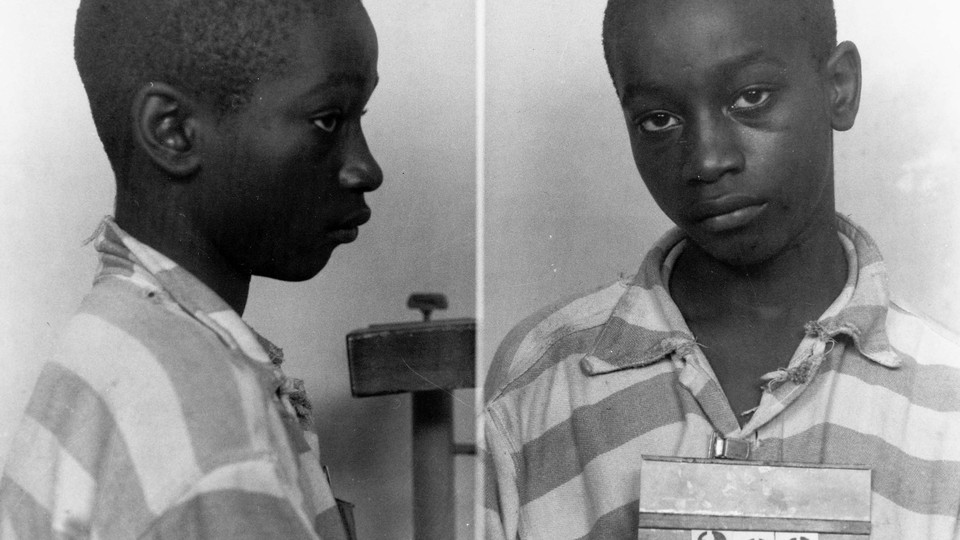 Fifteen years ago, Clayton Lockett shot Stephanie Neiman twice, then watched as his friends buried her alive. Last week, Lockett was tortured to death by the state of Oklahoma. The torture was not so much the result of intention as neglect. The state knew that its chosen methods—a triple-drug cocktail—could result in a painful death. (An inmate executed earlier this year by the method was heard to say, "I feel my whole body burning.") Oklahoma couldn't care less. It executed Lockett anyway.
Over at Bloomberg View, Ramesh Ponnuru has taken the occasion to pen a column ostensibly arguing against the death penalty. But Ponnuru, evidently embarrassed to find himself in liberal company, spends most of the column dismissing the arguments of soft-headed bedfellows:
On the core issue—yes or no on capital punishment—I'm with the opponents. Better to err on the side of not taking life. The teaching of the Catholic Church, to which I belong, seems right to me: The state has the legitimate authority to execute criminals, but it should refrain if it has other means of protecting people from them. Our government almost always does.

Still, when I hear about an especially gruesome crime, like the one the Oklahoma killer committed, I can't help rooting for the death penalty. And a lot of the arguments its opponents make are unconvincing.

Take the claims of racial bias—that we execute black killers, or the killers of white victims, at disproportionate rates. Even if those disputed claims are true, they don't point toward abolition of the death penalty. Executing more white killers, or killers of black victims, would reduce any disparity just as well.
Indeed it would. But the reason we don't do this is contained within Ponnuru's inquiry: bias. When Ponnuru suggests that the way to correct for the death penalty's disproportionate use is to execute more white people, he is presenting a world in which the death penalty has neither history nor context. One merely flips the "Hey Guys, Let's Not Be Racist" switch and then the magic happens.
Those of us who cite the disproportionate application of the death penalty as a reason for outlawing it do so because we believe that a criminal-justice system is not an abstraction but a real thing, existing in a real context, with a real history. In America, the history of the criminal justice—and the death penalty—is utterly inseparable from white supremacy. During the Civil War, black soldiers were significantly more likely to be court-martialed and executed than their white counterparts. This practice continued into World War II. "African-Americans comprised 10 percent of the armed forces but accounted for almost 80 percent of the soldiers executed during the war," writes law professor Elizabeth Lutes Hillman.
In American imagination, the lynching era is generally seen as separate from capital punishment. But virtually no one was ever charged for lynching. The country refused to outlaw it. And sitting U.S. senators such as Ben Tillman and Theodore Bilbo openly called for lynching for crimes as grave as rape and as dubious as voting. Well into the 20th century, capital punishment was, as John Locke would say, lynching "coloured with the name, pretences, or forms of law."
The youngest American ever subjected to the death penalty was George Junius Stinney. It is very hard to distinguish his case from an actual lynching. At age 14, Stinney, a black boy, walked to the execution chamber
with a Bible under his arm, which he later used as a booster seat in the electric chair. Standing 5 foot 2 inches (157 cm) tall and weighing just over 90 pounds (40 kg), his size (relative to the fully grown prisoners) presented difficulties in securing him to the frame holding the electrodes. Nor did the state's adult-sized face-mask fit him; as he was hit with the first 2,400 V surge of electricity, the mask covering his face slipped off, "revealing his wide-open, tearful eyes and saliva coming from his mouth ... After two more jolts of electricity, the boy was dead."
Living with racism in America means tolerating a level of violence inflicted on the black body that we would not upon the white body. This deviation is not a random fact, but the price of living in a society with a lengthy history of considering black people as a lesser strain of humanity. When you live in such a society, the prospect of incarcerating, disenfranchising, and ultimately executing white humans at the same rate as black humans makes makes very little sense. Disproportion is the point.
The "Hey Guys, Let's Not Be Racist" switch is really "Hey Guys, Let's Pretend We Aren't American" switch or a "Hey Guys, Let's Pretend We Aren't Human Beings" switch. The death penalty—like all state actions—exists within a context constructed by humans, not gods. Humans tend to have biases, and the systems we construct often reflect those biases. Understanding this, it is worth asking whether our legal system should be in the business of doling out an ultimate punishment, one for which there can never be any correction. Citing racism in our justice system isn't mere shaming, it's a call for a humility and self-awareness, which presently evades us.
I was sad to see Ponnuru's formulation, because it so echoed the unfortunate thoughts of William F. Buckley. In 1965, Buckley debated James Baldwin at the Cambridge Union Society. That was the year John Lewis was beaten at the Edmund Pettus Bridge, and Viola Liuzzo was shot down just outside of Selma, Alabama. In that same campaign, Martin Luther King gave, arguably, his greatest speech. ("How Long? Not long. Truth forever on the scaffold. Wrong forever on the throne.")  In whole swaths of the country, black people lacked the basic rights of citizenship—central among them, the right to vote. Buckley spent much of his time sneering at complaints of American racism. When the issue of the vote was raised Buckley responded by saying that the problem with Mississippi wasn't that "not enough Negroes have the vote but that too many white people are voting."
There's something revealed in the logic—in both Ponnuru and Buckley's case—that we should fix disproportion by making more white people into niggers. It is the same logic of voter-ID laws, which will surely disenfranchise huge swaths of white voters, for the goal of disenfranchising proportionally more black voters. I'm not sure what all that means—it's the shadow of something I haven't worked out.