The Early-Childhood Intervention That Can Make Even Congress Stop Fighting
Political support for evidence-based home visiting programs is so broad-based that Congress approved a funding extension earlier this spring.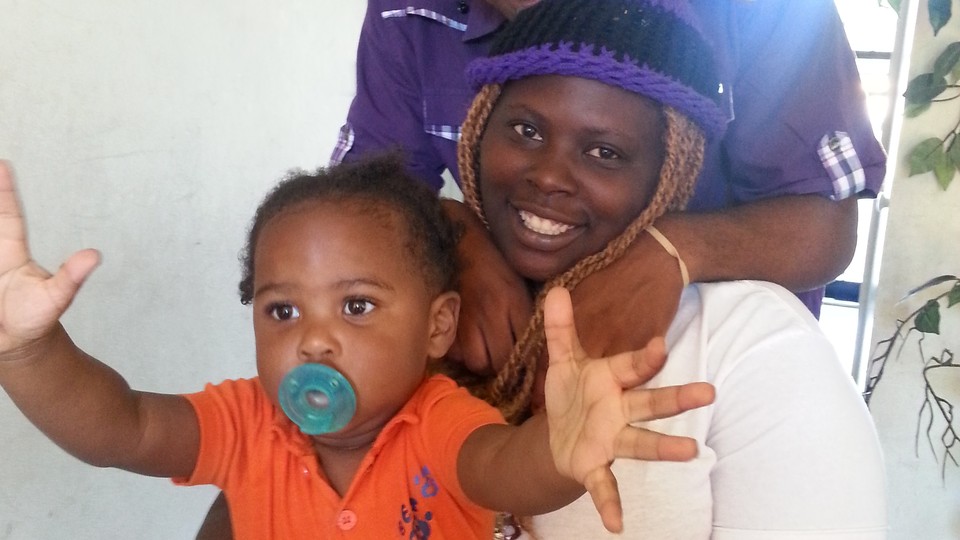 MEMPHIS, Tenn. — Dematrise Givens knows her families. Within seconds of pulling into the parking lot outside the sun-ravaged blue public-housing complex in South Memphis where 18-month-old Darnell Bowen Jr. is living with his parents this month, Givens is out of her car, collecting the day's essentials.
There isn't, it seems, a moment to waste.
"Ms. De," Darnell Bowen Sr., 22, announces while holding open the family's front door. Bowen starts talking before the 4-foot-10½-inch Givens's hurried stride hit the sidewalk. "I've got news."
Givens, 41, is a parent educator certified in the Parents as Teachers method — a 30-year evidence-based home visiting program with a curriculum designed to encourage the kind of day-to-day parenting that supports children's intellectual, social, and emotional development during the critical first five years of life. That's a period when children's brains have a singular capacity to gain foundational skills needed to excel at school, on the job, and in life.
Givens is visiting Bowen, baby Darnell, and his mom, Markita Logwood, 25, to talk parenting skills, brain-building activities, and basic life coaching. She's armed with a black binder and what looks like a half-ream of worksheets. The multicolored zip-top bag she carries into the apartment is stuffed with oversized, connectable plastic blocks that are irresistible to toddlers.
Twice each month, Givens and thousands of other parent educators with Parents as Teachers visit the homes of low-income or otherwise at-risk families in all 50 states and several countries. They, and other outreach workers including nurses and social workers, work with families that have children under the age of 5 and are voluntarily enrolled in the evidence-based home visiting program.
Forty-five percent of U.S. children live in families with incomes that meet the official definition of poverty or earn incomes just above it, according to Columbia University's National Center for Children in Poverty. Even those slightly more well-off families often struggle with instability, in part because they make too much money to qualify for assistance but not enough to live comfortably. In the worst cases, children in these families face periodic food insecurity, frequent moves, and often homelessness. Many have limited access to the kinds of books, parental interaction, and other experiences that help to develop young brains. By the time children start school, that kind of poverty often produces low test scores, limited vocabularies, and even social and emotional deficits.
Since the 1990s, Tennessee and a collection of other states have operated a variety of home visiting programs that target first-time parents, low-income families, households with histories of abuse or neglect, and children with developmental delays and disabilities. They've been funded with a combination of state and local government dollars, federal funds, and private donations. The interventions seemed to make a difference in the lives of the children they reached, but their scope was limited.
Then, in 2010, a provision of the Affordable Care Act changed the game. Suddenly, a pot of $1.5 billion federal dollars became available to states willing to implement one or more of 14 evidence-based home visiting programs. In the years since, even states that have loudly rejected core features of the ACA — such as the Medicaid expansion — have jumped at the money, voluntarily developing or expanding a range of interventions.
Some of the programs send nurses into the homes of first-time mothers and women with histories of delivering premature or low-birth-weight babies to monitor their health closely during pregnancy and help mothers address everything from high blood pressure to the causes of elevated stress. Others deploy social workers and less-credentialed community-outreach workers to families living in communities where poverty and its often-indistinguishable causes and symptoms — low-quality schools, crime, drugs, unemployment, and incarceration — have shaped generations.
A cornucopia of data analyzed by child development experts, economists, and child advocates affiliated with Harvard, Yale and Cornell Universities as well as the University of Chicago may explain why. Researchers have confirmed that these programs boost child health, reduce abuse and neglect, boost participating families' economic well-being, and help children arrive better prepared for school.
To supporters, home visiting programs are the Swiss Army knives of social policy and should be a key feature of any plan to make America more competitive and reduce inequality. Political support for evidence-based home visiting programs is so broad-based that in March, the nation's frequently deadlocked Congress approved a six month funding extension. The move will keep the programs operating until next year.
In Memphis, just whom that funding might reach is clear. "Juice, juice, juice," Darnell Jr. chants as Givens enters the apartment. There's none of the telltale middle-class clutter of families with young children. There are no clusters of toys, no rubber play mat or shelves overflowing with books or baby equipment.
Givens put the zip-top bag on the living room coffee table, near the spot where Darnell Jr. is busy testing the limits of his sippy cup. Taking a seat on the couch, Givens opens her binder and spreads out a few worksheets.
"Ok, let's hear it," Givens says.
"I got a job," Bowen tells her, smiling broadly.
"You know we couldn't wait to tell you Ms. De," says Logwood, Bowen's girlfriend of six years. "You are like family."
During the exchange, Darnell Jr. abandons the sippy-cup project and begins shaking the bag.
"Oh my goodness," says Givens. "That is just great! I knew it would happen." She switches seamlessly from encouragement to observation. "Now, Mom, Dad, do you see what Junior is doing? This is the kind of activity that builds his awareness of sounds and lets him work on those gross and fine motor skills that a curious and increasingly mobile 18-month-old needs."
Returning her attention to Bowen, Givens says, "Okay, now, Dad. Tell me about it. What kind of job?"
The conversation is an exemplar of Given's work with the family. She's there to help Logwood and Bowen understand their son's emotional, physical, and intellectual needs. But she also covers some deeply sensitive and personal topics that can be closely connected to family well-being: birth-control options, finances, communication, and effective discipline. To create the best environment for Darnell Jr., Givens has helped the parents identify financial and other goals.
For the family, the struggle for financial solvency can often get in the way of what they want and need to do to help the toddler develop. Logwood, Bowen, and Darnell Jr. have spent much of the past year couch-surfing, staying with family and friends. When both parents lost their jobs last year, unpaid rent forced them to leave their apartment. Each grew up in what Givens describes as troubled families where their health, safety, and development were not consistent priorities.
Logwood and Bowen each describe themselves as "affiliated," Memphis-speak for loyal to but no longer consistently active in gangs. They have also weathered intermittent waves of depression and grief over the past few years. Longwood's first pregnancy ended with a miscarriage at seven months gestation. The healthy birth of Darnell Jr. was an occasion for celebration, but Logwood's third pregnancy ended less than two months ago when she miscarried twins.
"To me, this family is really emblematic of what this program is all about," Givens says back in her office after the visit. "Their life includes lots of sad realities, rolled into one. But the same love and hope that so many people have for their children is there. They just need the tools, a little something to get Junior where he is perfectly capable of going."