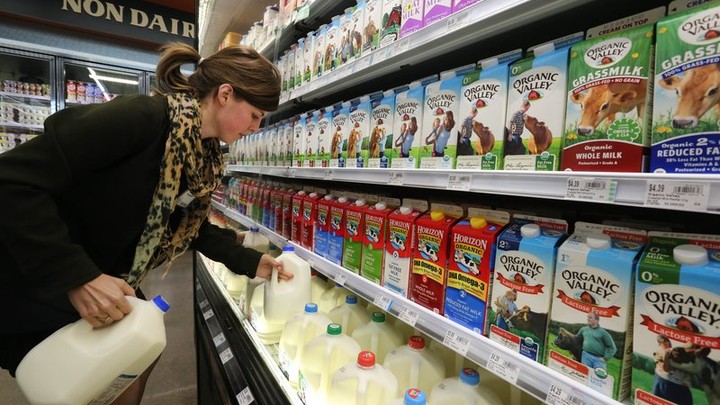 This article is from the archive of our partner
.
Vegan or not, most people can agree that there's something grossly irresponsible for implying that dairy, like vaccines, aggravate and possibly cause autism. And yet PETA has relaunched its "Got Autism?" campaign, which argues that dairy makes it harder for autistic children to function based on a handful of scientifically discredited studies. 
A recently resurfaced PETA feature argued that children suffering from autism, a disease "marked by anti-social behavior like screaming and obsessive repetition of actions, which takes an enormous emotional toll on sufferers and their families," improved dramatically when switched to a diet free of casein (a protein found in cow milk). The story goes so far to imply that dairy might even cause autism. "The reason why dairy foods may worsen or even cause autism is being debated," the article reads (emphasis added). "Some suspect that casein harms the brain, while others suggest that the gastrointestinal problems so often caused by dairy products cause distress and thus worsen behavior in autistic children." 
The problem — other than the offensive play on the "Got Milk?" slogan — is that the research available has been discredited by at least two independent overviews. A 2010 overview by the University of Texas at Austin of 14 studies on the link between autism and casein- and gluten-free diets found that the "overall study quality was poor" and only the least scientific studies implied the diet improved behavior. Two additional overviews from 2008 and April 2014 found similar results and called for a large scale, good quality randomized survey — PETA cites a study with a grand total of 20 participants. We've reached out to PETA for comment and will update this story if we receive a reply.
What is true is that children who can't digest casein or gluten — whether or not they're autistic — feel better when they don't consume those proteins. In 2008, when PETA first launched their Got Autism? campaign, ABC News reported autism advocacy groups were split. The science is bad, but if cutting out casein might help kids, then some parents were okay with the information being publicized. "There are not a lot of things you cannot control in autism, but you can control your child's diet," one parent said. "I think that anything that sheds light on the autism crisis is awesome." Which is exactly why this campaign is so irresponsible.
(Clarification: PETA's Got Autism campaign is no longer running, but interest resurfaced among science writers this week. Tracy Reiman, PETA's Executive Vice President, responded to The Wire on Wednesday with the following statement:
PETA's website provides parents with the potentially valuable information that researchers have backed up many families' findings that a dairy-free diet can help kids with autism. Dumping dairy—the consumption of which has also been found to contribute to asthma, constipation, recurrent ear infections, iron deficiency, anemia, and even cancer—is a healthy choice that the late Dr. Benjamin Spock recommended for all families, and it also spares mother cows from being repeatedly impregnated and forced to produce milk for humans after their calves have been taken away from them so that they will endure the same fate. Cow's milk might be the perfect food for baby cows, but it might also be making kids sick.)
This article is from the archive of our partner The Wire.
We want to hear what you think about this article. Submit a letter to the editor or write to letters@theatlantic.com.
Arit John
is a former politics writer for
The Wire
.