The 10 Most Compelling House Races of 2014
This year's contests feature a blind state senator, the first female Hispanic chief of staff in the Senate, and three openly gay Republicans.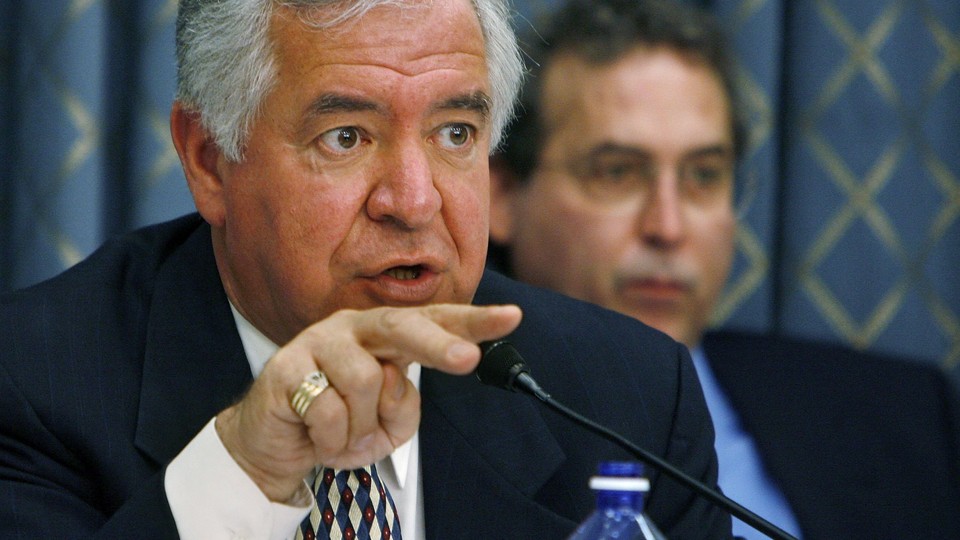 With the control of the Senate squarely at stake this year, comparatively little attention has been paid to House races. But even if Republicans hold a near-lock on the majority, it doesn't mean there aren't consequential races taking place in November, which will offer clues about the national political landscape.
All told, given the favorable national environment for Republicans, the majority party is expected to net seats. National Republican Congressional Committee Chairman Greg Walden's goal is to win 12 additional House seats, the upper end of The Cook Political Report's latest projection, which calls for GOP gains of 2-12 seats. But more interesting than the final seat breakdown are the personalities of the candidates involved.
In Minnesota, a blind state senator is running in a competitive race for the Republicans, while the first Hispanic Senate chief of staff is one of the Democrats' top recruits. And Republicans boast three openly gay candidates — two of whom hold solid odds of defeating House Democrats. Important issues are being litigated, too, whether it's the president's health care law for Democrats in conservative-minded districts or immigration for Republicans representing diverse battleground seats.
Here are 10 of the most compelling races to watch:
1. ARIZONA 02: Rep. Ron Barber (D) vs. Martha McSally (R)
Barber is one of the most vulnerable House Democrats, a surprising turn of events since he won election as Rep. Gabrielle Giffords's handpicked successor. Barber was seriously injured in the attack that wounded the congresswoman, but the former Giffords district director recovered to comfortably win a competitive special election in 2012 against a tea-party-aligned opponent. However, against a stronger Republican challenger in November — retired Air Force Col. Martha McSally — Barber barely won, prevailing by just 2,454 votes.
McSally is running again, and her prospects are more promising the second time around. An April poll from her campaign showed her leading Barber by 3 points, a good position for a challenger this far out before November. If she wins, her military profile promises she'll play a prominent role for House Republicans. One X factor: the role Giffords will play for her former staffer, which could make a difference in a close contest.
2. CALIFORNIA 21: Rep. David Valadao (R) vs. Amanda Renteria (D)
Valadao is something of an anomaly in the House Republican caucus. The freshman congressman is one of the few members of his party to represent a district where Hispanics make up a majority of the voting-age population, and supports a path to citizenship for illegal immigrants as part of a comprehensive immigration plan. He won his first election after Democrats failed to land a credible recruit to run against him.
That's changed this year. He's likely to face Democrat Amanda Renteria, the first female Hispanic chief of staff in the U.S. Senate (for Michigan Sen. Debbie Stabenow). For a party lagging behind Republicans in recruiting national Hispanic political leaders, Renteria would carry a high profile in Congress. She's got a good chance to win in a district where President Obama won 55 percent of the vote in 2012, but she'll need to turn out enough liberal-minded Hispanic voters in a midterm election to do so.
3. CALIFORNIA 52: Rep. Scott Peters (D) vs. Carl DeMaio (R)
If Republicans hope to improve their party's battered brand, a good start would be picking up a seat in this coastal San Diego district, held by freshman Democrat Scott Peters. The GOP recruited openly gay former San Diego City Councilman Carl DeMaio to enter the race, and he's been running as a "new-generation Republican" — moderate on social issues, but fiscally conservative. (He aired an ad that shows him holding hands with his partner at an LGBT rally.) But if the GOP nominee for California governor is tea-party activist Tim Donnelly, it could dampen Republican turnout in November and help Peters's reelection prospects. The all-party primary results in June should give important clues about the trajectory of this race.
4. COLORADO 06: Rep. Mike Coffman (R) vs. Andrew Romanoff (D)
For a case study in how a politician can reinvent himself, look no further than Coffman, who was elected in a deeply conservative seat but was redistricted into a swing, diverse Denver-area district. He faces one of the most high-profile Democratic challengers of the cycle, former state House Speaker Andrew Romanoff, who has raised more than $2.5 million for the race. This is one of the few GOP-held seats where immigration is poised to become a major issue in the campaign, because the district is one-fifth Hispanic.
Coffman's district is the type of affluent suburban seat that a future Republican presidential candidate needs to win. Obama won 52 percent of the vote here in 2012, and if Coffman loses in a midterm year, it wouldn't bode well for the GOP's long-term prospects.
5. GEORGIA 12: Rep. John Barrow (D) vs. Rick Allen (R)
Can red-state Democratic senators like Mark Pryor and Mary Landrieu hang on to their seats in a tough environment? Ask Barrow, who's the last white House Democrat left in the Deep South. Barrow has managed to fend off numerous GOP opponents, despite representing a district where Obama only won 43 percent of the vote. He's won over enough Republican voters by breaking with the president on numerous issues, most recently emerging as the first Democrat to call for embattled Veterans Affairs Secretary Eric Shinseki's resignation. In the past, Republicans have struggled to recruit strong candidates in this conservative district, but businessman Rick Allen won an impressive 54 percent of the primary vote to avoid a runoff. If Barrow loses in November, it's a sign of a GOP wave, at least in the South — one large enough to sweep Republican Senate candidates to victory.
6. IOWA 03: Staci Appel (D) vs. GOP challenger
The seat is one of the true House bellwethers of the cycle — it's one of only 18 districts Obama carried in 2012 that's held by a House Republican. With popular GOP Rep. Tom Latham retiring, Democrats are excited about their prospects with former state Sen. Staci Appel, who's vying to become the first female member of Congress from Iowa.
This is one of the strongest Democratic pickup opportunities: Republicans face a crowded June 3 primary while Appel faces no Democratic opposition. Appel's a stronger candidate than her prospective GOP rivals, but she lost reelection to the state Senate against a tea- party-aligned candidate in 2010. The environment could be similar in 2014, with Republicans getting a boost by a strong showing from Gov. Terry Branstad at the top of the ticket.
7. MASSACHUSETTS 06: Rep. John Tierney (D) vs. Seth Moulton (D) and Richard Tisei (R)
In the last 22 years, no member of Congress from Massachusetts has lost reelection, but Tierney is one of the most threatened incumbents in all of Congress this year — thanks to his family's involvement in a gambling scandal. Despite representing a Democratic-friendly seat, he barely defeated Republican Richard Tisei, a former state Senate minority leader. Tisei is mounting a comeback this year and running in a more favorable political environment than in 2012. But first Tierney needs to get through the primary, where he's facing strong opposition from Harvard-educated Iraq War veteran Seth Moulton, who has outraised the congressman in three straight quarters. If Moulton wins the nomination, Democrats' chances of holding the seat increase markedly.
8. MINNESOTA 07: Rep. Collin Peterson (D) vs. Torrey Westrom (R)
Minnesota state Sen. Torrey Westrom may be one of the most intriguing House recruits of the year. When he was 14, Westrom lost his vision in a farming accident but persevered as an accomplished high school wrestler. He put himself through law school, and was elected to the Minnesota state Legislature at age 23.
He will have a challenge unseating Peterson, a 12-term congressman and ranking Democrat on the House Agriculture Committee who has easily won every campaign since 1994 — even surviving the 2010 GOP wave. But as one of the few rural, moderate Democrats left in the House, he's been exposed as the Democratic Party has drifted left. Like many other Blue Dog Democrats, Peterson considered retiring, but decided to run for reelection just several months before the filing deadline. Count this as the sleeper race of the cycle.
9. NEW HAMPSHIRE 01: Rep. Carol Shea-Porter (D) vs. Frank Guinta (R)/Dan Innis (R)
If there's a GOP wave in November, Shea-Porter will be one of the first members of Congress to feel it. The congresswoman who ran on an antiwar platform was elected in the Democratic sweep of 2006 and then was ushered out of office four years later when Republicans retook control of the House. On the heels of Obama's reelection in 2012, she won back her old seat but is facing another tough contest in 2014.
In September, Republicans face a competitive primary, pitting former Rep. Frank Guinta, who lost to Shea-Porter in 2012, against Dan Innis, one of the three openly gay Republicans running for Congress this year. Guinta begins the race as the favorite.
10. WEST VIRGINIA 03: Rep. Nick Rahall (D) vs. Evan Jenkins (R)
Rahall is another House Democrat who is facing the hard reality that House races have become increasingly nationalized. A protector of his district's coal interests, the 38-year House veteran has seen his fortunes decline as his party has sided with environmental interests over energy production. After winning only 54 percent of the vote in 2012, Republicans recruited a former Democrat, state Sen. Evan Jenkins, to challenge him. Early spending from Koch-affiliated groups badly hurt Rahall's standing, but Democratic super PACs have responded in kind to keep him in contention.
CORRECTION: Renteria was the first female Hispanic Senate chief of staff, not the first overall Hispanic Senate chief of staff.