Teens Blame Michelle Obama for Their 'Nasty' Tater Tot-Free Lunches
Caitlin Tagner, a high school sophomore from North Carolina, is very clear about who she blames for her school's "nasty" lunches: "I blame Michelle Obama."
This article is from the archive of our partner
.
Caitlin Tagner, a high school sophomore from North Carolina, is very clear about who she blames for her school's "nasty" lunches: "I blame Michelle Obama." It's great that schools are trying to make lunches better, they're not doing a very good job of it. "Starving kids at school isn't exactly a way to (get) kids' obesity down," Tagner added. "I feel like it's just been taken too far." On Monday, the Associated Press reported that some school nutrition directors want the Department of Agriculture of loosen up the new-ish lunch requirements so students will stop throwing away their food.
Anthony Gallimore, a high school senior from Georgia, was more willing to acknowledge others might be at fault. "It's gotta be a combination of Michelle and the servers at the school. No one person could take all the blame," he DM'd The Wire. "Though, the servers are probably just doing what they're told."
At Gallimore's school, most people "put up with" the lunch, but several have started bringing their own. "Health-wise, I'd say it's an illusion of benefit. The food even LOOKED more presentable before," he wrote. "And if nobody chooses to eat the gross food, then it can't possibly be helping anyone. It's just being thrown out anyway."
Tagner and Gallimore are two of millions of students across the country adjusting to the new (as of the 2012-2013 school year) lunch standards mandated by the Healthy and Hunger-Free Kids Act, a law Michelle Obama championed. Some kids like the lunches, but the ones who don't have school cafeterias are concerned. 
The right-leaning Twitchy, and several other sites, recently rounded up tweets from disgruntled high schoolers who blamed their lunches on Michelle Obama's health standards. But it turns out that the lunches, specifically the bad ones, aren't her fault — Congress and the Department of Agriculture approved the standards, and some school cafeteria's aren't adapting as well as others. 
The Healthy and Hunger-Free Kids Act
New meals are required to offer a whole grain, protein, fat free or low-fat milk, fruits and vegetables. Student can turn down two of the five options, but they have to take either a fruit or a vegetable. So for instance this school lunch is not in compliance:
...because there are no fruits or vegetables. Brady Justice, the Oklahoma sophomore who ordered that lunch, acknowledged that his school has a salad bar ever day, "which is nice, but I don't like salad :/," he said over DM. Justice said that while the food is a little bit healthier, "I am in athletics and every day I am hungry by the end of school." Schools and students are now worried about the sodium limits that are set to take effect by 2017, according to the AP, and want to drop the requirement that every kid take a fruit or a vegetable.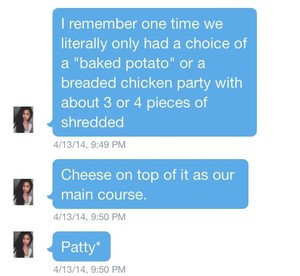 Every student The Wire interviewed saw and/or tasted the decline in their lunch options over the last few years. Justice replied, "In the past we always had an option for chicken nuggets or something else that was generally tasty, but this year we get a little sandwich or pizza made with wheat bread." (The pizza is not good.) Sarah Vongphachanh, a junior from Alabama, said the changes started with reduced calorie snacks. "There was a noticeable shift," Gallimore said. "The milk brands changed and the bread changed from white to a much smaller portion of wheat bread." Tagner gave up. "I started bringing my lunch now," she wrote. "The milk is usually warm also." 
Two things. First, it's worth noting that some kids like Justice don't eat the healthy part of the healthy school lunches. Second, as child nutrition advocate Ann Cooper told The Wire, "Michelle Obama has absolutely nothing to do with the national school lunch program." Cooper, aka the Renegade Lunch Lady, is a trained chef and the director of nutrition for the Boulder Valley School District in Colorado. "She's certainly a cheerleader for it and she certainly has made her personal views apparent," but the Department of Agriculture is in charge of the actual regulations, Cooper said. 
The National School Lunch Program designates federal dollars towards paying for a percentage of the cost of free, reduced price and regular priced school lunches. In return, the schools have to follow certain guidelines, including nutritional guidelines. In 2010, Congress passed the Healthy and Hunger-Free Kids Act, which calls for healthier foods and portion sizes.  
"I think they're just disingenuous," Cooper said of the kids protesting their lunches. "Because what I think they would like, instead of having fruits and vegetables... they'd like to have four pieces of pizza ... There's plenty of schools that are not serving good food, but that has nothing to do with the guidelines."
In addition to cracking down on junk food, the law reauthorized several child nutrition programs, expanded children's access to free and reduced price lunches, increased the government's contribution to lunches by six cents a meal and marked the largest investment in the programs in their history, as ABC News reported that August. But it's the food everyone is upset about.
Schools Cafeterias
Cooper acknowledged that not all school lunches are good — not all schools have a lunch program overseen by a trained chef and nutrition advocate — but thinks kids just miss junk food and aren't used to choosing better options. "If a high school student in one of our schools chose ... let's just say they had a quesadilla, and the quesadilla is the grain and the protein. They could end up with a quesadilla and an apple, and that's it," she said. "And that's not enough food for most high school kids, but that's because they didn't choose to take the rest of the food." 
The USDA has been open to at least temporarily adjusting some of the guidelines. Last June the Government Accountability Office recommended that the USDA loosen its restrictions on grains and meats after speaking with school food authorities from 17 schools in eight school districts.
"The school districts had problems implementing some of this," the GAO's Director of Education, Workforce and Income Security Kay E. Brown, told The Wire. In February, Brown's department released a report detailing how schools handled the implementation of the new healthy food standards. Conservative outlets latched on to the fact that 1 million students — 3.7 percent — were projected to leave the school lunch this year because of the new standers, but Brown said it was more complicated than that.
"The vendors weren't necessarily ready to give them some of the right types of food in the right serving sizes that they needed. They didn't necessarily have the right kitchen equipment on hand, they had to retrain their staff to be cutting up vegetables and fruit, rather than making baked goods," Brown said.
While schools across the country experienced problems with issues specific to both the health standards like plate waste, food costs for healthier meals, portion sizes and calorie ranges, schools that started implementing the standards earlier had an easier time. Studies have shown that hyper-palatable foods (junk food) can be addictive — it takes time to develop a taste for healthy foods. "We also talked to school districts that had started serving more nutritious foods earlier than what's required and we're starting to see acceptance improve among the kids," Brown said.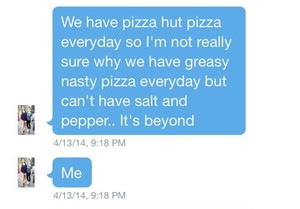 Cooper noted that her school, which started serving the new health standards five years ago, experienced a 4 percent drop in sales their first year, followed by three years of 6 to 7 percent increases. Switching from "chicken nuggets and tater tots" to fresh salad bars isn't an easy process. "The idea that we're going to change kids palettes in just a couple of months from high fat, high salt, high sugar to fresh fruits and vegetables for older kids is unreasonable."
Teens, who are in high school for about four years, aren't thinking long-term. Tagner says she regularly throws away the fruit or vegetable that comes with her school lunch. "I don't like doing it, but I'm hoping it's a lesson learned that they're not providing students nutritious meals by forcing them to get stuff."
This article is from the archive of our partner The Wire.