Taking on the Student-Loan System
Is changing the way student debt is repaid the solution to a multibillion-dollar problem?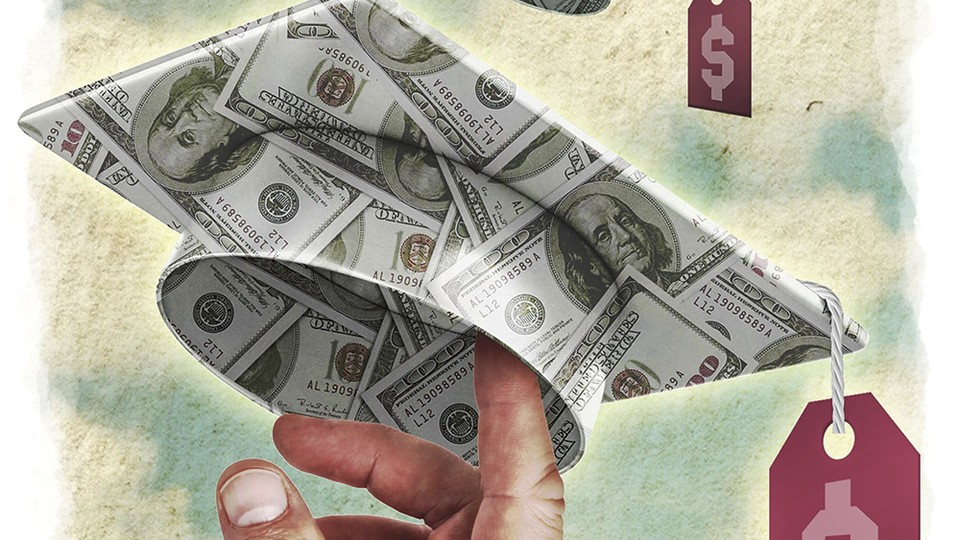 As Congress begins to work on reauthorizing the Higher Education Act, it has become clear that one of the issues lawmakers are likely to address is student loans. The question is, how far will they go?
Rep. Tom Petri, R-Wis., is hoping they'll overthrow the system.
Petri has been pushing legislation that would provide an alternative to the current arrangement, under which federal student loans are granted based on financial need but repaid at a fixed monthly rate, regardless of a borrower's income. Under his bill, after borrowers hit an income level sufficient to cover their basic needs, 10 percent of their discretionary income would automatically be deducted from their paychecks to pay back student loans. (The deductions would not be mandatory; those who wanted to could still opt for a more traditional repayment plan.) In addition, last month Petri and Sen. Marco Rubio, R-Fla., proposed separate legislation that would allow students to forgo the loan system altogether by promising a percentage of their future earnings to private investors who agree to pay their tuition.
Both bills are an attempt to address the growing consensus that the current system hasn't been working out so well for those who take the loans or those who make them: The default rate hovers around 9 percent, and past-due balances — delinquencies plus defaults — total $85 billion, according to the Federal Reserve Bank of New York. What's more, collection agencies are pocketing an additional $1 billion annually in late-payment fees from borrowers, according to Sen. Tom Harkin, the chairman of the Health, Education, Labor, and Pensions Committee.
Petri and Rubio aren't alone in believing that it makes sense to tie student-loan payments to income; on the Democratic side, President Obama has set up a limited "pay as you earn" program that allows some borrowers who can demonstrate hardship to pay no more than 10 percent of their discretionary income toward their debt, no matter what they owe.
"It just fits the real-world circumstances better," Petri says. "I don't think there was any particular reason why they didn't do that at the beginning except that, initially, the loans were much smaller, the cost of education was much lower. It just wasn't something worth fooling with if you were getting a $500 student loan."
Now, however, the numbers look a little bit different: Almost 39 million people in the United States owe money from student loans. The average balance is $26,000, but the collective balance of that debt tops $1 trillion, and it grew by $114 billion just last year. And the increase in the number of borrowers over the past 10 years has been steep — up from 23 million in 2005 — tracking the overall growth in college enrollment, which grew 32 percent between 2001 and 2011, according to the Education Department.
The suddenly serious statistics have policymakers increasingly focused on making debt repayment less burdensome — and lowering the chances that borrowers fall behind. "Making college more affordable" and "helping borrowers struggling with student debt" are Harkin's top priorities for the higher-education legislation he is starting to put together, according to an aide to the Iowa Democrat.
That higher-education bill will likely be finished next year, and automatically deducting a percentage of a borrower's income from his or her paycheck is by far the most ambitious idea being considered for inclusion in it, but the move could virtually eliminate student-loan defaults. The United Kingdom, which collects student-loan payments through paycheck withholding, sees almost no defaults from borrowers who remain in the U.K. after college. (The British government does have trouble collecting from student borrowers who become employed outside its borders, but the United States faces that situation far less often.)
Other ideas range from requiring financial counseling for all new borrowers to streamlining the current system. For example, if the federal government could "simplify the various ways — I think there are eight of them — to help borrowers pay back their student loans," the default rate would go down, says Sen. Lamar Alexander, R-Tenn., the ranking member on the HELP Committee. Senate Democrats are also planning a floor vote in June on legislation, sponsored by Elizabeth Warren, D-Mass., that would allow borrowers to refinance their loans at the new, lower rates set by last year's student-loan law.
Warren's bill isn't likely to go far with Republicans, since it pays for the lower rates by hiking taxes on millionaires. But it will help underscore a point that most seem able to agree upon: The current student-loan system is one only a collection agency could love.
This article is part of The Next America project.