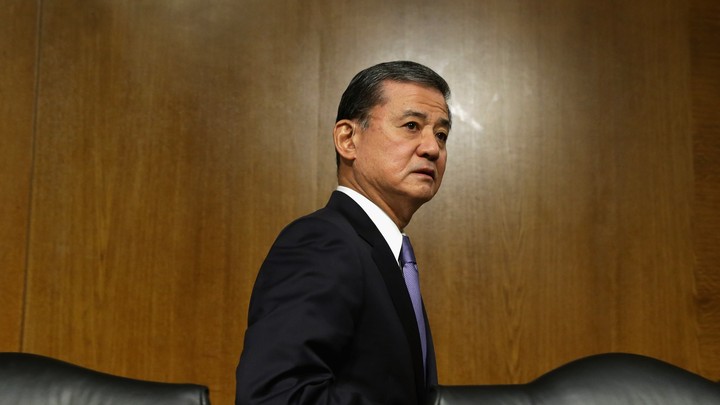 Veterans Affairs Secretary Eric Shinseki and Defense Secretary Chuck Hagel made a quiet trip to Capitol Hill on Tuesday afternoon amid the growing scandal engulfing veterans affairs hospitals across the country.
Shinseki and Hagel were on the Hill for a meeting with House Appropriations Chairman Hal Rogers and Ranking Member Nita Lowey, according to a committee spokeswoman, that was scheduled some time ago and was not related to the VA scandal. The meeting, she said, was about the veterans affairs and defense departments' ongoing collaboration involving electronic medical records. Both departments have yet to create the digital system prescribed by Congress in 2008, which continues to create headaches on the Hill.
Representatives of the House Armed Services and House Veterans' Affairs committees that they were unaware of Shinseki's visit. House Veterans' Affairs Committee Chairman Jeff Miller, who had said he wanted to look into scandal but has so far refrained from calling for Shinseki's resignation, said it was the first he had heard of the veterans affairs secretary's trip to the Hill.
The visit comes as a handful of congressional Republicans have called for Shinseki's immediate resignation. The majority of members, including leadership, however, are withholding their judgment on the secretary's employment until more information arises.
Shinseki has said he is "mad as hell" about long wait times and secret appointment lists at veterans' hospitals. The Veterans Affairs Department's inspector general is conducting an investigation into allegations of mismanagement at hospitals.
CLARIFICATION: An earlier version of this story referred to the secretaries' trip to the Hill as a "surprise visit." While the visit was in fact a surprise to members of the House Armed Services and House Veterans' Affairs committees, it had been previously planned with leaders of the House Appropriations Committee.
We want to hear what you think about this article. Submit a letter to the editor or write to letters@theatlantic.com.