Republican Establishment Sweeps Tea Party in First Round of Primaries
American Crossroads plays pivotal role in locking up nomination for Thom Tillis in North Carolina.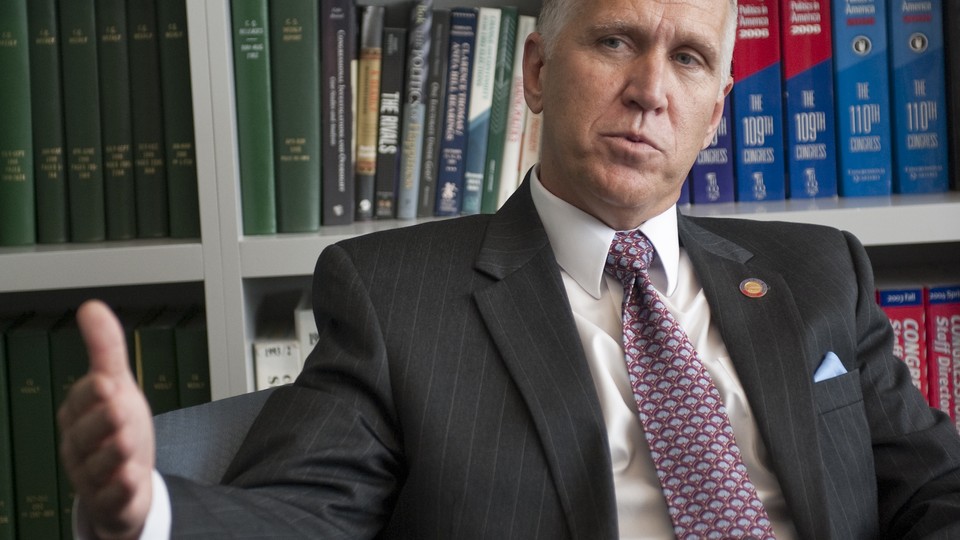 North Carolina House Speaker Thom Tillis won the Republican Senate nomination in the Tar Heel State on Tuesday evening, comfortably surpassing the 40 percent threshold to win the nomination. His victory ratifies the aggressive strategy adopted by establishment-oriented outside groups, led by American Crossroads, to spend millions on behalf of favored candidates and attack their rivals when necessary.
North Carolina was the opening battleground in the fight between the Republican Party's two main factions, and it's a sign the establishment's no-holds-barred strategy is paying off. American Crossroads spent $1.6 million on behalf of Tillis, significantly more than the resources of Republican challengers Greg Brannon and Mark Harris. They aired three ads, which each touted Tillis's conservative record and rebutted Democratic attacks against him.
The goal was simple: Increase Tillis's low name identification, knowing his opponents wouldn't have the resources to fight back. In January, the group commissioned a survey from veteran GOP pollster Jan van Lohuizen showing Tillis only tallying 16 percent in the crowded field, with 60 percent of Republican voters unsure of their choice. Just over one-quarter of North Carolina GOP voters were familiar with Tillis. But in the middle of their advertising blitz in late April, another poll commissioned by Crossroads and conducted by van Lohuizen found Tillis's name identification had shot up to 66 percent, with him tallying 38 percent of the primary vote. That same poll showed only about one-third of voters familiar with Brannon and Harris.
Their strategy was twofold: Spend early to avoid a financially costly runoff that could wound Tillis for the general election and begin to make the case against embattled Democratic Sen. Kay Hagan. It worked, with Tillis winning well over 40 percent across the board, in most North Carolina counties.
"The stakes were pretty high for us to get him there," American Crossroads Political Director Carl Forti said. "We may have had to spend significantly more to get [Tillis] through a runoff, and that's money that's not going to other important races."
The Karl Rove-aligned super PAC took heat last year from conservatives for announcing the formation of the Conservative Victory Project, an effort designed to prevent less-electable candidates from winning primaries. But with considerably less fanfare, the group achieved the same results by employing a similar strategy to boost Tillis. Crossroads officials said that it's likely they will get involved in additional primaries, given the successful outcome in North Carolina.
Meanwhile, the U.S. Chamber of Commerce, which spent over $1 million in ads backing Tillis, also saw two other endorsed candidates prevail in contested primaries — Rep. David Joyce in Ohio and North Carolina congressional candidate David Rouzer. The pro-business lobby attacked Joyce and Rouzer's conservative primary challengers as sleazy "trial lawyers" in ads, before they could catch any momentum. House Speaker John Boehner also comfortably prevailed in his primary, winning 69 percent of the vote.
The establishment is also gaining momentum in the run-up to the next wave of congressional primaries in Nebraska (May 13); Georgia, Idaho, and Kentucky (May 20); and Iowa and Mississippi (June 3). Senate Minority Leader Mitch McConnell is expected to easily prevail against tea-party challenger Matt Bevin, despite outside conservative groups' involvement in support of Bevin. In a sign of early exuberance, Republican National Committee spokesman Jahan Wilcox tweeted "next stop is that fraud Matt Bevin!" after the Associated Press called the race for Tillis.
Meanwhile, Rep. Mike Simpson of Idaho is now favored to fend off a challenge from Club for Growth-backed attorney Bryan Smith. Iowa state Sen. Joni Ernst, the candidate favored by Iowa GOP Gov. Terry Branstad, is winning support from establishment allies (Mitt Romney) and tea-party favorites (Sarah Palin) alike. In Georgia, the weakest Republican candidates are fading in the primary, making it more likely Republicans will nominate a strong opponent against Democrat Michelle Nunn.
The establishment's biggest test will come in Mississippi, where Sen. Thad Cochran is relying on allies aligned with former Mississippi Gov. Haley Barbour to fend off a serious challenge from state Sen. Chris McDaniel, who is supported by leading outside conservative groups.