Political Sparring Over Unemployment Insurance Reaches New Heights
Or is a fight over a hearing room a new low?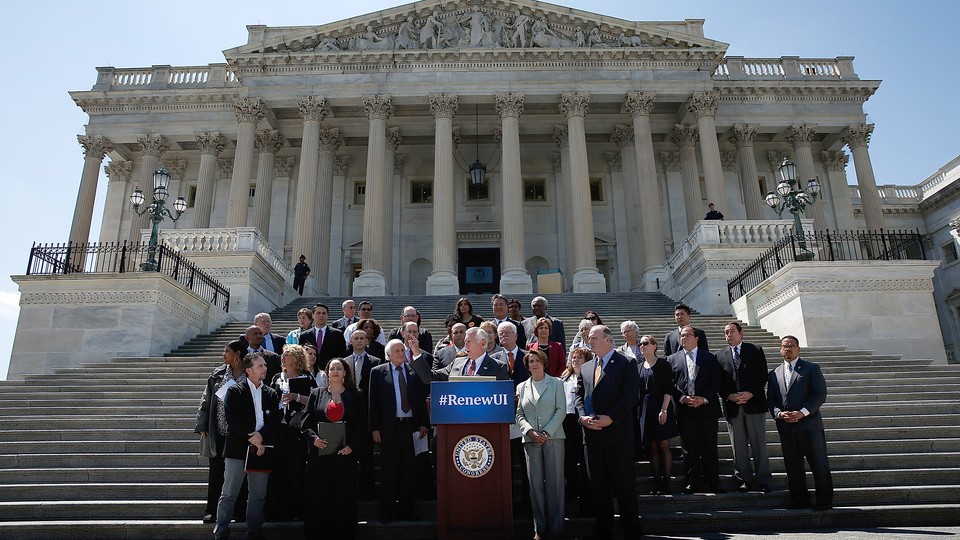 The ongoing congressional fight over unemployment-insurance benefits grew even tenser — and a little more petty — this week.
The partisan bickering over the issue reached a new high Tuesday morning, as House Democrats prepared to rake Republicans over the coals with another hearing packed with stories from the long-term unemployed, just as they did just before the program expired on Dec. 28. The hearings are designed to put more pressure on House Speaker John Boehner to bring an extension to the floor.
But after a series of room changes were sent out to the press over the past week, Democrats declared that Republicans were preventing them from holding the hearing. A release from House Minority Leader Nancy Pelosi's office accused Republicans of "kicking House Democrats out of a room" where they had scheduled the hearing and trying "to silence the voices of Americans who lost unemployment insurance." Pelosi's office announced that Democrats would hold a press conference outdoors instead.
But that's not the whole story, Republicans say. "The minority office requested the use of a committee hearing room space that they billed as a member meeting that would not include press," House Education and the Workforce Committee spokeswoman Alexandra Sollberger said in an email.
A copy of the request, provided to National Journal by Sollberger, shows that the office of Rep. George Miller, D-Calif., requested the room for a members-only event and noted that press would not be invited. The Education and Workforce Committee then presented Democrats with a document that explicitly prohibited the use of the dais, microphones, and witness tables — all key elements of a typical hearing — during their proposed meeting. A Democratic staffer signed it.
"At the last minute, the Democrats changed significantly the format of their event that no longer complies with the terms to which they originally agreed. At no time did we deny their request to hold an event," Sollberger said. "In fact, we have communicated to Democrat staff that we are more than willing to accommodate the event they now wish to hold — all they have to do is ask."
Sollberger went on to characterize the Democrats' outrage Tuesday morning as "partisan political shenanigans at its best."
The term "partisan" caught many Democratic ears. "This isn't a partisan issue," said Julia Krahe, a spokeswoman for Democrats on the committee. "It can't just be Democrats that are unemployed."
Democrats said they emailed back-and-forth with Republicans, specifying that they would hold a hearing with the press in the room, but did not file an amended hearing room request form. Democrats further noted that they once held an almost identical hearing in December in a Rayburn hearing room, using microphones and the dais, without a Republican backlash.
In the midst of the uproar Tuesday morning, Republicans offered to let Democrats use the hearing room and its equipment anyway, but Pelosi spokesman Drew Hammill said it was too late. "They have today, after we've thrown a public fit, now said that we can use the room, but we've already moved cameras and things like that," Hammill said, adding that C-SPAN, CNN, and other networks had already begun setting up on the front steps of the Capitol for the press conference.
"Yeah, you made alternate arrangements to make this a big press thing, but really this is a paperwork issue," Sollberger said of Democrats. "Bottom line is, we're happy to accommodate what they want, but they just have to ask for what they want."
Boehner spokesman Michael Steel characterized the event as "faux outrage on the Capitol steps."
The back-and-forth between the parties over the hearing room ended up drawing more attention to the Democratic press conference than usual. This brought an increased media focus to an issue that hasn't gotten much attention since the Senate passed an unemployment-insurance extension bill early last month. And Democrats were not going to let the opportunity go to waste.
Amid speeches by Democratic lawmakers decrying unfair treatment by the Republican majority, a series of unemployed individuals took to the microphones, each seemingly with a more emotional story of struggle than the last. Helene Laurusavage, an Air Force veteran with a degree in physics, has used up all her savings and has no money to pay her mortgage next month. Kevin McCarthy (no relation to the House majority whip), a former National Guardsman, choked up as he described how his 17-year-old daughter told him she worried she was a burden to the family as he struggles to find work. And Jeanne Keane talked about taking in her daughter and autistic grandson and going on food stamps.
The seven speakers each said they had sent out between 200 and 300 applications since losing their jobs; many had worked in their fields for decades and held degrees.
But the politics of the moment detracted from those stories.
Pelosi closed the press conference on the sunny steps of the Capitol by returning to the hearing-room debacle. "Unfortunately, our Republican colleagues in the Congress are in denial about this situation. When I asked them, why don't you give us a vote, because the votes are there to pass the extension of unemployment insurance?" she said. "They say these people are not looking for work, so we're not going to give them this extension. They are in denial. In fact, they don't even want to hear the truth. That's why they kicked us out of the Rayburn room and wouldn't let these stories be told."
Despite the attention drawn by the dustup, Republicans appear unmoved. "If House Democrats didn't use the event today to announce a plan that is fiscally responsible and includes measures to boost private-sector job creation, it wasn't helpful," Steel said.
If Tuesday's events proved anything, it's that both sides are even more entrenched in their positions on unemployment insurance than they were in December. And that doesn't provide much hope for the future of the legislation.
Update: This story has been updated to reflect the fact that Democrats say they discussed amending the hearing room request form with Republicans via e-mail, but did not make a formal request or submit an amended form, as previously stated.