Opposing Gay Marriage Is a Waste of Your Time
Like those who stood against civil rights for African-Americans, gay-marriage foes are fighting a battle they can't win.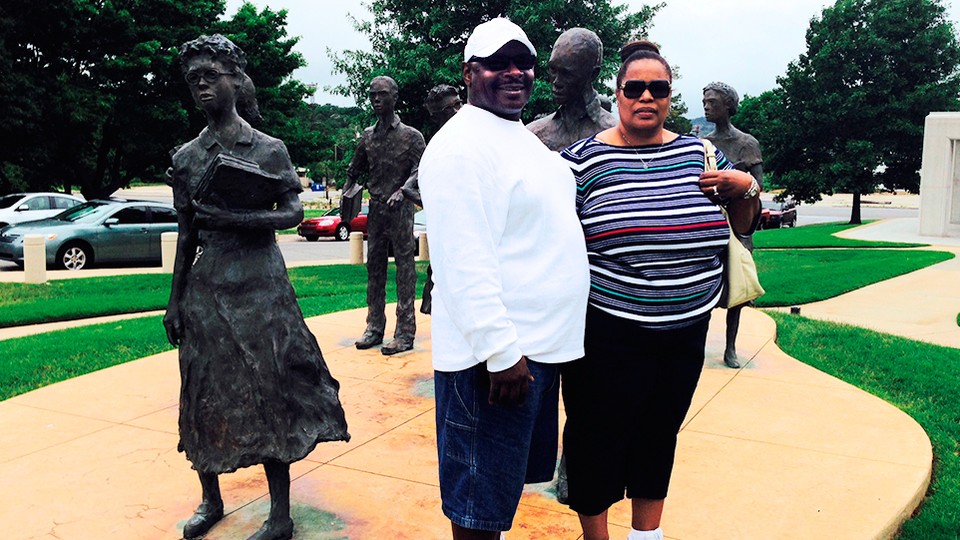 LITTLE ROCK, Ark. — Nine slender statues stand beneath a window to the Arkansas governor's office — bronze, life-size images of the black children who integrated Little Rock Central High School on Sept. 25, 1957, and helped ignite the civil-rights era. "They defied prejudice," says Gregory Donaldson, an African-American Baptist minister from St. Louis visiting the display with his wife Nanette. "They defied bigotry."
A few blocks away, at the very same moment, Samantha Head marries her partner of seven years, Samantha Kertz. Their simple ceremony is one of dozens of gay weddings conducted at the Pulaski County Courthouse since Saturday, when a county judge ruled the state's gay-marriage ban in violation of the U.S. Constitution. The decision thrust Arkansas into a familiar spot: squarely in the middle of a civil-rights fight.
In 1957, the battle lines were hardened but the outcome was certain: Eventually, the nation's schools and other institutions would desegregate. And so it is now, when a gray, rain-spitting workday in Little Rock illustrates how far the gay-rights movement has come — and how far it will go.
As with the Little Rock school-desegregation crisis, the chief protagonists in this story represent both the past and the future. Slightly ahead of his time (and his state) is Pulaski County Circuit Judge Chris Piazza, who ruled that a constitutional amendment overwhelmingly passed by voters in 2004 banning gay marriage was "an unconstitutional attempt to narrow the definition of equality." Trying to turn back time are the likes of Republican state Sen. Jason Rapert, a fierce opponent of gay rights who wants Piazza impeached.
Everybody else seems to fall between Rapert and Piazza — neither heroes nor villains, all struggling at their own pace to accept and adjust to rapid social change. They reflect the evolving American public. In just the last week, professional football's first openly gay player was drafted by an NFL team and a federal judge struck down Idaho's ban on gay marriage, saying it relegated same-sex couples to a second-class status.
Donaldson, the black Baptist minister, wrinkles his nose when I tell him about the gay marriages underway at the nearby courthouse, not to mention what's happening in the NFL and Idaho. "I'm not for gay marriage," he seethes. "I'm against what God's against."
But wait. That's precisely the justification given by segregationist politicians of the civil-rights era. In Georgia, Gov. Allen Candler said, "God made them Negroes and we cannot by education make them white folks." Ross Barnett became Mississippi's governor in 1960 after claiming that "the good Lord was the original segregationist."
I ask Donaldson, How can a black man echo bigots to stifle gay rights?
"As far as hatred," he says, "I would never have hatred toward anybody."
But you sound like a segregationist, I say politely. Donaldson and his wife seem like a kind, loving couple, pillars of their community. But he did sound like Orval Faubus, the segregationist governor who defied the Supreme Court in 1957 (and who, years ago, I caught crashing a Little Rock Nine tribute).
"There's a difference," Donaldson coos. "The difference is [racists] interpreted the Bible to support their political ambitions. I don't interpret the Bible. I do what it says."
Later, I walk into Bill Clinton's old office and shake hands with Arkansas Gov. Mike Beebe, a moderate Democrat I've known for years. Not surprisingly, Beebe's position on gay rights is close to the state's mainstream opinion. While he opposes discrimination against gays in the workplace, he believes marriage is a union between a man and a woman.
"It's another step for me to get to gay marriage," he says. Even a stranger to Beebe's nuanced politics would recognize him signaling that both he and his state are evolving, albeit slowly, toward that step.
When I compare his justifications for opposing gay marriage to those used by Faubus, Beebe sternly makes two distinctions. First, the segregationist governor took actions he knew were wrong to further his political career (Beebe plans to retire after his term expires next year). Second, Faubus broke the law and "I wouldn't do that."
Someday, I say, legal bans on gay marriage may be ruled unconstitutional, and not just at a county level. Beebe smiles.
For lunch, I eat with Attorney General Dustin McDaniel in his office. Two weeks ago, he became the first politician elected statewide to endorse gay marriage. And yet, he plans to appeal Piazza's ruling. The state is his client and he's obligated to argue its case, McDaniel says, just as a defense attorney must represent a known criminal. Dragging a spoon through his soup, McDaniel outlines his case against Piazza's ruling, point-by-point in a sing-song voice that belies his ambivalence.
Politically, the ambitious Democrat is threading a needle. His paradoxical position may allow him to be a champion of gays without angering conservative Democrats and independents.
I tell McDaniel that he's further evolved on the topic than Beebe, and that public opinion is moving toward acceptance of gay marriage. In particular, the millennial generation, which soon inherits America's future, overwhelmingly embraces the most tolerant views toward homosexuals.
"I think we are putting forward legitimate legal arguments" against Piazza's ruling, based on the state Constitution, he says. But, he adds, "I think from a policy perspective, yes, your theory is right. The trend is clear. Young Americans don't see [gay marriage] as an issue at all."
Which brings me to the Pulaski County Courthouse where the two Samanthas, both in their mid-20s and from nearby Jacksonville, Ark., embrace and kiss after exchanging vows. Theirs is one of the last same-sex weddings before country clerks stop the practice — after just five days — to await clarity on Piazza's ruling from the Supreme Court.
Holding their marriage license, Samantha Head says the last person she told about her sexual orientation was her grandmother. She was afraid a woman in her ninth decade would object. Instead, the grandmother told Samantha, "Screw the conservatives and screw the die-hard Christians. You love each other. So I love my Sammies."
It's easy to demonize conservatives and Christians. It's harder to recognize that faith is a stern master, especially among African-Americans whose animus toward homosexuality runs deep. We should know by now that social change takes times, but the American public tends to eventually get things right.
"The arc of the moral universe is long but it bends toward justice," Martin Luther King Jr. said of the fight for racial equality. Five decades later, Donaldson and his wife posed for pictures in front of the Little Rock Nine monument and dismissed the fight for sexual equality. In the not-too-distant future, their views on homosexuality will pass into history. Nobody can stop the arc of justice.
Marriage notices in Wednesday's Arkansas Democratic-Gazette include scores of same-sex couples. (Ron Fournier)