One Size Does Not Fit All
Data and everyday racial labels mask the struggles of many Asian-American and Pacific Islanders.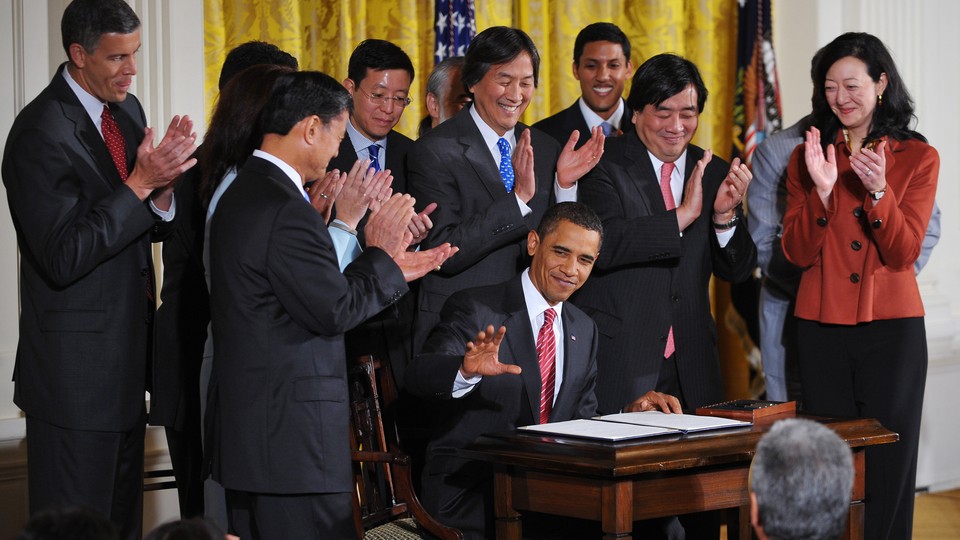 Inequality is ubiquitous. It pervades all populations — encompassing all ages, all genders, all races and ethnicities. But some groups in the United States face the symptoms of inequality — such as poverty or lack of health insurance — at higher rates than others. What may come as a surprise to some is that Asian-Americans and Pacific Islanders rank among those who are faring poorly.
Data on Asian-American and Pacific Islander subpopulations are often clumped together into a single group by government agencies and nonprofit groups. Policymakers ultimately use that same data to identify and theoretically combat inequality. This process masks the high level of variation — that is to say, some important socioeconomic differences — within the country's fast-growing Asian-American population.
The end result: We lack a clear picture of the AAPI population. Real and important differences in the lives, experiences, and policy needs of many Asian-Americans are not only obscured but often go utterly unrecognized.
Federal government statistics use a definition of "Asian" that groups together immigrants from Asia and people of Asian descent born in the United States who have Chinese, Filipino, Korean, Thai, Hmong, Pakistani, and many other backgrounds. There are reasons for this. Accurate data can be difficult to collect due to small sample sizes of Asian-American subpopulations and language barriers. Variations in the way Asian-Americans and individuals with Asian-American heritage self-identify also do not make more detailed data easy to gather or distribute. Still, simplicity in data-gathering and distribution can also generate problems.
It is easy to look at the postsecondary educational attainment and household income levels of Asian-Americans and assume the community is thriving. As a group, Asian-Americans appear better off than Latinos, African-Americans, and even non-Hispanic whites. But the reality is that many Asian-Americans are doing far worse than the general U.S. population. Although the AAPI population as a whole has lower unemployment rates and higher incomes than the white population, it also has higher rates of poverty and people without health insurance.
On one end are educated Asian immigrants who arrive in this country to attend school. For example, Indian-Americans are more likely than other Asian group to come to the United States on an education visa. They are also more likely to be educated and to arrive in the United States already proficient in English. As a result, they perform very well compared with other Asian-American populations and even the U.S. public as a whole. In 2010, Indian-Americans had the highest median household income of any group in the country.
On the other hand, nearly one in five Asian-Americans arrive in the United States as refugees or asylees without much wealth or education. Other factors like place of birth, immigration status, culture, and geographic location also lead to dramatically varied economic statuses between subpopulations.
Some examples: Bangladeshi-Americans have a poverty rate of 21 percent, while Filipino-Americans have a poverty rate of 6 percent. Korean-Americans are covered by health insurance at a rate closer to that of African-Americans than that of Indian-Americans. Only 19 percent of Native Hawaiian and Pacific Islanders 25 years and older have a bachelor's degree, the same rate of education attainment as African-Americans in the same age group.
These are just some of the striking and seemingly paradoxical contradictions within the larger AAPI community, that when aggregated together, are masked.
What can be done, then, to ensure effective policy-formulation? The first step to solving any problem is recognizing and accurately diagnosing it. If we are going to tackle the crises of poverty and lack of access to health care in specific AAPI communities, we need to develop a better system of identifying them.
To accomplish this, the federal government can make a number of changes to the way Census Bureau information on the AAPI community is collected. First, the bureau needs to develop a more nuanced system for gathering and making public information about demographic groups and the subpopulations within them. Second, it can create a central depository of information on communities of color, including but not limited to Asian-Americans and Pacific Islanders.
But until that happens, experts and academics are doing their best to showcase the diversity within the AAPI community. A new report series by the Center for American Progress and AAPI Data, The State of Asian Americans and Pacific Islanders, was launched in late April in an effort to use data and evidence to put forth the most comprehensive portrait of the Asian-American and Pacific Island community yet. This report launched right before Asian-Pacific American Heritage Month this May, a celebration of the AAPI community and its history.
The AAPI population is the fastest-growing group in the United States. As this growth continues, it is critical to understand the diversity that exists among Asian-Americans in order to craft public policy that efficiently and accurately targets the right communities. With growing diversity comes a tremendous opportunity to build a robust, sustainable, and competitive economy that benefits all Americans. Asian-Americans deserve to be better represented and understood as policymakers consider how best to address economic inequality.
Farah Ahmad is a policy analyst for Progress 2050 at American Progress, where her works concentrates on the relationship between changing demographics and policy. Christian E. Weller is a senior fellow at American Progress and a professor of public policy at the McCormack Graduate School of Policy and Global Studies at the University of Massachusetts (Boston). 
HAVE AN OPINION ON POLICY AND CHANGING DEMOGRAPHICS? The Next America welcomes op-ed pieces that explore the political, economic, and social impacts of the profound racial and cultural changes facing our nation, particularly relevant to education, economy, the workforce and health. Email Janell Ross at jross@nationaljournal.com. Please follow us on Twitter and Facebook.