Obama's Non-Climate Climate Pitch
The White House is touting cuts in pollution that hitches a ride with carbon emissions.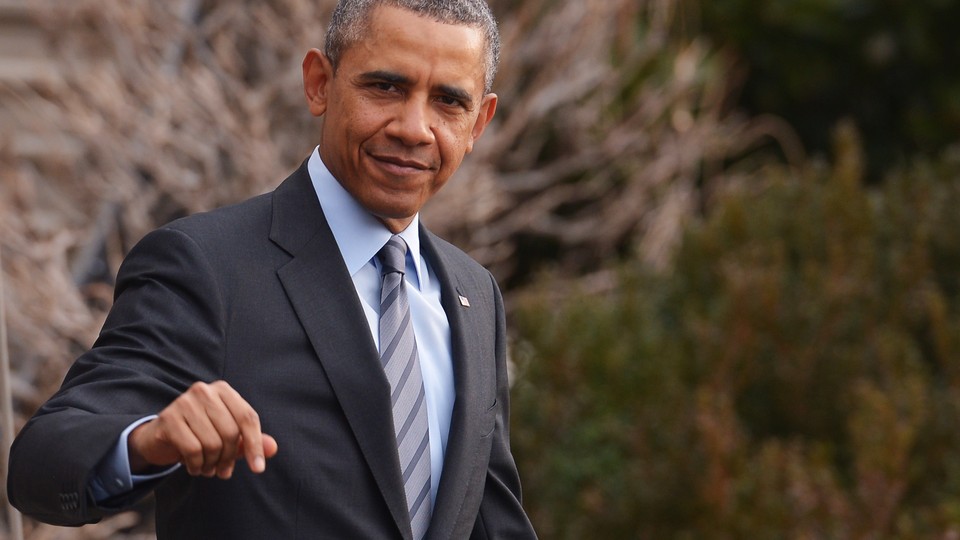 President Obama offered a small detail Saturday about the big EPA draft regulations coming Monday to cut carbon emissions from power plants.
"In just the first year that these standards go into effect, up to 100,000 asthma attacks and 2,100 heart attacks will be avoided — and those numbers will go up from there," Obama said in his weekly address.
But those immediate health benefits that regulators are forecasting have nothing to do with lowering carbon emissions that contribute to global warming.
Instead, Obama's talking about other kinds of smokestack pollution "" smog-forming emissions and soot "" that hitch a ride with carbon.
Obama's address suggests that touting these near-term "co-benefits" of reducing carbon emissions from coal-fired power plants will be a big part of the campaign promoting the climate change regulation.
He makes that pitch right of the bat in his speech taped Friday at a Washington hospital.
"Hi, everybody. I'm here at Children's National Medical Center in Washington, D.C., visiting with some kids being treated here all the time for asthma and other breathing problems. Often, these illnesses are aggravated by air pollution — pollution from the same sources that release carbon and contribute to climate change. And for the sake of all our kids, we've got to do more to reduce it," Obama said.
Obama will also take part in a conference call with public health groups on Monday hosted by the American Lung Association.
His Saturday address delves into the climate change part of the climate regulation too.
"As president, and as a parent, I refuse to condemn our children to a planet that's beyond fixing. The shift to a cleaner energy economy won't happen overnight, and it will require tough choices along the way. But a low-carbon, clean-energy economy can be an engine of growth for decades to come," Obama said.