Obamacare's Partisan Divide Is Bending Our Brains
People believe what they want to about Obamacare, even when the question is about their family and friends.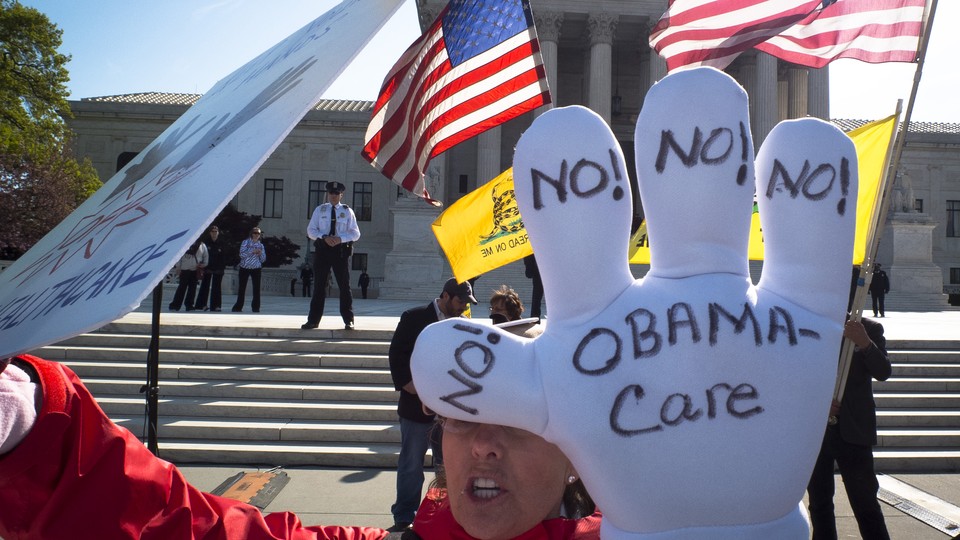 Obamacare is such a thoroughly partisan issue that even when voters are asked about their own lives, they answer along party lines.
"How has Obamacare affected you?" is a question whose answer depends on your income, how you get health insurance, and a couple of other demographics. But how people think Obamacare has affected them depends instead on their politics, according to the latest tracking poll from the Kaiser Family Foundation.
There has always been a stubborn partisan divide in public approval of Obamacare, and the latest Kaiser poll shows no change on that front.
But the survey indicates that even when describing real-world experiences — at a time when millions of people have gained access to coverage and millions have seen their plans canceled — voters still see those effects through a political lens.
A majority of all respondents (60 percent) and even a majority of Republicans (54 percent) said they had not been directly affected by the health care law.
But among those who said they had directly felt the effects of Obamacare, Democrats overwhelmingly said they had been helped, while Republicans overwhelmingly said they had been hurt.
Even after controlling for income and insurance status — the issues that actually determine who's affected, and how — politics still predicts whether people think they've been helped or hurt, Kaiser said.
Politics also shapes how voters think the law has affected the people around them.
A lot of Democrats (48 percent) said they personally know someone who was able to get health insurance because of Obamacare. Only 19 percent of Republicans said they know such a person.
By contrast, Republicans were twice as likely to say they know someone who lost their coverage, or their job, because of the law.
Overall public opinion of the law has barely changed in a year and a half; it's deeply divided and leans negative, by 45 percent to 38 percent, in the latest poll. But the politics could favor Republicans more than those figures let on, thanks to a persistent intensity gap.
A slight majority (51 percent) of all registered voters said they're "tired of hearing candidates for Congress talk about the health care law," but 60 percent of Republicans disagreed with that statement, saying they'd rather keep the Obamacare debate alive.
Critics' feelings about Obamacare continue to run deeper than supporters'; 33 percent of all respondents, and 61 percent of Republicans, have a "very unfavorable" view of the law. By contrast, just 19 percent of all respondents and 36 percent of Democrats have a "very favorable" view.
Republican voters also don't seem likely to push their candidates away from a focus on repeal. When asked whether Congress should focus on fixing the law or replacing it, 65 percent of Republican voters chose repeal. (Among all voters, fixing the law held a 59-percent edge.)
While majorities of registered voters are tired of the Obamacare debate and unsatisfied with the GOP's "repeal" message, the Kaiser survey suggests that the issue remains a big motivator for the Republican base — and that may be all the party needs for November's midterms, which traditionally hinge on turnout rather than on persuading independent voters.