Obama, Standing Next to POW's Parents, Praises the Return of Missing Soldier
While being held captive for five years, Sgt. Bowe Bergdahl "was never forgotten," the president said.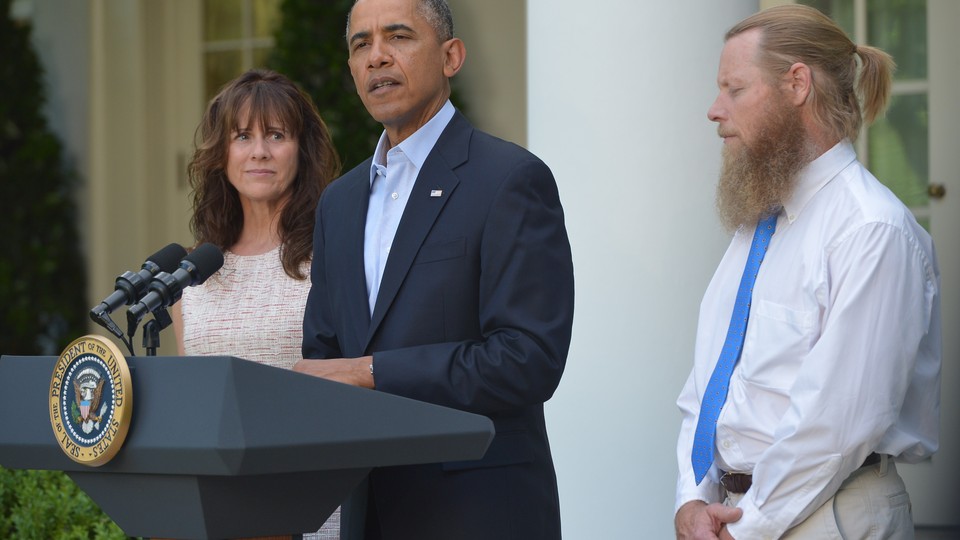 Standing next to the parents of recovered American POW Sgt. Bowe Bergdahl, President Obama reaffirmed the commitment the United States has to its missing soldiers of war.
"This morning, I called Bob and Jani Bergdahl and told them that after nearly five years in captivity, their son Bowe is coming home," Obama said, saddled by the parents in the White House Rose Garden. "While Bowe was gone, he was never forgotten."
The president thanked both the government of Afghanistan for its support as the war winds down, and the government of Qatar, which helped facilitate the exchange of Bergdahl and five prisoners from the detention center at Guantanamo Bay. Obama confirmed that he spoke to the emir of Qatar last week about the exchange.
Bergdahl was held in captivity by the Taliban for the last five years after he reportedly left a U.S. base. Right now, he is currently at a base in Afghanistan undergoing a medical evaluation. Obama said his "top priority" is to give Bergdahl the care he needs.
"The United States does not ever leave our men and women in uniform behind," the president continued. "I am mindful that there are many troops who remain missing from wars past. That's why we will never forget, nor give up our search."
Bergdahl's parents met with Obama in the White House on Saturday. After speaking, the president gave the parents a chance to speak.
"We will continue to stay strong for Bowe," his mother Jani said, smiling.
Bob Bergdahl, speaking next, said his son is having trouble speaking English, and had a message, saying it in Pashto and in English.
"I am your father, Bowe," he said.
As the three left the Rose Garden, Obama hugged both parents. "Yes, it's a good day," Jan said hugging the president.