Obama Continues to Push Unilateral Action to Fight Climate Change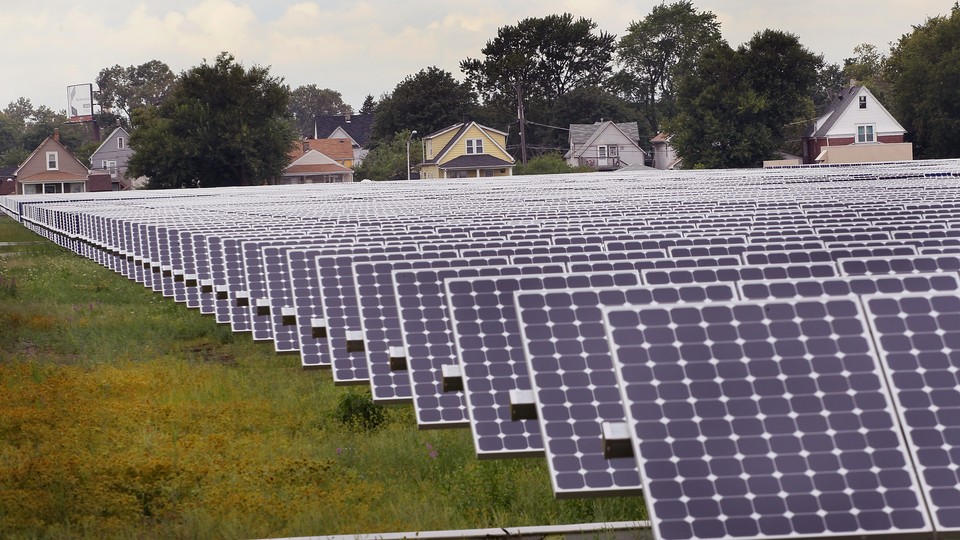 Just days after using the release of the National Climate Assessment to push his message on climate change, President Obama will continue his use of executive power Friday to push solutions to curb its effects.
Obama will announce a series of energy-efficiency moves Friday in a speech at Walmart in Mountain View, Calif., including an additional $2 billion goal in energy-efficiency upgrades for federal buildings over the next three years. Obama will announce a series of commitments to expand the use and availability of solar power, including rules on renewable-energy installations for real property and solar-industry workforce training.
It's part of the administration's "year of action" on climate change, said Dan Utech, White House special assistant on energy and climate change. It's also a continuation of Obama's strategy of using executive authority to move his climate and energy agenda in the face of obstruction from Congress.
The announcement comes as the Senate is facing the failure of its own bipartisan bill to increase the energy efficiency of commercial and residential buildings and federal facilities. The Shaheen-Portman efficiency bill had broad support, but it has all but collapsed as Republicans push for amendments that would target Environmental Protection Agency action on power plants, air pollution, and other issues.
"We're working every day to do what we can to attack this problem," Utech said. "At the same time, we're always eager to get additional support, additional tools, and we'd love to see Congress move forward with the Shaheen-Portman bill — and it's unfortunate that Republicans are standing in the way.
"We're going to be doing everything we can with the tools that we have to move forward on efficiency," he added.
The announcement — being made at Walmart because of the company's adoption of renewable energy — marks a pivot from this week's emphasis on climate science to one that will focus on clean energy and jobs. Obama will announce plans to expand the Energy Department's Solar Instructor Training Network to support training programs at community colleges to help 50,000 workers break into the solar industry by 2020.
Obama will also detail commitments from more than 300 organizations to deploy more solar power.
When taken with other efficiency-related executive actions, the White House said the new initiatives would cut more than 380 million metric tons of carbon emissions and save businesses $26 billion on energy bills.
The federal building target — which builds on a 2011 announcement of a $2 billion savings goal — will also come at no net cost to taxpayers becasue it uses future energy savings to pay for the up-front costs, the White House says.
The announcement will also include new Energy Department efficiency standards for walk-in coolers and freezers and electric motors; incentives for renewable power on public housing; and affirmation of commercial-building energy codes that will provide an additional 8.5 percent energy savings over previous standards.
Utech said that the initiatives continue to build on the momentum that was built with this week's climate-assessment release, which he said "underscores the urgency of the problem."
"We're seeing the impacts of climate today. That's why the administration is committed to moving forward," Utech said. "And I think if you ask Americans whether they think we ought to take steps to cut carbon pollution, the answer is yes."