North Korean State Media Is Being Extra Racist and Sexist This Week
North Korean state media is continuing its angry tirade against the United States this week with an article referring to President Obama as a "wicked black monkey."
This article is from the archive of our partner
.
North Korean state media is continuing its angry tirade against the United States this week with an article referring to President Obama as a "wicked black monkey." The article, which was published by the Korean Central News Agency last Friday, contains "unprecedented levels of extremely racist and offensive rhetoric" towards the "American master," according to NKNews.org; another Korean-language article contains even stronger levels of racism. South Korean President Park Geun-hye was also unable to escape inflammatory language; the KNCA article called her an "old prostitute" and "dirty political harlot" and blames her for the Sewol ferry disaster last month.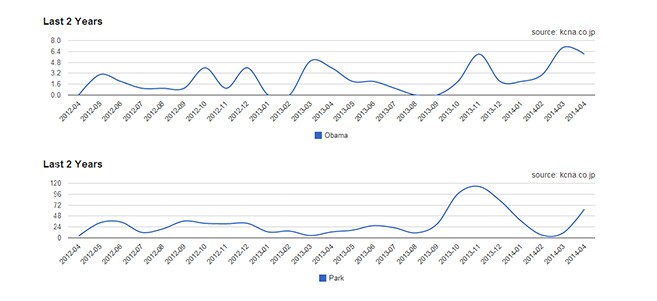 North Korean state media has directed more attention towards America over the past few weeks. It seems particularly concerned about the country's gun violence, and are determined to knock down the prevailing image of America as perfect and safe place to live. A recent "news analysis" cited gun violence, as well as poverty and racism, as a reason for deeming the U.S. a "living hell," and a media report from May 7 details gun crimes across the country, from New York to Kansas.  "Gun-related crimes are like a malignant tumor," KNCA says; the level of detail they report on makes it seem like they've just discovered the Daily Kos. KNCA Watch says North Korean media has increased its coverage, and criticism, of Obama and Park partly because of a breakdown in inter-Korean relations.
This article is from the archive of our partner The Wire.