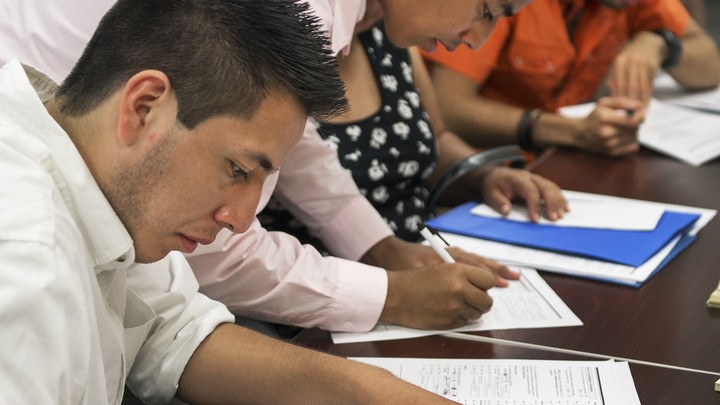 Here's a roundup of the education articles that caught Next America's eye from April 28 to May 5. All address trends that particularly affect minority students.
Florida and Virginia Give "Dreamers" a discount. Florida's state Senate has voted to allow students who came to the United States illegally as children to pay in-state tuition at public universities. It's likely that the bill will soon receive Gov. Rick Scott's signature. Meanwhile, Virginia's attorney general has found that existing law permits state colleges and universities to charge in-state tuition for students who were brought to the U.S. illegally as children. According to federal data, more than 8,000 Virginia residents and over 20,500 Florida residents have been approved for deferred action to date. The Washington Post, The New York Times
The Feds Could Be Doing More to Police Campus Sexual Assault. Title IX, a civil-rights law, requires colleges to investigate and resolve reports of sexual assault. But between 2003 and 2013, less than one-tenth of student and alumni complaints submitted to the Education Department led to a formal agreement to change campus policies, according to The Chronicle of Higher Education. Improving clarity on the law and improving enforcement were included on the White House's recent list of recommendations for reducing sexual assault on college campuses. The Chronicle of Higher Education, Politico
Is There Really a "Boy Crisis"? By kindergarten, girls are better behaved, more persistent, and more independent than boys. The gender gap in in behavioral skills is even greater than the gap between rich and poor and between some racial groups, The New York Times reports. But as National Journal's Brian Resnick points out, the gender gap has been evident in studies of grades and gender for at least 100 years. The New York Times, National Journal
Some States Are Still Cutting Higher Education Funding. As the economy improves, state funding for higher education is starting to rebound, but eight states are still cutting their higher education budgets, a report from the Center on Budget and Policy Priorities finds. Funding isn't back to prerecession levels: The average state is spending 23 percent less per college student that it was before the recession, and in Arizona, Louisiana, and South Carolina, funding is down 40 percent per student. The takeaway for students, according to Vox: "Don't expect tuition prices to fall." Vox, Center on Budget and Policy Priorities
California Senate Committee Wants to Restore Bilingual Education. The California state Senate's Education Committee wants to ask California voters to repeal Proposition 227, a 1998 initiative that requires that public school instruction be conducted in English. Supporters argue that the initiative prevents children from becoming multilingual. "Not everybody doing business internationally or globally speaks English," state Sen. Ben Hueso, a Democrat, told the Los Angeles Times. Los Angeles Times
This article is part of our Next America: Higher Education project, which is supported by grants from the Bill & Melinda Gates Foundation and Lumina Foundation.
We want to hear what you think about this article. Submit a letter to the editor or write to letters@theatlantic.com.