Menendez Keeps Democrats From Having to Choose Between Supporting Israel and Negotiations With Iran
The New Jersey lawmaker has struck down an amendment that would have linked Iran sanctions to a pro-Israel bill.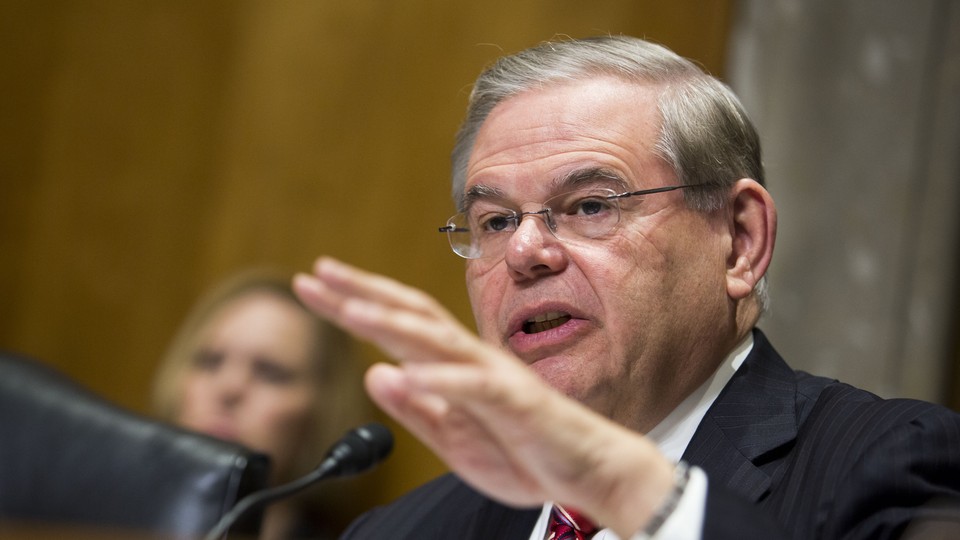 Robert Menendez is making things easier for Democrats stuck between showing support for Israel and backing the Obama administration's negotiations with Iran.
On Monday, the Democratic chairman of the Senate Foreign Relations Committee removed a pro-Israel bill from the committee's agenda, Foreign Policy's John Hudson reports, after a proposed amendment threatened to split Democrats' allegiances.
The bill, called the U.S.-Israel Strategic Partnership Act, would strengthen ties between the two countries in a number of arenas, including military, trade, intelligence, and energy. But an amendment from the committee's top Republican, Sen. Bob Corker, R-Tenn., gave Menendez pause. Corker's amendment would force President Obama to present any nuclear deal with Iran to Congress within three days of its signature, a situation the White House is trying to avoid. Congress could hold a "vote of disapproval" and conduct hearings on the nuclear deal, but its opinion would carry no legally binding weight.
This is not the first time lawmakers have attempted to attach Iran sanctions to a bill at the last minute. A tougher version of the Corker amendment, which would have required Obama to prove Iran's compliance with the nuclear deal in order to stave off a reapplication of economic sanctions, was bundled with a defense bill in December. It died soon after, thanks to pressure from the White House. In February, Senate Republicans tried unsuccessfully to add Iran sanctions to a bill about veterans' benefits.
Here, the Corker amendment's attempt to link the Israel issue with Iranian nuclear negotiations could be seen as a ploy to divide Democrats in the run-up to midterm elections, forcing them to choose between supporting Israel or the administration. On the other hand, some see no daylight between the two issues, arguing that a pro-Israel stance must include support for sanctions on Iran.