Meet David Perdue—He Might Be Georgia's Next Senator
Is the political newcomer who came from behind in Tuesday's messy Republican primary a good ol' boy or a rebel?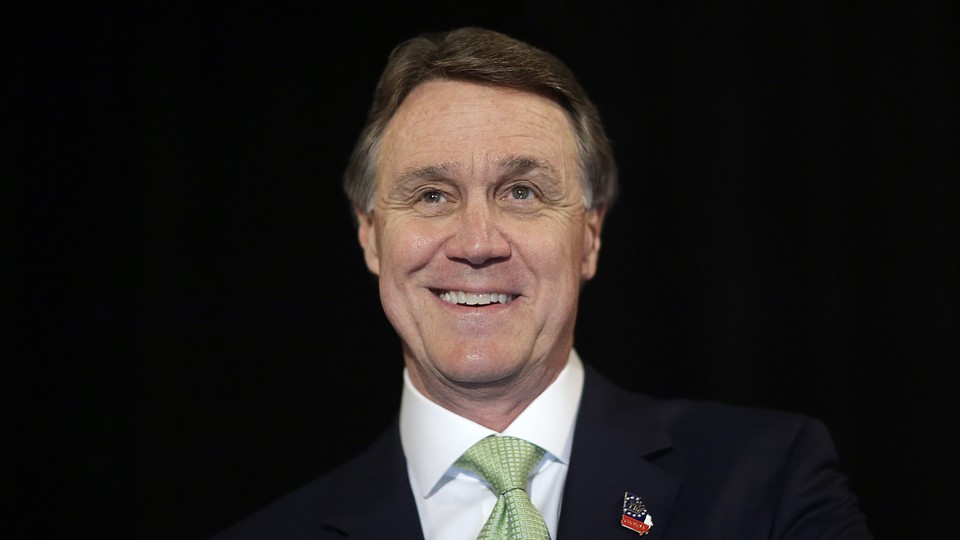 ATLANTA—In the last few months, the polls in this state's divisive Republican primary turned upside-down. It was a five-way free-for-all featuring three conservative members of Congress, each more right-wing than the last; a former secretary of state known nationally for trying to separate the Susan G. Komen breast-cancer foundation from Planned Parenthood; and a One Percenter from a political dynasty seeking to brand himself the biggest threat to the status quo.
It is the last of these—David Perdue, a former globe-trotting management consultant and CEO of a sneaker manufacturer (Reebok) and a discount-store chain (Dollar General), and a cousin of the state's first Republican governor since Reconstruction, Sonny Perdue—whose appeal finally proved the most persuasive to the GOP voters in this red but rapidly urbanizing state. Languishing at fifth in the polls as recently as February, Perdue came in first in Tuesday night's primary, taking about 30 percent of the vote with 95 percent of precincts reporting late Tuesday.
Perdue is not done fighting his fellow Republicans yet. Since he didn't get 50 percent of the vote, he now faces Representative Jack Kingston, a 22-year congressional veteran who took second place with 26 percent, in a July runoff. Karen Handel, the fiery former Komen leader, made a late surge as conservatives' last hope, but fell short with 22 percent. The defeats of Handel and two far-right members of Congress, Paul Broun and Phil Gingrey, made the Georgia result a bitter one for conservatives, who lack a clear standard-bearer in the runoff.
Accepting this preliminary victory before it was clear who he would face in the runoff, Perdue told supporters Tuesday night: "One thing we did do tonight, we retired three career politicians—and we've got one more to go." If he prevails, he will face Michelle Nunn, a former nonprofit executive who's considered national Democrats' strongest new candidate this year, in November. As a testament to the swiftness of his rise, Perdue does not yet have a Wikipedia page.
Perdue's sudden popularity confounds the running tally in Washington, where scorekeepers are trying to mark down every GOP primary as a win for either the Tea Party or the Republican establishment. Perdue's pedigreed profile, as well as some conciliatory rhetoric on budget issues, would seem to put him in the latter category. But he has styled himself an antagonist of all things Washington and labeled his opponents "career politicians." In a debate over the weekend, Perdue pledged not to support Senate Minority Leader Mitch McConnell to lead the Republican caucus. At an election-eve rally at a private-jet hangar outside Atlanta on Monday, Perdue was joined by Herman Cain, the scandal-tarred former presidential candidate, who still hosts a popular conservative talk-radio program in Atlanta.
"The reason I support David Perdue is real simple," Cain told the crowd. "He is not going to become a part of the status-quo establishment. What we need most are people who are not afraid to rock the boat, to solve problems and put bold ideas on the table." In a typically nonsensical Cainian flourish, he concluded: "Someone asked me last week, 'Why are you supporting David Perdue?' My answer was real simple: There's no better choice!"
The principal reason for Perdue's rise was a clever campaign ad. Made by Fred Davis, the man behind John McCain's ad deeming Barack Obama a "celebrity" akin to Paris Hilton in 2008, the Perdue spot opened with a scene of four crying babies, names printed on their white onesies. "Jack" held a pair of glasses, "Paul" and "Phil" toyed with stethoscopes (Broun and Gingrey are physicians), and "Karen" wore pearls. "Help me change the childish behavior up there," Perdue said, as a picture of the Capitol lawn crawling with crying babies flashed onscreen.
The gimmick was a sensation, and Perdue has repeated the motif in ads since then. The babies also are pictured on the RV in which he's been touring the state. When I asked Perdue if the ad had been a game-changer, he said it had, and repeated a line from its script: "I'm running against four politicians with 63 years in office between them," he said. "If they were going to make a difference, they would have done so by now. The babies are memorable, they're subliminal, but the message is also strong."
Perdue told me that if elected, he would be an economics-focused senator who would draw on his business expertise while pushing for term limits. He criticized Republicans for failing to solve America's biggest domestic problems when they were in power from 2000 to 2008. "We really didn't solve the two or three critical issues around health care, so we inherited the Affordable Care Act," he said. "We haven't had an energy policy in forever .... Those were serious problems, and I didn't see any solutions coming from the Republican Congress."
As Perdue emerged as the frontrunner, his rivals teamed up to attack him. When I spoke to Kingston, a mild-mannered appropriator endorsed by the U.S. Chamber of Commerce, he questioned Perdue's conservative bona fides, claiming he'd never voted in a Republican primary. This was not true, though Perdue has missed a couple of them. Kingston also questioned Perdue's business record—the menswear company Haggar laid off thousands of American workers while Perdue was an executive—and said GOP voters would be taking a gamble by nominating an untested first-time candidate. "Barack Obama was an outsider," Kingston said. "How did that work out for conservatives?"
If there was an establishment choice in this race, Kingston, a former member of House leadership, was it. As the campaign wound down, he evinced the frustration of a man in danger of being denied something he deserves. He spent millions on television ads—more than Perdue, and the most of any candidate—seeking to blunt the charge that he was a Washington big spender by having his family testify to his frugality. (In one, his children note that he uses old Cool Whip containers instead of Tupperware.) By election eve, the campaign began to feel ill-starred. On Sunday, Kingston skipped a veterans' picnic, believing it to be rained out, but it had merely been moved inside, and Handel and Perdue showed up and schmoozed the crowd. On Monday, Kingston appeared at an Atlanta Rotary Club meeting but was denied the chance to speak because of club policy.
The most potent attack on Perdue has been that he's a bit of a snob. He lives in a mansion on the wealthy beach resort of Sea Island; his disclosed net worth is at least $12 million. Last month, he caused a stir when he told a local GOP group there was simply no contest when it came to the candidates' credentials: "There's a high-school graduate in this race, okay?" he lamented. Handel, who never graduated college, jumped on the comments, slamming Perdue as an elitist—and quickly climbed in the polls.
As Handel rose on a wave of cultural resentment, she was endorsed by Sarah Palin, Arizona Governor Jan Brewer, former Pennsylvania Senator Rick Santorum, and Erick Erickson, the conservative pundit, RedState.com editor, and Georgia talk-radio host. Appearing with Handel at a rally in a suburban Atlanta hotel on Sunday, Erickson touted her as "someone who looks at the world the way we look at the world." He added, "I want somebody who's going to go to Washington and say one thing clearly to both sides: No!"
Handel, who fled an abusive home at 17 and worked her way up through minimum-wage jobs, argued that she was the only candidate Democrats wouldn't be able to attack as either anti-woman or indifferent to people's economic struggles. But her rabble-rousing fell short in a state where the Republicans tend less toward the tricorne-hat type and more toward the seersucker-jacket-and-elephant-brooch variety. Both of the state's current GOP senators, Saxby Chambliss and Johnny Isakson, are relative moderates; the current race is to replace Chambliss, who decided not to seek reelection in part because he feared a difficult primary.
Erickson—a major voice nationally egging on challenges to the Republican status quo—told me that if Handel didn't make the runoff, he would wholeheartedly embrace Kingston. He had only disdain for Perdue, who he saw as an out-of-touch corporatist.
But Perdue, a vigorous and personable 64-year-old, told his supporters he was the one best positioned to beat Nunn. "She's an outsider, I'm an outsider," he said. "I believe my background of 40 years in business around the world trumps her community-organizer background. We've tried that already, guys. You know, nice person, but this is not the right time."