Lies, Damn Lies, and Global-Warming Rules
The president is about to take a major step to fight global warming. Here's what you need to know.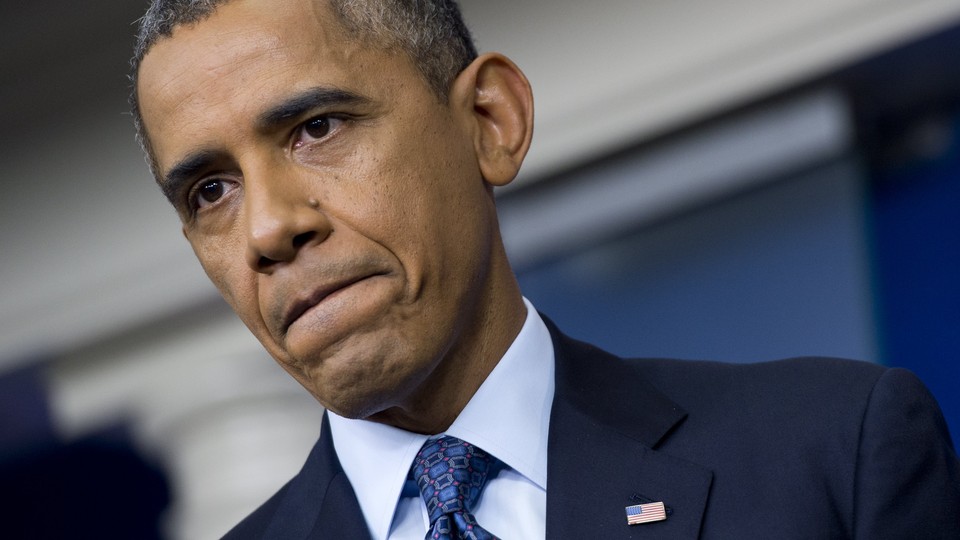 President Obama promised to take action on global warming with or without Congress's permission. Next week, he'll tell the world how he plans to do it.
The administration is preparing to release the central pillar of Obama's climate-change agenda: a proposal for far-reaching rules that will require power companies to cut carbon emissions.
The rules will mark the most significant federal action on climate change since Democrats' cap-and-trade bill died in the Senate four years ago, and they're Obama's best shot at adding broad action on global warming to his legacy.
The rules will also touch off a political war of the first order, offering battleground for environmentalists, industry groups, and politicians to fight over the nation's energy future.
Here's what to watch for when the administration pulls back the curtain.
Don't Believe the Hype
Industry backers and environmentalists are serving up plenty of spin in an attempt to win the public-opinion battle over the Environmental Protection Agency's climate rules, but the messaging will be long on fiction — or, at the very least, on speculation — and short on facts.
The U.S. Chamber of Commerce is claiming that the regulations for existing power plants will force consumers to pay billions of dollars in additional electricity costs, while the Natural Resources Defense Council, an environmental heavyweight, claims that the rule will actually lower your utility bill.
The messaging reflect both sides' recognition that the way to make the public care about these rules is to connect the policies to people's wallets. But attempts at carbon accounting on both sides of the political spectrum are highly speculative and virtually guaranteed to come up short.
That's because these rules are in their opening act, and answers about them won't come until we're much closer to the finale.
Monday's regulations are a draft and aren't expected to be finalized for at least another year. That means variables that enter into electricity price determinations — such as the way the rules affect state policies, market forces, and technology innovations — won't be set in stone for a long time. Economic models used to project costs may serve as an educated guess for now, but that still makes them a guess.
Then there's the projection problem. States aren't expected to begin complying with the rules until sometime between 2018 and 2020. That's a long way off, and a lot could change between now and then.
Variables like the cost of electricity ginned up by fossil fuels and renewable energy are subject to change over time. Natural-gas prices, for example, are famous for their volatility. And while gas prices are relatively low right now, there's no way to know with absolute certainty how long that will last. As a result, price predictions based on assumptions about the future price of gas and renewables are likely to be wrong.
"Generally, replacing low-cost sources with higher cost sources can raise power prices. With this many unknowns, however, any generalization is likely to be generally wrong," said Kevin Book, the founder of energy analysis firm ClearView Energy Partners.
The Hype Will Be Massive
The rule's results won't be clear for years, but the massive political, lobbying, and legal battle will begin immediately.
Industry players see the regulations as a threat to their bottom line, while environmentalists view the climate rules as their best bet to crack down on power plants' carbon pollution. And so both sides are waging a two-track campaign in which they will both lobby the administration and vie for public support.
Capitol Hill is also clamoring to get in on the action. Democrats who are secure in their seats have already given the president plenty of cover by loudly defending the regulations. Republicans, on the other hand, are doing their best to tear down any justification for the rules. House Speaker John Boehner sharply criticized the climate rules ahead of their release on Thursday, saying: "Every proposal that has come out of this administration to deal with climate change involves hurting our economy and killing American jobs."
The White House is putting its highest-profile people front and center to defend the rule.
After the Chamber of Commerce said on Wednesday that the regulations would kill jobs and cause electricity prices to soar, EPA took the unusual step of directly rebutting the report while senior White House adviser John Podesta took to Twitter to bash the analysis.
The climate rules are the president's best chance at shoring up a legacy on climate change, and he knows it. For the president, it's personal. And it's high-stakes for everyone involved.
The Whole World Is Watching
EPA's authority ends at the U.S. border, but the rules' influence won't.
Getting the rules out ahead of upcoming United Nations talks is important, said Robert Stavins, a Harvard University expert on international emissions policy. World leaders will convene in Paris in late 2015 for a make-or-break meeting that is supposed to yield a global pact on greenhouse-gas emissions.
"It will increase the credibility of the U.S. representatives in the international negotiations in Lima in 2014 and Paris in 2015, and may therefore enable the U.S. to be somewhat more influential in the talks," said Stavins, who's with Harvard's John F. Kennedy School of Government.
Other nations will be watching carefully.
"The Paris Agreement will be heavily influenced by the sense of whether the U.S. is taking the issue of climate change seriously or not," said Jennifer Morgan, director of the climate and energy program at the World Resources Institute, an environmental think tank. "If the administration does propose regulation that is ambitious and demonstrates leadership to decarbonize the power sector, it will certainly inspire more ambition from other countries."
The White House, for its part, clearly views the domestic rules as a diplomatic tool. Obama has repeatedly argued that a more-aggressive U.S. carbon policy is needed to create leverage in international climate talks, where the United States will attempt to win meaningful commitments from China (the world's top carbon polluter) and India to address their contributions to climate change.
He made that point briefly in a foreign policy speech Wednesday while taking a direct shot at GOP climate skeptics.
"American influence is always stronger when we lead by example," Obama said in a speech to West Point graduates. "We can't exempt ourselves from the rules that apply to everybody else. We can't call on others to make commitments to combat climate change if a whole lot of our political leaders deny that it's taking place."
The Rules Will Make Their Mark in the Senate's Tightest Races
Look for the rules to play a political role in several close Senate races where vulnerable Democrats are seeking reelection in conservative states.
Republican political operatives alleging the rules will hurt the economy will seek to tether lawmakers, including Louisiana's Mary Landrieu and Arkansas's Mark Pryor, to Obama's climate agenda. Both have opposed greenhouse-gas regulations in the past; look for them to try to separate their own energy platforms from the one emerging from the White House.
Climate change is never a top-tier issue in polling. But it could emerge in the political foreground like never before this year. In addition to the rules, billionaire environmental activist Tom Steyer is planning to pour $100 million into Senate and governor's races to promote candidates who support emissions curbs.
The Rules Could Create New Daylight for Carbon Taxes — But Not Where You Think
The rules will reportedly require carbon cuts in the range of 20 to 25 percent, but they're expected to provide states and utilities with lots of leeway on how to meet that mandate: Think initiatives promoting renewable energy and energy efficiency.
Some states have already moved ahead with cap-and-trade systems — which already exist among a group of Northeast and Mid-Atlantic states, as well as in California — and those plans may pass EPA muster if their caps are tight enough.
But what about carbon taxes?
They're dead on arrival at the federal level, even though some economists call them the most straightforward, market-based way to gain emissions cuts. They haven't caught on at the state level, either, but some carbon-tax advocates want EPA to signal that a state could decide to impose its own carbon tax as an avenue for complying with the regulations.
This paper from experts with Stanford University and the Brookings Institution, who say a carbon tax is the most cost-effective way to cut emissions, makes the legal case that the Clean Air Act provides EPA plenty of leeway. It also argues, "EPA can encourage this approach by providing the states with model tax levels and compliance schedules in its emission guideline."
So will EPA use the "T" word?
"The hope is that EPA will give states broad flexibility to deploy whatever policy mechanisms make the most sense for them, which could include a carbon tax that would achieve the needed emission reductions," said Megan Ceronsky, a senior lawyer with the Environmental Defense Fund.
"I don't know what kind of specificity the agency will provide in terms of 'examples' of policy mechanisms that would be approvable — you might instead see a set of criteria that would ensure that the needed emission reductions will be achieved and are enforceable," she said.