Keystone vs. Climate Change
Green groups hate the XL pipeline project — so why are they backing lawmakers who support it?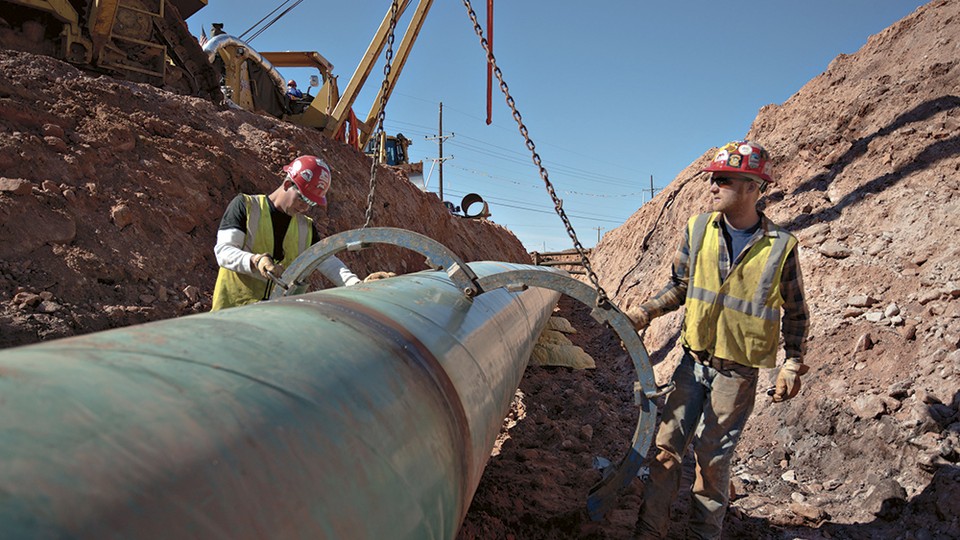 Blocking the Keystone XL pipeline may be the green movement's top talking point, but it isn't environmental groups' top political priority.
The Sierra Club and the Natural Resources Defense Council's political fund are backing Sen. Kay Hagan of North Carolina, who is locked in a tough reelection fight — and who favors the pipeline. The NRDC Action Fund is also throwing its weight behind Sen. Mark Begich, a pro-Keystone Democrat trying to hold on to a fiercely contested seat in Alaska. And last year, according to the Sunlight Foundation, the League of Conservation Voters contributed thousands of dollars to both.
Why? Both senators back the Environmental Protection Agency's regulations that require power plants to cut their carbon emissions — President Obama's most powerful tool left in the fight against climate change.
Need more proof? Democrats Mary Lan­drieu of Louisiana and Mark Pryor of Arkansas hold similarly precarious Senate seats, but they've both voted to block the EPA rules. Neither senator has seen an endorsement or a cent in campaign cash from the green movement's heavy hitters.
"The president's plan to control carbon pollution is the biggest priority not just for us but for all environmental groups," said Josh Saks, senior adviser for the National Wildlife Federation Action Fund. "With a House and Senate not supportive of that plan, the rules will not continue."
The environmental lobby's climate-first priority list reflects a combination of political strategy and carbon accounting.
The Democrats' Senate majority has been a bulwark against a string of Republican attacks on Obama's climate rules — as well as a host of other environmental regulations. By attempting to keep that climate caucus solid, green groups are working to protect the policies they believe will do the most to address global warming.
The rest comes down to simple carbon math: Power plants are the largest unregulated source of carbon emissions in the American economy — and the EPA regulations' potential to cut back on greenhouse-gas emissions is far greater than the pipeline's potential to produce them. In 2012, the agency estimated that the U.S. churned out roughly 5.4 billion metric tons of carbon dioxide. Of this total, power plants contributed approximately 2 billion metric tons. In contrast, the agency estimates that Keystone would add an additional 18.7 million metric tons annually.
So if looking the other way on Keystone is what it takes to protect the climate rules, environmental groups are willing to do just that.
But that doesn't mean they're going to throw money at every Democrat who comes along. The environmental movement wants a Senate that will make the climate rules stick.
"Our stated goal is to grow the environmental majority," said Heather Taylor-Miesle, the NRDC Action Fund's director. "We're not going to make our decisions based on party; we're going to make them based on where someone stands on our most important issues."
None of this is to say that environmental groups don't care about Keystone. They've made it their rallying cry. Thousands of activists descended on Washington last week to protest the pipeline, and they've put much of their political clout on the line in a bid to persuade Obama to block the project. And it's the pipeline — not the EPA regulations — that has reinvigorated a movement that was badly wounded in the wake of the climate bill's collapse in 2010.
Opinions abound as to why the effort to create a carbon tax failed, but a major criticism leveled at green groups was that they focused on trying to win over Washington insiders at the expense of building a groundswell of grassroots support. The modern-day movement is determined not to make the same mistake — and Keystone has become the most effective tool to energize and expand its base.
"Keystone has gotten more people into the streets than any other issue in the past few decades," said Jamie Henn, a spokesman for 350.org. "It's been incredible in terms of helping to mobilize a public movement on climate change, and right now it's important to build that movement."
350.org is one major green group that has made Keystone its biggest cause and is doing everything it can to rally supporters against the pipeline. But the organization doesn't plan to donate to campaigns, and it has chosen to zero in on the pipeline secure in the knowledge that the environmental lobby will attend to the climate battle on Capitol Hill.
Green groups have learned the hard way that they need issues like Keystone to keep the grassroots engaged. But in the end, defending the president's climate rules trumps the politics of the pipeline.