Kale-Loving Inner-City Teens? They Dig It
At a middle school in South Los Angeles, health class involves growing bok choy and jalapeños — and changing the way students eat.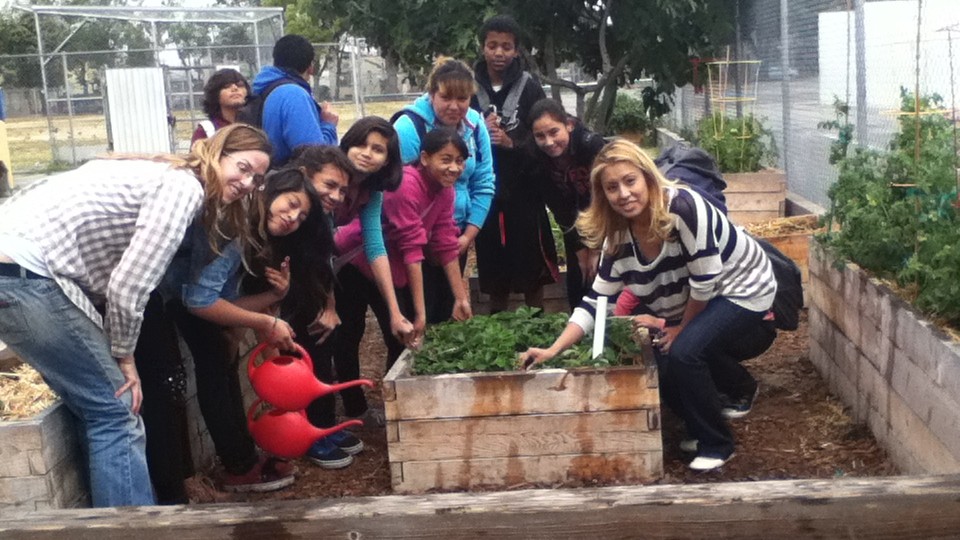 Sylvia Mazariego is a 46-year-old health teacher at a middle school in South Los Angeles, just to the west of Interstate 110. It's a low-income part of the central city where she's helped build a 20-by-20 foot plant bed to address health disparities among her students, who are predominantly Hispanic and African-American.
Although no gardener herself until now, Mazariego has incorporated the American Heart Associations' Teaching Gardens program into her Muir Middle School curriculum, a creative approach to address part of the school's mission to prepare students to "develop the knowledge and habits required to be healthy and successful in the 21st century." The AHA has 240 Teaching Gardens across the nation, with plans to expand to 300 later this year.
This interview, conducted by Jody Brannon, has been edited for length and clarity.
We are in partnership with LA's Promise. They said, "Since you teach health, the American Heart Association has a plan to incorporate teaching gardens into health courses." The idea was to use it to encourage healthy eating, and social and mental health, and so that is how it came about. I was told they come in and provide the beds, the seeds, the soil, and all I had to do was agree to teach some of the American Heart Association lessons in my curriculum. So I tweaked them a little and incorporated them.
My students see me drinking my kale juice every day. They say, "What is that?" And I say, "You're going to taste it." Then they take my class, learn to garden, and then they start to carry it in their little bottles.
I only teach seventh-graders. Every period is around 50 minutes, and I have eight classes, so about 200 students will be in the garden once a week. They work with me year round. Whatever's in season — fruits, vegetables, and herbs — they plant it, they grow it. It's a neighborhood where there's a lot of things going on, so we're working on their social and mental health, getting to know each other and working together. They learn how to grow it and how to use it locally. They'll do a healthy salad, and invite the community or parents to do some tastings.
The students grow kale — curly and dinosaur — basil, thyme, lettuce, tomatoes, strawberries, cilantro, jalapenos, garlic, artichokes, bok choy. They have a fig tree, and harvest that, and they had an apple tree and guava trees around the school already. We're expanding to a new place with more space to put in corn, potatoes, and carrots — pumpkins and watermelons, too.
I can see they're changing their diets and health. They're excited. They come and say, "Mrs. M, can I take kale leaves so I can make juice at home so my mom can try it?" I say, "Sure, you don't even have to ask." They take it home to share, and it makes me happy. When they take it home, they say, "We did it at home, and my mom and sister tried it and they liked it." It makes me proud, because I can see their parents are learning. I can see that their diet is changing. I used to see them eating Cheetos and all the junk food, but after they've had my class they'll show up now carrying this [school-grown produce] as a snack.
Some Muir students who grow produce in Sylvia Mazariego's health class take it home to eat. (Courtesy Photo)
I have no gardening skills. I'm learning to love it with the students. And I have someone to work with me, Maya [ Yaniv-Levinboim, from LA's Promise] , who comes in the first and second class and helps with whatever gardening skills I need. I learn from her and apply it to my other classes.
At the end of the term, I ask them, "What is one thing you really like about health class?" And everyone says, "The garden, the garden, the garden!" I'll hear that they've started to do this with their mom. It's a pretty urban neighborhood, so I teach them how to do it in small garden beds and container gardening at home.
I've started a garden at my home, created the beds just like at school. Now my husband helps take care of it. He loves tomatoes, and he and my little boys, 8 and 9, and they go out there and water and tend to the garden.
There are hardly any health teachers in the district, but my position was something special. Health is an elective at other schools, but it's part of our school's mission statement. My class is about everything — about obesity, social health, mental health. The students love it. I love it. They're really realizing it's important to take care of their health.
---
Jody Brannon contributed to this article