This Man Is the Future of Super PACs
California winemaker John Jordan started out giving money to Karl Rove and other political professionals. But now he's taking matters into his own hands.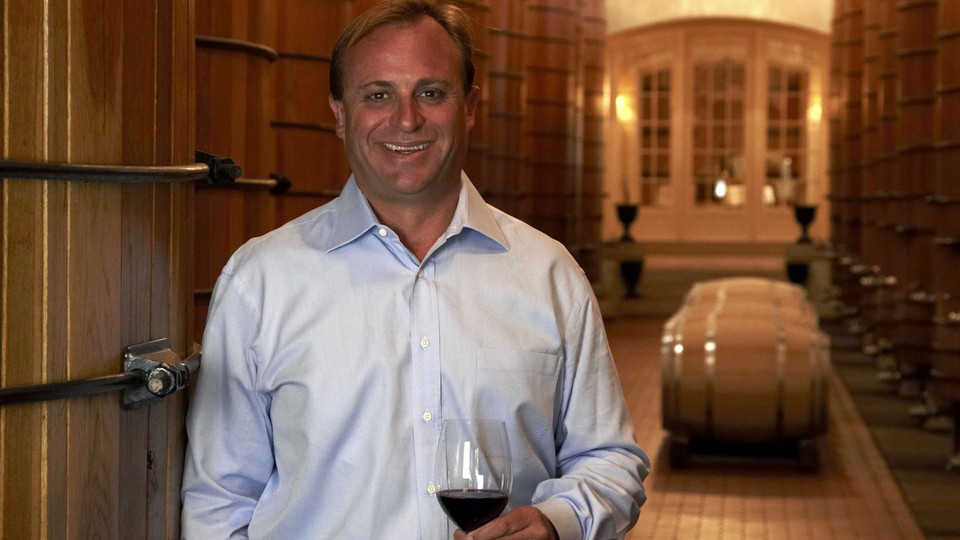 HEALDSBURG, California—
I
t's a Monday afternoon in mid-March, and Republican multimillionaire John Jordan is preparing to host House Speaker John Boehner for dinner the following Saturday—not that he sounds particularly excited about it. "I know that, traditionally, that it makes donors feel good that the candidates, the politicians come," he tells me, as he steps into the intimate dining room where they'll be eating. "I really don't care."
Jordan isn't fussing much over the menu, other than to ensure that there will be generous amounts of the acclaimed cabernet sauvignon produced on his 1,450-acre Northern California vineyard. (Boehner's love of reds is widely known.) He does have one surprise in mind: a 9-foot mechanized dinosaur that will appear, partway through the meal, amid the giant wine tanks that the dining room overlooks. Jordan wants the event—where he and other donors will mingle with Boehner and select staff—to be anything but boring. Along those lines, he has one rule for his political guests: no speeches. "We all know what they're going to say anyway," he explains.
This is Boehner's second visit to the vineyard in as many years. The last time the speaker swung through town, in March 2013, Jordan—who took over the wine business from his parents—dashed off more than $80,000 in checks to his guest and various other GOP groups. Indeed, according to the Center for Responsive Politics, last year he was the third-largest individual super PAC contributor in the nation, behind only billionaires Michael Bloomberg and Tom Steyer. No wonder so many prominent Republicans—the list includes Mitch McConnell, Rick Perry, and Tim Pawlenty—have made the trek to Jordan's winery in recent years.
Still, Jordan insists he doesn't like glad-handing with politicians. "I'm not trying to spoon with them," he says. "I don't care. In fact, I try to avoid—I go out of my way to avoid meeting candidates and politicians." Why? "All too often, these people are so disappointing that it's depressing. Most of these people you meet, they're unemployable .… It's just easier not to know."
What Jordan—42 years old this month, with sandy blond hair and a linebacker's build—loves is not the politicians themselves but the game of politics. He reads the Drudge Report, RealClearPolitics, and the D.C. political rags religiously. He consumes polling crosstabs and studies the latest ads in races across the country. He spends about three hours a day feeding his political appetite. "I geek out on this stuff," he says.
In 2012, Jordan donated to the Karl Rove–affiliated Crossroads network. But his geekiest and priciest political moment came last June, when he created his own super PAC, hired his own campaign team, and poured more than $1.4 million of his own money into a single candidate—Republican Gabriel Gomez, who was contesting a special election 3,000 miles away to fill John Kerry's Senate seat in Massachusetts—despite the fact that Jordan had never met or spoken to him. Gomez lost the election, but Jordan continues to plan forays into the political world. This week, he funded a flight of ads in Oregon's contested Republican Senate primary, and he is contemplating more such interventions in the near future.
For Jordan, building his own highly specific political organizations is proving much more attractive than simply doling out checks to omnibus groups like Crossroads. And he's one of a growing number of millionaires and billionaires who are taking this approach. The biggest of these do-it-yourself donors—people such as Bloomberg or brothers Charles and David Koch—are household names. But a number of relatively anonymous free-spenders are also opting to play the role of kingmaker on their own terms. This group includes hedge-fund manager Sean Fieler, who has almost single-handedly bankrolled a super PAC that aims to elect social conservatives; Miami retiree Ronald Firman, who recently poured $1.5 million into an unsuccessful super PAC campaign in a Florida House special election; and Jonathan Soros, the son of liberal financier George Soros, who has a super PAC dedicated to, of all things, lessening the impact of big money in politics.
In other words, American politics is about to have many more John Jordans. There's going to be a super PAC on nearly every corner, many of them funded by people you've never heard of. "The super PAC world is going to be a lot more balkanized," Jordan says. "There's not going be one big super PAC. It's not going to be like it was in 2012 ever again."
A Donor Becomes Disillusioned
Jordan is a proud Republican, though he doesn't like to be confined to an ideological cubby. He supports abortion rights and gay marriage, and his winery hawks its commitment to solar power. But he's deeply worried about the growing size and intrusiveness of government. "It is truly about the individual versus the state and the growth of the state," he says of the Obama era.
The winery owner first met Karl Rove at Fox News studios in New York City more than two years ago, back when he was dating one of the channel's correspondents, Juliet Huddy. Jordan and his parents had been longtime Republican donors, but when he saw Rove, he told him he was thinking of getting quite a bit more involved. At the time, Rove was building a juggernaut at American Crossroads and Crossroads GPS, the super PAC and nonprofit that together amounted to the biggest pro-Republican political apparatus in the country.
It was Rove's task to help reel in big-fish contributors, and Jordan had hooked himself on the line. So it wasn't long before Rove was winding past the gates of Jordan's Healdsburg estate and up the scenic mile-long driveway for an intimate dinner to make his pitch. Jordan and Rove subsequently attended the Kentucky Derby together, along with Rove's then-fiancée, Karen Johnson, and Huddy. (Huddy and Jordan have since split.)
Jordan says he soon became a "seven-figure contributor and raiser" to Crossroads, but even before the disappointment of November 2012, he found himself frustrated. Jordan had thought his hefty check would grant him a privileged position inside one of the nation's biggest Republican operations. Instead, he felt like he was on the outside looking in. "With Crossroads all you got was, Karl Rove would come and do his little rain dance," Jordan says. He didn't complain aloud so much as stew. "You write them the check and they have their investors' conference calls, which are"—Jordan pauses here for a full five seconds, before deciding what to say next—"something else. You learn nothing. They explain nothing. They don't disclose anything even to their big donors." (Crossroads Communications Director Paul Lindsay responded via email, "We appreciated Mr. Jordan's support in 2012 and his frequent input since then." Rove declined to comment.)
The Crossroads network raised a combined $325 million in the 2012 election cycle. Yet Mitt Romney lost. So did Scott Brown, Rick Berg, and George Allen. Almost every Republican in every Senate race in the country that Crossroads spent money on lost, with the exception of Dean Heller in Nevada. To Jordan, Crossroads' strategy was just "spray-and-pray advertising." Worse, Jordan had no idea where all his money had gone. It turns out that the secretive nature of the nonprofit Crossroads GPS and some opaque disclosure laws kept even its biggest donors in the dark about the details. Jordan wanted to know who had scored commissions on ad buys, what was spent on television versus online, and, at the most basic level, "who's making what." He couldn't find out. "To hell with this," he decided.
Blurred Vines
Jordan sips soda from a plastic Denver Broncos cup as we tour the winery grounds his parents purchased on the same day, in 1972, that he was born. Today, the property has a small grass landing strip and an airplane hangar where Jordan stows the smallest of his three planes, a yellow Piper Cub. He flies three or four times a week "even just to bore a hole in the sky." He insists on manning the controls, even if he's crossing the continent in his G3 jet. "I like airplanes flown by me," he says.
Some of Jordan's property can be seen in the various videos produced by the winery's staff videographer. They are mostly standard fare—chardonnay this, sommelier that. But a few stand out, such as a 2013 parody music video of Robin Thicke's "Blurred Lines." The plotline of Blurred Vines, per the winery: "In the world of wine, there are two types of men: wine geeks and wine dudes. Geeks obsess over wine lists, wine scores, and winemaking techniques. Dudes love their wine but don't take it too seriously. Who gets the girl?"
Spoiler alert: Jordan does. In shades, a blazer, and an open-collar white shirt, Jordan shakes a magnum of cabernet at buxom women who shimmy in skintight dresses. One of them provocatively feeds him grapes. Another lights his cigar as she licks her lipstick-reddened lips. The women end up stripped down to bikinis in his hot tub.
The four-minute YouTube video has been viewed about 35,000 times. "This is like something Michael Scott would do," wrote one online commenter, referring to the gleefully ignorant boss on The Office.
Jordan loves the videos. Another featured him and his staffers dancing Gangnam style. An ex-cheerleader on staff did the choreography. "We had practice," he says. "Several practices." As for the scantily clad women in Blurred Vines, he says they were volunteers. "Look, the wine business, at the end of the day, too many people take too seriously," Jordan says. "If you can't have fun around wine, it's a you problem."
Life is fun when you're making money. Jordan has been running the winery's day-to-day operations since 2005—after a winding early career that included the Naval Reserve, business school, law school, and starting his own law practice. Jordan Vineyard & Winery ships out more than 100,000 cases of wine each year, he says, and Wine and Spirits recently named Jordan the second-most-popular brand in the country among the nation's top restaurants, even with its average restaurant price of more than $100 per bottle. The wine has been a hit for a generation; the Reagan White House served it at the 1987 state dinner for Soviet leader Mikhail Gorbachev.
The wine business alone isn't fueling Jordan's political giving, though. He says he made some technology-stock bets in recent years that paid off big (he declined to say which companies). He has also cofounded a tech company of his own, which makes an iPad app for restaurants.
After the 2012 election, Jordan was flush, frustrated, and looking for somewhere "fun" to spend his money. He found his opportunity when John Kerry vacated his Senate seat to become secretary of State. Republicans recruited Gabriel Gomez—a handsome 47-year-old former Navy SEAL who supported immigration reform, expanded background checks for gun buyers, and gay marriage—to run in a special election for the seat.
Gomez was exactly the kind of out-of-the-box candidate the GOP's elder statesmen had been demanding in the wake of the 2012 defeats. Yet weeks away from the June special election, it was only Democratic groups that had invested in the race, backing veteran Democratic Representative Edward Markey to the tune of millions. The U.S. Chamber of Commerce, the Koch brothers' network, and Crossroads all sat on the sidelines. "There was a lot more interest in navel-gazing and pouting about 2012," says Brad Todd, one of Gomez's advisers, who pleaded publicly for help. "Our donor base was guilty of not being willing to take its aspirin and get over its hangover."
But Jordan was watching closely. In early June, he asked Republican pollster John McLaughlin to survey the contest for him. The two had teamed up a few months earlier, along with conservative activist Dick Morris, on a poll of Hispanic-Americans about immigration. On June 4, McLaughlin went into the field, on Jordan's dime, and came back with the results the next day: Markey, 45 percent; Gomez, 44 percent. "It was winnable," McLaughlin says. Paperwork was filed that day, and a super PAC was born. "It was a rescue mission on the fly," Jordan says. "Four days before, five days before going on the air, I had no idea I was even going to do it."
Jordan quickly assembled a political team. McLaughlin would serve as pollster. Sheena Tahilramani, Rove's former chief of staff, would be his spokeswoman. Rick Wilson, a Florida-based strategist, would cut the ads.
Cleta Mitchell
, a prominent GOP lawyer, would handle legal matters. The group was given a deceptively non-Republican name: Americans for Progressive Action.
The date on the super-PAC filing was key. Because it came less than three weeks before Election Day, Jordan wouldn't have to be revealed as its funder until after the election. Jordan insists this was a "coincidence." "I'm not saying I was disappointed by it. And I'm not saying I wouldn't do it that way," he says now. "But in this case, it truly wasn't [intentional]." As for the Democratic-sounding name, he says, "Cleta Mitchell says you've got to have a name. I'm like, 'Oh, shit, I've got to think of a name.' … I thought of that in the shower."
Late-night conference calls were scheduled to go over the latest polling and statistics from the field. "We would be on the phone, midnight East Coast time, going through the data," McLaughlin says, "what was good, what was bad." Despite a blitz of Jordan-funded ads, the polls soon took a turn for the worse. Democrats were on the air, too, and the party faithful were coalescing behind their nominee. Markey had widened his lead by June 19, according to internal-polling results provided by McLaughlin. They canceled a final series of ads the weekend before the race, and Jordan refunded himself $273,000.
All the while, Jordan's role remained cloaked in secrecy. As the ads filled the Massachusetts airwaves, the mystery of who was behind them grew. There was little to go on—just the name of Nancy Watkins, the GOP treasurer who had signed the paperwork, and Tahilramani, the spokeswoman. Finally, on June 21, four days before the election and two days after the poll that caused them to pull the plug, Jordan outed himself to The Wall Street Journal as the sole contributor. "Here I saw an American hero running in a close race in a tough state while getting absolutely pounded by Democrats throwing everything they could at him," Jordan told the paper. "I just couldn't sit by and watch and leave him alone while the establishment Republican groups decided to sit on their hands and just leave him on the beach." Jordan gave me much the same rationale: "It's a Navy thing, first of all," he said. "That's hard to explain."
Jordan had blown through more than $1.4 million in two weeks on a losing effort—and he loved every second of it. "I never had any illusions about the probability of success. At the same time, somebody has to try, and you never know. You lose 100 percent of the shots you don't take, so why not do it?" he says. "And I've always thought it would be fun to do, and I had a great time doing it, frankly." Now, Jordan says that the Gomez race was just the beginning—a $1.4 million "potential iceberg tip" of future political efforts.
The Splintering of Super PACs
At the same time Jordan was helping Gomez, Tom Steyer was tapping his personal fortune to defeat him. The California-based retired hedge-fund investor had created a super PAC of his own, NextGen Climate Action, to elect candidates who promised to address climate change. Steyer spent millions in 2013, including in the Massachusetts Senate race and the Virginia governor's race. He is now plotting a reported $100 million push in the 2014 elections—half from him, half from other like-minded donors.
Everywhere you look these days, wealthy donors are, like Jordan, taking a DIY approach to their political activism. Bloomberg has started his own antigun group. Mark Zuckerberg and other tech elites wanted immigration reform, so they launched their own advocacy arm. Joe Ricketts, the founder of TD Ameritrade, established Ending Spending, a super PAC and a nonprofit that seek to rein in the federal debt. "If you're a business leader who wants to make a difference on policy issues, it may make sense to start your own organization," says Brian Baker, president of the Ending Spending entities and a political adviser to Ricketts. "That is the classic hallmark of an entrepreneur."
The world of the politically active superrich is small. They tend to congregate and communicate together. Billionaire hedge-fund investor Paul Singer, for instance, is a benefactor of Ending Spending ($350,000 in March 2014) and American Crossroads ($250,000, again in March 2014). But he has also seeded a super PAC of his own, the American Unity PAC, dedicated to electing pro-gay-rights Republicans.
One commonality among these men of means (and it's almost all men) is their passion for politics. They want to do more than donate; they want to shape events. "More and more you can find that, as a committed, informed individual donor, you can assemble the right kind of tools to be effective and move numbers in campaigns," says Wilson, the GOP consultant who designed Jordan's pro-Gomez ads. And unsurprisingly, the super-wealthy tend to believe they are rich for a reason: their smarts. "If you read enough, like what goes on in campaigns, and you read all the trade journals, it isn't very hard," Jordan says. "It's not brain surgery."
Going it alone has potential drawbacks, of course. Rich businessmen are, almost by definition, political novices. They are at risk of saddling up to a consultant who can take them to the cleaners, or misjudging the impact their money can have in a particular race. Indeed, some establishment GOP operatives have scoffed at Jordan's Gomez investment as foolhardy. Markey, they point out, won by a comfortable 10 percentage points.
Still, the further splintering of the super PAC universe now seems inevitable. And it represents a challenge to the relative power of political parties and large outlets that, like Crossroads, are not donor-led. For example, the Kochs, leaders of one of the original do-it-yourself donor efforts, have lapped Crossroads so far in the 2014 Senate races. The Koch-linked Americans for Prosperity and Freedom Partners had spent a combined $23.5 million on ads in Senate races as of late April, compared with $2.6 million for Crossroads, according to a Democratic source tracking ad buys. (The Crossroads super PAC's fundraising did pick up dramatically in March, posting its best month since the 2012 elections.)
Just this week, Jordan launched his latest venture, funding ads in Oregon's May 20 GOP primary on behalf of Monica Wehby, a pediatric neurosurgeon. Jordan sees her as "a sleeper" candidate against Democratic Senator Jeff Merkley, especially given the state's disastrously organized Obamacare exchange. "The natural atmospherics are right," he says. Jordan has given his money through NewRepublican.org, a super PAC organized last year by GOP operative Alex Castellanos; the wealthy DeVos family is the other main contributor. As he was in the Massachusetts election, Jordan is heavily involved in the super PAC's strategy. "It will be hard for anybody to get a big check out of me to a super PAC that I'm not in the middle of," Jordan says. "Mostly, because I don't trust them." (He did say he might carve out an exception for the Kochs.)
Jordan doesn't have a horse yet in the 2016 presidential race, but Senator Rand Paul of Kentucky intrigues him. "I admire what he is doing in terms of broadening the party's appeal," Jordan says. In mid-March, he had mentioned New Mexico Gov. Susanna Martinez to me as another intriguing figure; sure enough, by late April, she had come to his chateau for a fundraiser and stayed the night in one of his guest cottages. She was a bright exception, he says, to his general rule that pols are an "overdose of underwhelm."
Whatever's next, Jordan is sure to be in the cockpit, as he is in his planes. "If you have the ability to do it, why not do it?" he says. "Political campaigns are so much fun."