Would Jesus Support the Death Penalty?
Scripture seems to back most Americans' view that he would oppose capital punishment—but that hasn't translated into widespread opposition.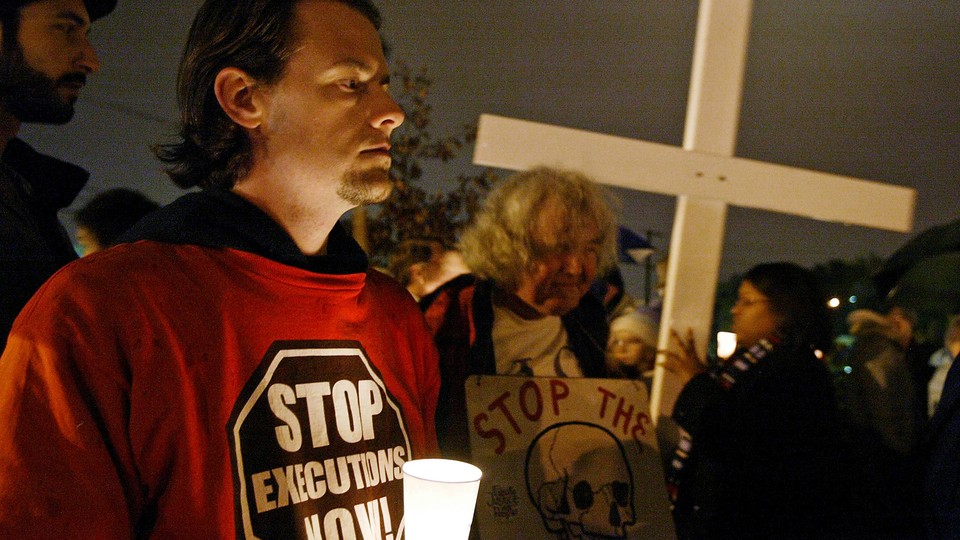 "On the death penalty, do what you think Jesus would have you do."
These were the words my friend and anti-death-penalty activist Shane Claiborne told Tennessee Governor Bill Haslam in a chance encounter outside the Nashville War Memorial last week. Heavily populated by Christians, Tennessee is also on the verge of a death-penalty revival. State officials approved a new lethal-injection drug during Holy Week—the week Christians reflect on Jesus's execution—legislators passed a bill to reinstate the electric chair.*
Claiborne's advice to Haslam was not original. He was riffing on the late Mother Teresa, who at the behest of Father John Dear urged California Governor George Deukmejian in 1990 to grant clemency to an inmate waiting for execution on San Quentin's death row. "Do what Jesus would do," she advised him.
A judge issued a stay a few days later. But a new governor, Pete Wilson, took office two years later and set a new execution date. Mother Teresa phoned the state again and repeated her message. But like another government official two millennia earlier, Wilson washed his hands of the matter. Robert Harris was executed.
Are Claiborne and Mother Teresa right? Would Jesus Christ oppose the death penalty if he were present today? According to a recent Barna poll, most Americans think so. Only five percent of Americans believe Jesus would support the government's ability to execute the worst criminals. This includes 2 percent of Catholics, 8 percent of Protestants, and 10 percent of all practicing Christians. Christian leaders, including the U.S. Conference of Catholic Bishops, have also been some of the most outspoken opponents of executions. But overall, a majority of Americans back the death penalty.
We must be careful not to put words in Jesus' mouth or lazily ascribe modern positions to the ancient rabbi. But the more I reflect on this issue, the more I agree with the majority of Americans. Though I can't say for certain, I have a feeling that the executed first-century teacher would not support the death penalty or want his followers to.
Christians who support the death penalty often cite passages from the Old Testament that allowed for capital punishment. But Jesus told his followers not to observe the Jewish law that allowed for retributive justice: "You have heard that it was said, 'Eye for eye, and tooth for tooth.' But I tell you, do not resist an evil person. If anyone slaps you on the right cheek, turn to them the other cheek also."
As theologian Benjamin Corey says, "It is not possible to argue a Christian case in support of the death penalty while citing passages from the Hebrew scriptures, because this will put one at odds with Jesus himself."
Many forget that Jesus once served as a one-man jury on a death-penalty case. In a famous New Testament story, an adulterous woman was dragged to Jesus' feet. The woman was guilty of a capital offense and had been caught in the act by at least one witness. The law mandated her death but Jesus prescribed a different response: "Let whoever is without sin cast the first stone." He was teaching that only a perfect being—only God—should have power over death and life.
With Jesus's stark words and example, no wonder early Christians opposed military service and the government-sanctioned killing of anyone for at least 300 years. "Our warfare is to make the dead to live, not to make the living dead," St. John Chrysostom said.
There's no reason to believe that Jesus or these early Christian leaders would feel any different about the matter today with our broken justice system. The most reliable predictor of whether someone will be sentenced to death is not the amount of evidence, but the race of the victim. Geography is also an important factor, which is why a handful of counties are responsible for most of the executions in the United States. And then of course wealth is a factor, as almost all death-row inmates could not afford their own attorney. Though Americans often boast about a system that provides equal justice for all, the reality is that factors outside of the case's merits often determine its outcome. It's hard to imagine that a Jesus who aligned himself with the poor and powerless, marginalized and maligned would support the broken system we often call "justice" in America.
And what of the "gospel?" Most Christian faithful assert as their central story that all humans were given the death penalty by God but then forgiven and saved from it by Christ, who took the penalty for them. Isn't it hypocritical to want the death penalty for others and not oneself?
There are also practical reasons to oppose the death penalty. Studies show that death-penalty cases are as much as 10 times more expensive to adjudicate than comparable cases. And the risk of executing a person unnecessarily is real. Since 1973, 144 death row prisoners were exonerated and released. But those are only the mistakes that we have caught. According to a recent statistical study appearing in the National Academy of Sciences, about one in 25 prisoners under a death sentence is likely innocent. (The Bible notes that one of the seven things God hates is the "shedding of innocent blood." And Jesus said, "If you had known what these words mean, 'I desire mercy, not sacrifice,' you would not have condemned the innocent" in Matthew 12:7.)
But for American Christians—a group who have often been some of the most ardent supporters of capital punishment—the theological should be considered along with the practical.
Following Claiborne's encounter with Haslam, I joined Claiborne in visiting death-row inmates at Riverbend Maximum Security Institution. I spent more than an hour conversing with these men, four of whom have execution dates scheduled. I could feel the weight of desperate prayers and desperate pleas of desperate prisoners. While I sat talking with them, Dear's words came to mind: "Killing people who kill people is not the way to show that killing people is wrong."
Jesus, most of the Apostles, and most of the early martyrs of the faith were victims of inconsistent justice systems that allowed for capital punishment. Many Christians strangely believe that Jesus wouldn't support the death penalty even though they do. As this issue moves back to the fore of American public life, they will have to rectify this inconsistency and determine if they can take the position they believe Jesus would. Where is Mother Teresa when we need her?
---
* This post originally stated that the law passed on Good Friday. We regret the error.