Is Monica Wehby the Most Interesting Senate Candidate of 2014?
Some say a moderate Republican with no political experience can compete in Oregon.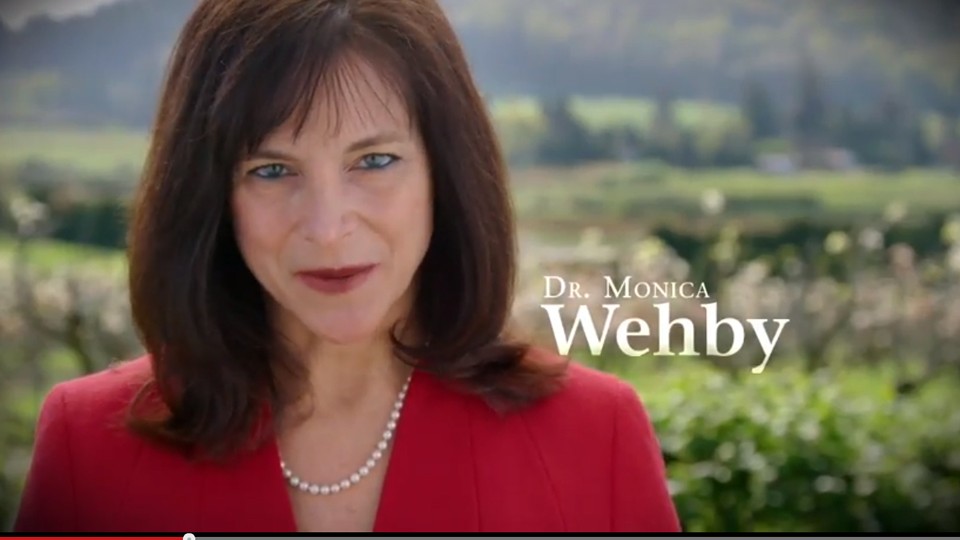 Hours before deciding to leave behind decades of education and training to make a long-shot U.S. Senate run, pediatric neurosurgeon Monica Wehby sat staring out the window of her home office in Portland, Ore. Then she picked up the phone and called a current senator who might be as unusual as herself.
At 51, Wehby would likely be the first brain surgeon to serve in Congress if she won. She's a single mother of four, she's never run for office, and she's spent the last 16 years operating on children with high-risk brain conditions. She's also a Republican who believes abortion is a decision to be made between individual women and their doctors, and that marriage of any sort is a personal decision.
Wehby's counselor that day was more conservative, but Sen. Tom Coburn could relate professionally — the Oklahoma Republican had twice left medicine to run for Congress. "When I was trying to make a final decision, I asked Tom, 'How did you decide to take that jump?' " Wehby said. "He goes, 'Monica, you're not leaving the kids, you're going to be taking care of all the kids, all the Oregonians, the whole country.' And that's what did it. He was the final push that this was the right thing to do."
As red-state primaries push Republicans further and further right, and as the parties seek "outsider" candidates but often end up with graying politicians, Wehby is unlike any other GOP candidate on the map in 2014. In Oregon, where the party hasn't won a statewide election at any level in a dozen years, Republicans are excited about their chances with a moderate coming from outside the Beltway.
"Oregon moderates and independent women are going to be excited in a way they haven't been excited about a statewide Republican candidate here in a long time," said Elaine Franklin, an Oregon GOP consultant.
"Moderates have a hard time getting through Oregon primaries because of the right-wing evangelical movement," Franklin explained. "But it's almost impossible for a pro-life, antigay candidate to win statewide."
The race is still an uphill climb. Oregon, like the rest of the mostly liberal West Coast, is generally hostile to Republican candidates, and freshman Democratic Sen. Jeff Merkley is no easy out, despite winning office by a razor-thin margin in 2008. Wehby, a newcomer who hasn't been vetted in a major race before, has already been tagged with a few nagging questions about her background.
And she still has to win her primary Tuesday against state Rep. Jason Conger, who has criticized her for being insufficiently conservative, though Wehby leads him in all recent polling.
"I'm running as who I am," she says. "I didn't decide I'm going to be this type of Republican or that type of Republican."¦ It's important that the Republican Party stay united. With so many big issues facing the country, we need to make sure the fiscal issues are paramount. We can't ever win if we keep fighting among ourselves."
"It hasn't been an easy decision because I do very much love what I do," Wehby said of the career change. A supporter of term limits, she plans to leave the Senate in 12 years if elected. At that point, medicine will have changed and Wehby's technical skills will be out of practice, making a return to the operating room extremely difficult.
Her lack of political experience has been both a blessing and a curse. Though she's served on the board of trustees at the American Medical Association and spent plenty of time in Washington, D.C., local papers have called Wehby less than well-versed on a variety of political issues. She also has the press digging through her past. Politico reported Friday that she was once accused of stalking by her ex-boyfriend in 2013. Wehby said she wasn't aware the man had ever filed a police report, and both parties agreed the relationship was friendly now. (He is financing attack ads against Conger, her Republican opponent.)
Wehby's medical work is also under scrutiny, for a lawsuit involving a mother who allegedly had Wehby perform unnecessary medical procedures on her children.
"People would always ask me before I ran, 'Do you have any skeletons in your closet? Because if you do it'll certainly come out if you ran,' " Wehby said. "I found out that it doesn't matter if you have any skeleton in your closet, because they just make things up."
"I'm fascinated by the way people are just totally unencumbered by the truth," she added. "But I'm learning to develop a thick skin."