Is an $84,000 Hepatitis Drug Too Expensive?
The debate over drug prices is heating up as insurers clash with pharmaceutical companies over a wave of expensive new products.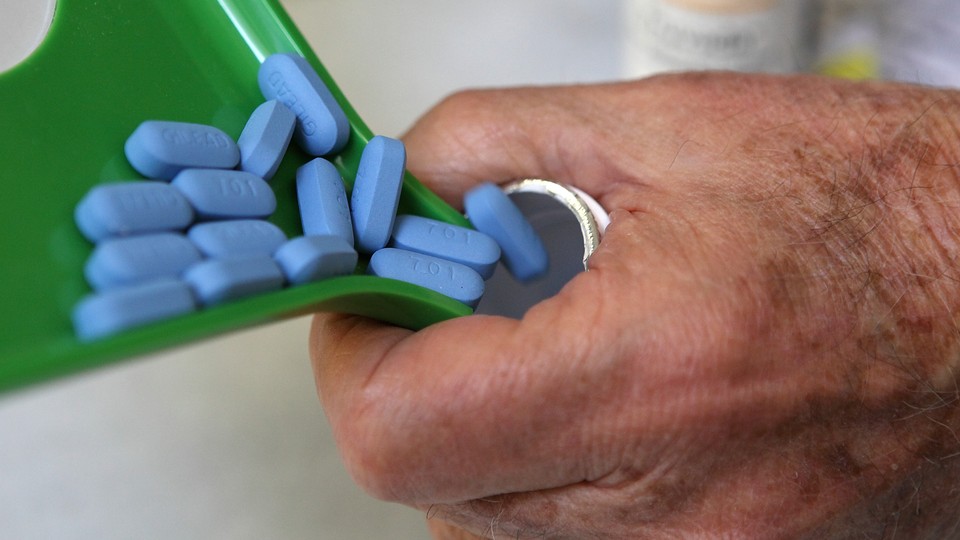 An $84,000 hepatitis drug called Sovaldi is at the center of a new battle between pharmaceutical companies and insurers — but the fight is about much more than one drug.
Sovaldi costs $1,000 per day, or $84,000 for a full treatment, and cures 90 percent of hepatitis C patients who take it. Insurers say the drug is ridiculously overpriced; the pharmaceutical industry says it's a steal.
But the debate here isn't simply about one hepatitis drug. Sovaldi is more like a single skirmish that has reawakened a broader, deeper, and higher-stakes cold war over the cost of prescription drugs. Officials in both industries say that even if Sovaldi's manufacturer, Gilead, slashed its prices, the newly intensified battle between insurers and pharma companies wouldn't recede: Sovaldi is just the beginning.
Sovaldi is a lightning rod because insurers and consumer advocates are afraid it's a sign of what's to come. The drug pipeline is full of drugs like Sovaldi, and insurers say that flood of new, expensive products will cause health care spending to skyrocket.
"I think that this one drug is the canary in the coal mine. It's one that is out front and one of the first ones we're seeing, but there are a lot more down the pipeline," said Brendan Buck, a spokesman for America's Health Insurance Plans.
Until Sovaldi, the class of products known as "specialty drugs" was mainly tailored to relatively rare conditions. The drugs are complex, which makes them more expensive to produce, driving up the price for consumers. And because they treat rarer conditions, there were fewer potential customers — another factor driving up prices.
Specialty drugs have always been expensive. They account for roughly 25 percent of U.S. spending on prescription drugs, but just 1 percent of all prescriptions, according to a newly formed coalition lobbying for lower prices.
But Sovaldi set off a particular shock wave largely because it treats a more common ailment — some 3 million people have hepatitis C. They can't all afford an $84,000 course of treatment, but still, critics argue, the drug's large potential customer base means that a once-narrow slice of drug spending could explode.
"If this sets a pattern for other drugs then we're really in deep trouble "¦ it's the combination of the price and the volume," said John Rother, who helped start the Coalition for Sustainable Rx Pricing. The new organization, which also includes AARP and other health care advocates, launched Wednesday.
The pharmaceutical industry says critics are missing the point. Yes, Sovaldi is expensive, it argues, but that's because it works. Sovaldi cures about 90 percent of patients with a common form of hepatitis C within its 12-week course.
Spending $84,000 on a cure might seem expensive up front, but it's a lot more efficient in the long run than paying for a string of less effective treatments, including hospitalizations that run the risk of complications, the drug industry says.
A report from Optum, a consulting subsidiary of United Healthcare, agrees. Even very expensive drugs can be cost-effective if they work well enough, Optum said in a report issued before Sovaldi's price was released.
"It is certainly possible that the combination of higher cure rates and reduced side effects, combined with reduced treatment times, may mean even greater cost-effectiveness in the future," Optum's analysts wrote.
A pharmaceutical industry official said insurers' effort to crack down on Sovaldi and other specialty drugs is short-sighted. The insurance industry is under tremendous pressure to keep premiums low, especially in the first few years of Obamacare enrollment, and it's reacting to that pressure by steering health providers and consumers away from products that are more expensive in the short term, the official said — but is running the risk of foregoing longer-term savings.
The basic dynamics underneath this tension are nothing new: Pharmaceutical companies want insurers to cover their drugs, which helps them make money; insurers want to avoid shelling out tens of thousands of dollars for expensive treatments, which helps them make money.
But the Sovaldi dust-up has turned up the intensity, as insurers make an aggressive case that they're not the ones to blame if rising health care costs drive up premiums.
"The reality is that the company in this case is asking for a blank check, and we can't give anyone a blank check in the health care system "¦ because it will blow up family budgets, it will blow up state Medicaid budgets, it will blow up employer benefit costs, and it will wreak havoc on the federal debt," AHIP President and CEO Karen Ignagni said at a recent event sponsored by The Atlantic.