Inside the Minds of Students Who Protest Commencement Speeches
Who's violating whose free speech?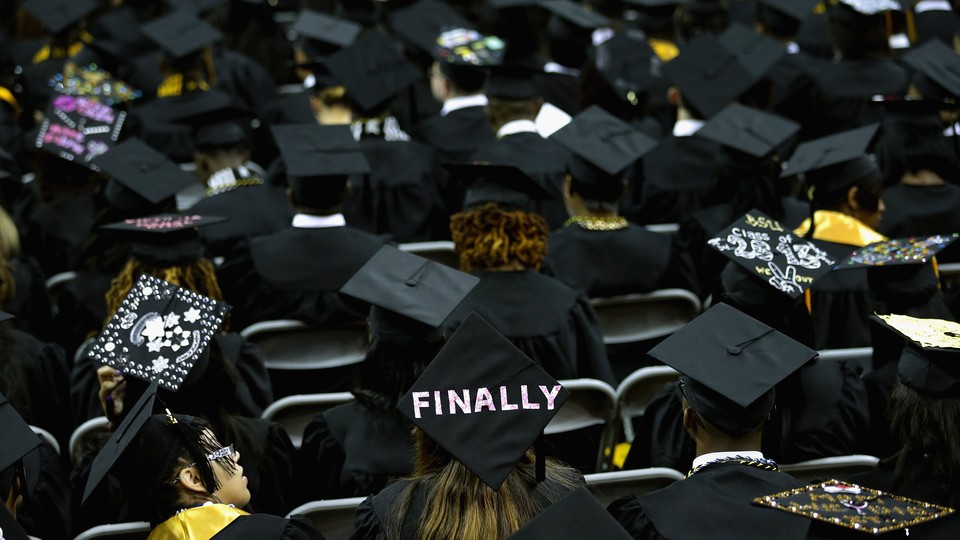 Often missed in the debate over the rash of college students protesting their commencement speakers is the views of the students themselves.
There has been plenty of condescension and finger-wagging aimed at the students, as when Haverford commencement speaker William Bowen, a former Princeton University president, called students who organized against another speaker "immature" and "arrogant." Meanwhile, pundits have filled in ludicrous demands they imagine students want to make of their commencement speakers, without actually talking to the students.
Are these "Hitler Youth?" Are they repressing free speech? Are they systematically squelching unpopular opinion? We tracked down one of these elusive students to ask what he was thinking.
Michael Rushmore, who helped lead the student protests at Haverford College and was singled out for condemnation by Bowen, said he was frustrated by misconceptions about opposition to a scheduled speech by former University of California (Berkeley) Chancellor Robert Birgeneau.
For starters, Rushmore argues, commencement speeches are not like other campus speeches. There's no dialogue, no policy debate, no question-and-answer session. Speakers come — nominally, at least — to honor the students, who have little choice but to attend. Often, as in Brigeneau's case, speakers are offered an honorary degree.
Many critics have compared Rushmore and his fellow commencement dissenters' actions to the time New York City Police Commissioner Ray Kelly was shouted down by protesters at Brown University, but Rushmore condemns Kelly's treatment.
"Our plans were never to shout him down while speaking," he explained. "The plan was to wear a bunch of buttons that said, 'Ask me about Robert Birgeneau.' Hopefully they would become a topic of conversation."
As it turned out, students never got the chance. After learning that Birgeneau presided over the Berkeley campus in 2011 when police used excessive force against students involved in an Occupy protest, Rushmore and others at Haverford wrote Birgeneau a letter asking him to apologize for the incident and explain his role. Instead Birgeneau opted to withdraw from the event (he was not disinvited, as has been reported). "I do not respond to violent, verbal attacks," Birgeneau said in a terse statement to the students.
Enter Bowen, who also spoke at the commencement and used the platform to scold members of the graduating class for their incivility. When he was president of Princeton in the 1970s, Bowen said in his speech, students handled similar situations much better. "The protesters were respectful (mostly), and chose to express their displeasure, by simply standing and turning their backs" to George Shultz, then a Nixon administration official, to protest the Vietnam War.
Funny thing — that seems in line with what the Haverford students wanted to do. "The biggest disappointment of the whole affair was that the dialogue had shifted from, 'Here's this guy who's not been held accountable.' Instead of talking about that, we're talking about whether I have the right to say, 'Hey, this guy hasn't been held accountable for some really embarrassing things,' " Rushmore said.
For what it's worth, Rushmore also says reports that Bowen received a standing ovation for his lecture were overblown. He said he saw no students or faculty members standing, though some parents did.
Commencement speakers, Rushmore argues, are supposed to bear some relation to the values of the school where they speak. And at Haverford, the selection of Birgeneau struck some as inappropriate for a school grounded in Quaker ideals of nonviolence. "I don't generally think of violent repression of protesters as something that's very Quakerly," Rushmore said.
In January, a federal judge allowed a $15 million lawsuit, which named Birgeneau, brought by the Berkeley protesters against the school to move forward. Birgeneau green-lighted the eviction of the Occupy encampment and later argued the protesters were "not nonviolent" because they linked arms to form a human chain.
As Birgeneau himself said in response to an internal review of the incident, "Our management of the protest was inconsistent at times with safeguarding the norms expected of Berkeley to protect free speech and assembly." Shortly after the incident he said, "I sincerely apologize" for the crackdown, and "take full responsibility for these events."
Is this really someone the media wants to hold up as a martyr of free speech — a guy who effectively thwarted First Amendment rights? "Was the fact that we wrote a letter really the most egregious thing that happened?" Rushmore asked.
The consensus in the media coverage of canceled commencement speeches is that it's the Birgeneaus of the world who are being unfairly silenced. But the kinds of people who speak at college graduations are among the least in danger of that anywhere, since they have a platform to be heard whenever they like. Who hasn't heard from International Monetary Fund chief Christine Lagarde or former Secretary of State Condoleezza Rice, two other prominent people who recently withdrew from giving commencement addresses under controversy?
For students, commencement day is a rare chance to be heard.