Inside D.C.'s Preschool Lottery
Even with a simpler application, there's a divide in how parents approach the lottery.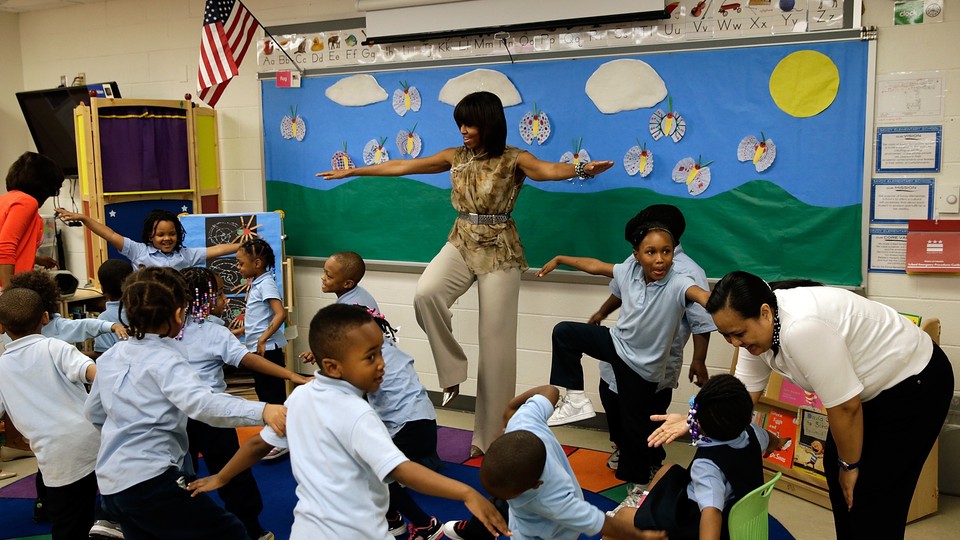 Washington's public preschool lottery can turn otherwise sane professionals into nervous wrecks. Washingtonian magazine recently chronicled the hysteria and frantic strategizing the lottery inspires in middle-class parents, even though there is very little families can do to influence where — and if — their child gets into preschool.
Raynette Lindsay, 26, isn't one of those parents. Although the public schools in her neighborhood have the lowest test scores and highest high school dropout rates in the city, she would have been fine with sending her daughter, Autumn, to the elementary school across the street. As for the lottery application, which requires parents to rank schools in order of preference? "It was really easy," Lindsay says.
This year, the city rolled out a simplified lottery process aimed at putting all parents on equal footing. But D.C. remains divided between frantically strategizing, middle-class parents and less educated parents, who aren't used to playing the school-admissions game. Whether you think the Washingtonian moms are crazy, or Lindsay is, may depend on where you yourself are from.
In theory, everyone who lives in the District of Columbia can send their child to public or public charter preschool. But parents aren't guaranteed a spot at their neighborhood school. Instead, they must submit a list of up to 12 schools to an online lottery, which uses an algorithm to match children with open spots. In the first round of this year's lottery, 88 percent of 3-year-old applicants and 67 percent of 4-year-olds were matched with a school.
Lindsay's 3-year-old daughter was one of them. Two days before the deadline for accepting a space, she arrived at Autumn's new preschool to fill out enrollment paperwork. AppleTree Early Learning Public Charter School's Douglas Knoll campus is a cheery place, where classroom doors are decorated with colored-paper spring scenes and a visitor might overhear children enthusiastically counting to 30, in unison.
AppleTree has seven campuses across D.C., and the network has the data to prove that its schools prepare disadvantaged children for kindergarten. Parents who consult the school lottery website, My School DC, would read that Autumn's new school "implements a research-based instructional program that supports the development of young children's language, literacy, and behavioral skills as well as their understanding of the world around them."
"This is a good school, from what I've heard," Lindsay says, stopping in the hallway on her way to the main office. Douglas Knoll made her list not because of its research-based instructional model, but because it was nearby and because a co-ed school (she had also applied to at least one all-girl institution) seemed like a good fit for a little girl with a baby brother. Lindsay was sporting bright sneakers and an eyebrow piercing, and she carried her sleeping son, Ashton, in a baby carrier beside her. His scrunched-up face was visible under a knitted cap.
Lindsay and her children live in Ward 8, southeast of the Anacostia River, where most people are African-American, few went to college, and many are living below the poverty line. The unemployment rate there is 17.9 percent, according to the most recent city data. Lindsay, a single mom, is currently contributing to that rate: She was once in a law-enforcement training program, but dropped out because she felt it was selfish to choose a demanding job over raising her children.
She submitted a list of mostly local schools to the lottery because she felt safer keeping Autumn close. "With pre-K, you've got to be right by home," she says. A D.C. native herself, Lindsay was also curious about the city's proliferating charter schools (about 40 percent of preschools that participated in this year's lottery were charters). "I wanted her to go to public charter instead of public," Lindsay says of Autumn. "I grew up in public schools, and I wanted to see the difference."
This year's lottery was created, in part, to better serve parents like Lindsay. In past years, public schools had one preschool lottery, and then every charter school also ran its own lottery. The process was confusing, with multiple applications and multiple deadlines. "Our lowest information families might not have all the tools and information at their disposal to navigate the process," says Sujata Bhat, project manager for My School DC. "So the complications of the process kind of privileged some subset of families."
Bhat oversaw the creation of a lottery with a single, online application. Not only does My School DC serve public preschool applicants, it also serves out-of-boundary and public charter-school applicants for kindergarten through high school. There's a second lottery round for city newcomers and families who didn't match anywhere in round one.
Bhat's data suggest that participation this year reflected the distribution of public school families citywide. About 44 percent of families attending public school in D.C. live in wards 7 and 8, in southeast D.C., and about 39 percent of this year's lottery participants came from that area, Bhat says. To reach families and remind them about the lottery process, her team did everything from going door-to-door with iPads to putting reminders on water bills for city residents.
The new application process leaves little room for strategy. Parents have to rank their choices carefully, and that's about it. Even so, many of the city's more affluent parents pay for the services of education consultants who, for an hourly fee, will provide a list of ranked schools custom-tailored for their child. Preschool is a particularly competitive lottery year because the stakes are high: get into the right preschool, and a child can have the right to a feeder pattern of great schools all the way through high school.
So "winning" the lottery can mean playing a long game. If parents don't like their child's preschool feeder pattern, or don't like their neighborhood schools, they can go through the lottery process every year until they get their child where they want her to be.
Juanita White, admissions and transition manager at AppleTree, says that there's a big difference between the parents at AppleTree's Lincoln Park campus, near Capitol Hill, and parents in Wards 7 and 8. "They're on the ball," she says of the more educated, higher income Lincoln Park parents — already thinking not just about preschool, but how to maneuver their child into good schools all the way through high school. The parents in Wards 7 and 8 usually aren't.
White spends a lot of time at AppleTree schools in those areas, coordinating bus trips to area elementary schools and encouraging parents to get involved, particularly by volunteering at their child's school. A lottery process intended to be fair to all families can only do so much when some parents have more resources and are more invested — some might say obsessed — with winning the school game.