How the Tea Party Is Still Hurting the GOP
The Republican establishment is beating back right-wing challengers this year, but victory comes at a cost.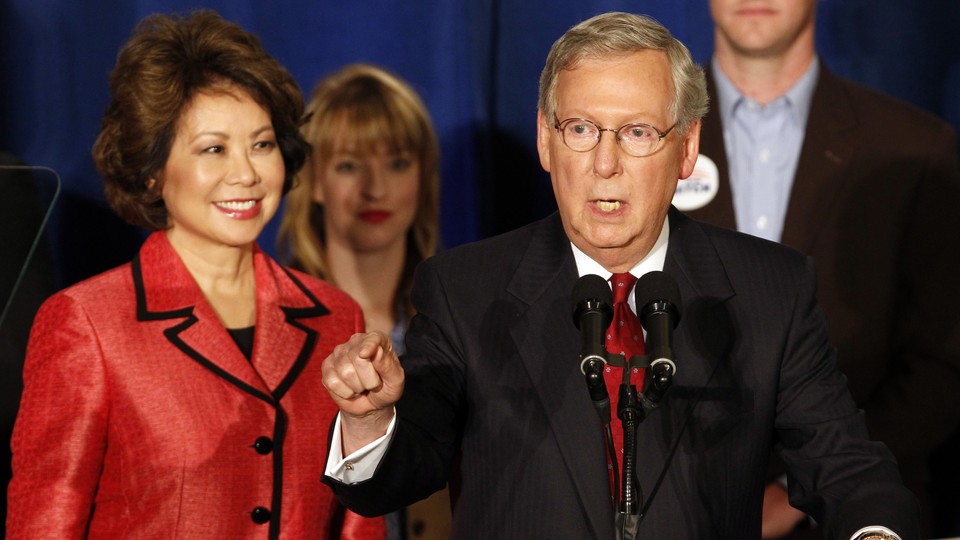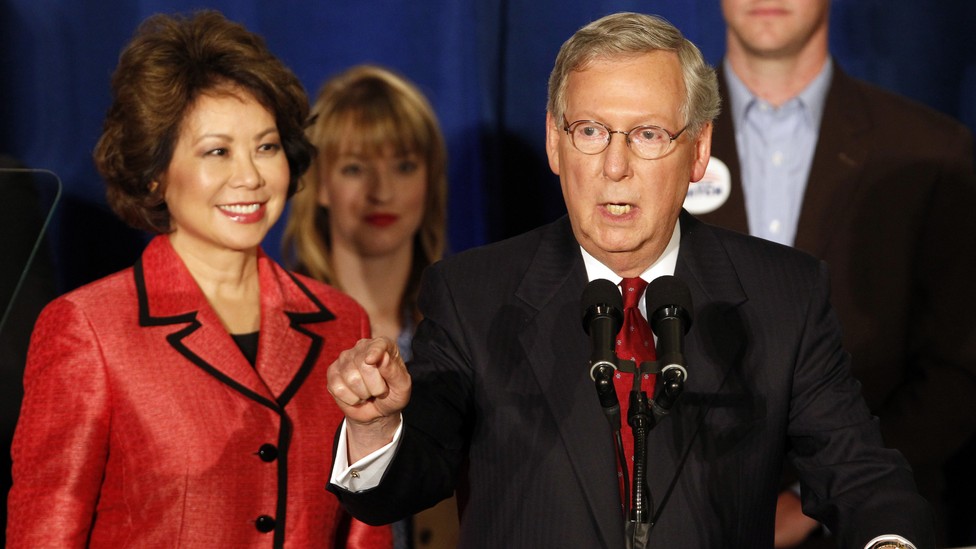 ATLANTA—All across America, Republican incumbents and establishmentarians crushed their right-wing challengers on Tuesday. Senate Minority Leader Mitch McConnell trounced Tea Party-backed businessman Matt Bevin, taking 60 percent of the vote to Bevin's 35 percent. A congressman in Idaho, Mike Simpson, who'd been singled out by the Club for Growth for symbolic punishment, also easily defeated his challenger. In Pennsylvania, Georgia, and Oregon, attempted right-wing challenges fell short.
It was a brutal night for the conservative movement, and a departure from previous years when the Tea Party made its mark by toppling longtime incumbents and winning primaries over anointed insiders. But make no mistake, the right is still drawing blood. The fight between the mainstream and the right wing remains a bloody and draining battle for the GOP, one that saps party resources at a potential cost to the party's chances in November.
In Georgia, for example, a slick CEO with a famous political name, David Perdue, came in first in Georgia's Republican primary. But he can't claim the nomination unless he wins a runoff nine weeks from now against Representative Jack Kingston, the Chamber of Commerce-backed candidate. Kingston is already bashing Perdue's business record, while Perdue accuses Kingston of being part of the problem in Washington. Erick Erickson, the RedState.com editor and a prominent Georgia talk-radio host, supports Kingston and will likely spend the next two months criticizing Perdue. The two candidates have already spent more than $5 million on television ads. Meanwhile, Democratic nominee Michelle Nunn skates by unopposed.
It's a similar story in other states. McConnell's rout cost him $10 million and exposed his weakness with his party's base. In Oregon, pediatric neurosurgeon Monica Wehby, hailed as the candidate who could turn a blue state red, had to first survive a primary opponent who decried her moderate views on abortion, gay marriage, and healthcare. (Wehby may have been more damaged by late-breaking revelations about her personal life, which her Republican opponent says he did not dig up.) In Idaho, the attempt to take out Simpson fizzled early—the Club for Growth took its ads down weeks ago, tacitly conceding its challenge was doomed—but only after an all-out, $4 million push by Simpson and his allies, including the Chamber of Commerce and the Defending Main Street Super PAC.
Multiway primaries for open seats happened before the Tea Party came along, of course—ambitious politicians will always jockey for the next rung on the political ladder. Democrats even have them now and then, as they did in Pennsylvania on Tuesday, where a wealthy businessman, Tom Wolf, swooped in and snatched the gubernatorial nomination from the congresswoman, Allyson Schwartz, who thought it was hers for the taking. Many of the GOP primaries that have been shoehorned into the establishment-versus-Tea Party narrative in recent years weren't that at all, as Dave Weigel helpfully reminds us.
Yet Republican infighting is far more common and more brutal than that experienced by Democrats, egged on by a constellation of rabble-rousing conservative groups who pour money into ginning up the base. These battles, it hardly needs to be said, inevitably push the nominee to the right in ways that may alienate moderate voters. North Carolina's Republican Senate nominee, Thom Tillis, sought to reassure primary voters of his anti-Obamacare bona fides by boasting about how he worked to prevent the state from expanding Medicaid; now his Democratic opponent, Senator Kay Hagan, is attacking him for his opposition to the expansion, which is generally popular.
When McConnell's victory was declared on Tuesday night, national conservative groups rushed to embrace McConnell. The Senate Conservatives Fund, the Madison Project, FreedomWorks, and the Tea Party Patriots all issued statements calling for unity. (Only Bevin was not on board; embittered by his rough treatment at the hands of a wily political operator, he complained about having been "lied about" and "ridiculed.") But the question remains whether the groups will throw themselves into the effort to reelect McConnell with as much gusto as they devoted to trying to take him down. For many on the right, attacking Republicans has become the only thing they know how to do.