NASA isn't afraid to stare into the sun.
In fact, it's imperative that it does. A severe enough solar storm could wipe out a portion of the U.S. power grid, sending us temporarily back to the Dark Ages—without electricity, without cable, without selfies. NASA Administrator Charles Bolden put it like this last year: Solar weather is "a problem that crosses all borders."
In 2010, NASA launched the Solar Dynamics Observatory, a spacecraft equipped with instruments to improve our understanding of our star's magnetic field, with the hope of achieving better solar forecasts. If we can predict the next Carrington event—an 1859 solar storm so strong it temporarily powered telegraphs—we may be able to avoid trillions of dollars in damages.
The results of the mission, so far, have been as informative as they are beautiful. The images that the observatory has beamed back to Earth are sublime in the truest sense of the word—evocative of sheer power and with sharp contrasts. They also come in nice colors.
Recently, I spoke with Dean Pesnell, a SDO project scientist, about how these remarkable images are created. Below (interspersed among the photos) is a lightly edited transcript of our conversation.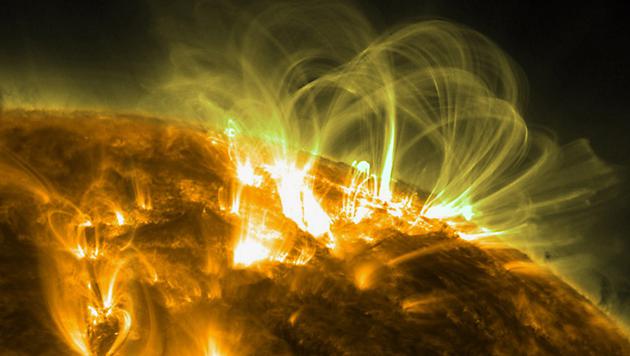 So, how does NASA take a photo of the sun?