How Green Energy Won Out Over Fossil Fuels in a Red State
In Texas, wind power is set to come online faster than natural gas over the course of the next decade.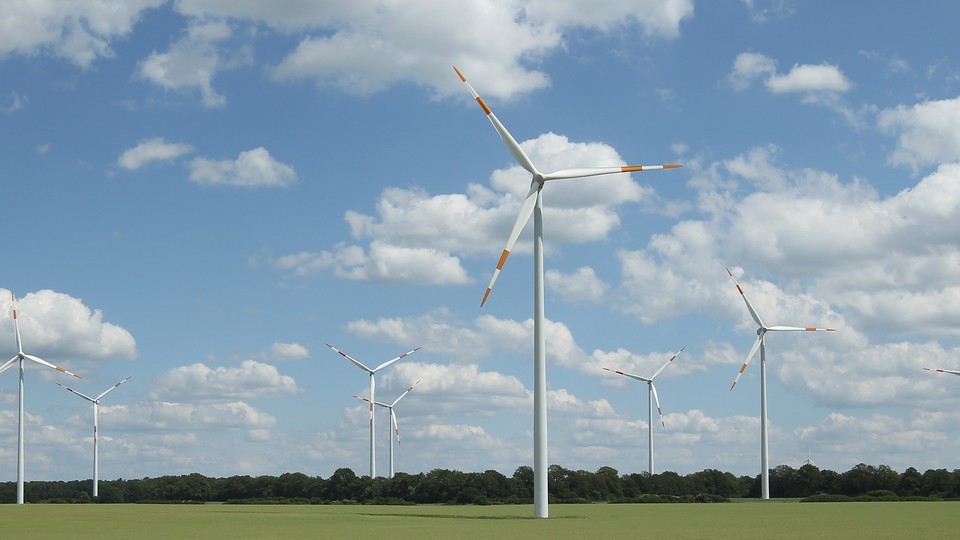 Wind is going head to head with natural gas at the heart of the fracking boom — and wind is winning.
Fracking — a drilling technique that involves breaking open shale rock formations to extract oil and natural gas — has taken Texas by storm. The Lone Star State is dotted with drill sites and leads the nation in natural-gas production. But wide open spaces and strong gusts make it an ideal place to turn turbines. And Texas also takes the top spot for states with the most wind power.
Green energy has steadily gained traction in the deep-red state. In 2003, wind made up less than 1 percent of the power supply, according to state grid operator the Electric Reliability Council of Texas. By 2013, that share had risen to roughly 10 percent.
Texan wind power is set to take off in a major way. From 2013 to 2014, ERCOT estimates that wind capacity will increase by 33 percent. Wind-power potential is projected to jump another 25 percent from 2014 to 2015 — a sharp uptick in installation that comes on the heels of a half decade of relatively slow growth. (From 2008 to 2013, installations averaged a 7 percent increase each year).
It's also on track to command an outsized share of newly minted power potential in the Lone Star State. And wind is trouncing natural gas in early estimates of capacity set to come online over the course of the next decade.
Wind-power projects are poised to make up nearly 70 percent of new power capacity in the deregulated market, according to ERCOT. The grid operator projects that more than 8,600 megawatts of wind power — enough energy to keep the lights on for hundreds of households across Texas — will be up and running by 2024.
Natural gas won't fare nearly as well. About 3,580 megawatts of gas-fired power potential are slated to come online in the same interval. If that forecast holds true, gas would make up only 28 percent of fresh power potential in the state.
What's causing wind production to soar?
In a word: infrastructure. Texan wind had been plagued by a major problem in the past. The windiest parts of the sprawling state are hundreds of miles away from its largest population centers. And the options for sending electricity from areas with the best wind potential like West Texas and the northernmost part of the state — known as the Panhandle — to cities like Houston, Dallas, and San Antonio have historically been limited.
In 2005, the Texas legislature approved a sprawling network of transmission lines designed to solve exactly this problem. After years of construction, the power lines — known as Competitive Renewable Energy Zones — started shipping electrons across the state in December.
Developers say the power lines are key to unlocking the state's wind-power potential. "For the longest time there was nothing there," said Jim Swafford, the CEO of Scandia Wind Southwest. Scandia is one of several companies backing a large-scale wind-power project in the Texas Panhandle. Swafford says the power lines made it all possible. "I had people coming from all over the country who wanted to build. But they'd walk away every time, because before there was no way to get the wind from point A to point B," he said.
Statistics tell the same story. Eighty percent of the total wind capacity estimated to come online by the end of 2024 will originate from the spinning blades of wind turbines set to spring up in West Texas and the Panhandle.
The boost that the power lines are giving to wind power illustrates infrastructure's ability to slow or speed an energy boom. But transmission isn't the only reason wind power is taking off in Texas.
Policy has also played a role. The expiration of the renewable production tax credit — an incentive that pays out 2.3 cents per kilowatt hour of wind produced — prompted a rush to break ground on new wind projects before the credit lapsed at the end of last year.
If the credit is not extended, the wind industry's growth in Texas could lag. And analysts warn that even with the new transmission lines, green energy could hit a bottleneck in the Panhandle as developers race to churn out more wind.
For now, however, the availability of the tax credit alongside the potential for turbines to link up with power lines means that the future of wind power in the Lone Star State is bright.
Natural gas, meanwhile, faces hurdles of its own. Gas remains the dominant Texan fuel. But power ginned up by gas plants dropped from 46 percent of total electricity generation in 2003 to 40 percent in 2013. And gas plants slated to come online in the next decade only promise to provide a fraction of the power potential of wind projects in the queue.
This is partly because gas has fallen victim to its own success. The flood of natural gas that has resulted from fracking has sent electricity prices into a downward spiral in Texas. Monthly electricity bills have decreased dramatically. But that also means that gas plants are making less money — a trend that has slowed investment in natural-gas generation.
"Texas is in a pickle right now," said Alan Lammey, a senior energy analyst with LCI Energy Insight and the Oil Price Information Service. "Low electricity prices have hurt power production across the board, but wind has benefited from investment in technology and infrastructure — and that's helping it pull ahead."