How Georgia Got Republicans and Democrats to Embrace Universal Pre-K
Even die-hard conservatives in the state support its public pre-K program. That's because it's open to everyone, not just the poorest families.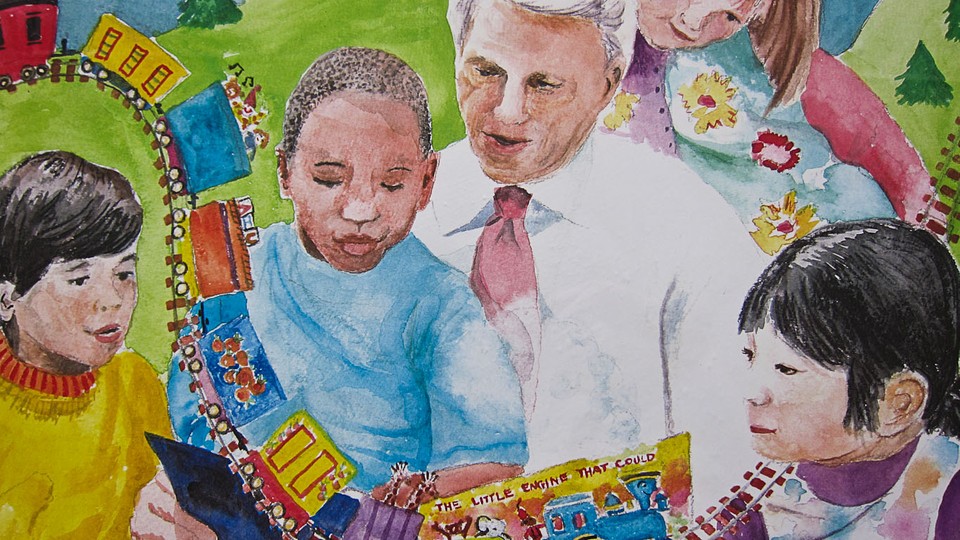 Three years ago, Georgia's newly elected Republican Gov. Nathan Deal was in a pickle. The money for the state's public preschool program was dwindling fast. Georgia Pre-K, which is open to all 4-year-olds in the state, is funded entirely by the Georgia Lottery. The lottery, like everything else, had suffered dramatically from the economic downturn. Something needed to be cut.
One obvious solution would have been to restrict the program to a smaller population of low-income families. "We actually looked at whether this was a viable option during this funding discussion," says Bobby Cagle, the commissioner for Georgia's Department of Early Care and Learning. "Should we go to a targeted program? There are number of reasons why I believe we shouldn't do that. If you use it as a targeted program, you marginalize the program in very distinct ways."
Voters often see income-based programs as welfare, which is unpopular with conservatives in particular, Cagle says. He ought to know. He watched his home state of North Carolina adopt a need-based prekindergarten program in the late 1980s. "It has been marginalized as a welfare program. It's been on the chopping block every single year," he says.
Deal agreed with Cagle's analysis and maintained the program's universal access. In order to balance the books, he wound up cutting 20 days from the Georgia Pre-K school calendar — which translated into a roughly 10-percent pay cut for the teachers — and increased class sizes from 20 to 22 students. Over the course of the next two years, Deal was able to add back the 20 days as the economy (and lottery revenues) recovered. The 22-student class size has remained in place.
Georgia's universal prekindergarten program is the oldest in the country. It thrives in a red state and is championed by classic conservatives like Deal. The program is open to all students, and it embraces choice — any school that meets the state standards, whether religious, corporate, or private, can apply for funding. And its continued success and popularity reflects the gulf between congressional Republicans — who oppose the Obama administration's efforts to expand access to pre-K nationwide — and the local politicians who have embraced state-supported early-childhood education in some of the most conservative states in the country.
The fact that Georgia's program does not rely on taxpayer dollars has contributed to its bipartisan acceptance. "Pre-K is not a tax burden," says Stephanie Blank, the founding chair of the governing board of Georgia Early Education for Ready Students, or GEEARS. "Some would argue it's a financial burden, but playing the lottery is a choice. That does make it far more palatable."
Georgia Pre-K has been around for so long, it's not seen as political anymore, if it ever was. "I never looked at this as a partisan issue, honestly," says Sen. John Albers, a Republican in the Georgia Legislature who represents a district north of Atlanta. He sent both of his children to Georgia Pre-K. "If I had to do it all over again I'd do it two times."
But the universal nature of Georgia's program is another key to its success — and that could be a surprising lesson for other states looking to build support for early-education programs. "You're not going to see Republicans go down to an income-based thing," says Sen. Fran Millar, another Republican who is a member of the Georgia Senate's Educaiton and Youth Committee. "It would get political in about six months. It would be about class warfare."
Zell Miller's Great Idea
Establishing a lottery for education was the brainchild of former Georgia Gov. Zell Miller, a Democrat-turned-Republican who is still beloved throughout the state. In his first bid for governor in 1990, Miller looked for a way to champion education without tax hikes that would scare away conservative voters. He knew that many state residents already played the Florida lottery, and he figured that money might as well stay in-state. He proposed creating a Georgia lottery whose proceeds would go to two dedicated causes — college scholarships and preschool. Miller campaigned almost exclusively on that idea and won.
Georgia's lottery-funded preschool started as a pilot program in 1992, targeted to low-income kids. The HOPE Scholarship, available to any Georgia high-school graduate with a 3.0 grade point average or better who attends a state college, was established in 1993.
By 1994, the prekindergarten program was serving about 15,000 children. The Georgia Lottery also was turning out to be far more successful than anyone could have imagined. In 1994, a narrowly reelected Miller was in the happy position of deciding what to do with a funding surplus. He decided on universal access to Georgia Pre-K. A top aide for Miller, Mike Vollmer, explained the reasoning in Elizabeth Rose's 2010 book The Promise of Preschool: From Head Start to Universal Pre-Kindergarten, telling Rose: "With the political conservative environment that we are living in, if we come out and try to push a program for poor kids, we're not going to get a whole lot of support."
Thus, by catering to a conservative dislike for welfare-type programs, Georgia became the first state to establish universal prekindergarten. A generation of Georgia's children has now grown up with the program. A steady funding stream ensures that there is a robust supply of prekindergarten providers. The K-12 school systems are fully invested in prekindergarten because they don't have to worry about competing for scarce resources. Families have sent their small kids to Georgia Pre-K schools and then used the same revenue stream for their college-bound students. They don't question its existence.
These residents probably don't realize that Georgia's preschool program is unusual. Only 11 other states place no income limitations in their prekindergarten programs, according to the National Institute for Early Education Research. It's worth noting that about half are red or semi-red states — Alabama, Florida, Maine, Missouri, Oklahoma, and Virginia.
In many of these states, however, enrollment is low because funding is low. In Alabama, for example, only 6 percent of the state's 4-year-olds were enrolled in 2012 due to funding constraints. Missouri, like Georgia, uses a state gaming program to fund its prekindergarten program, but there is so little money available that only 4 percent of the state's 4-year-olds were enrolled in 2012.
Georgia, by contrast, is at 58 percent enrollment in Georgia Pre-K, with another 7 percent of the state's 4-year-olds enrolled in the federally funded Head Start. (Many of the Head Start kids are in the same classrooms with Georgia Pre-K students.)
Of the states that don't target prekindergarten to needy families, only Florida and Oklahoma beat out Georgia in enrollment, covering 79 percent and 74 percent of 4-year-olds, respectively. But there is a difference: Florida and Oklahoma rely on general coffers to fund pre-K. In Georgia, it's all about the lottery.
The Debate Now
The conversation about prekindergarten in Georgia has moved to the next level. Advocates and state officials are now weighing tweaks and improvements to a program that most people view as a success generally.
The biggest complaints about Georgia Pre-K involve access. Some 6,000 kids are currently on a waiting list, according to state officials. In an informal survey of 20 parents in midtown Atlanta, half said that they have worried about not getting in to a Georgia Pre-K school and eight complained that the program wasn't really "universal." Eight of the respondents paid for private preschool.
"The quality pre-K programs are always full, so many of us still end up using private pre-K," one parent said.
Still, wait lists are a necessary evil if the state is going to meet its budget, Cagle says. And with more access comes more demand. "If you increase the slots, you have more people that become aware of it," he says, "and they're more optimistic about their opportunity to get into the program, and so you have more people apply."
When it comes to the lottery, state education officials give its management a wide berth, preferring to leave lottery operations to the experts who have provided so much cash over the years. After the 2011 shortfall, Sen. Albers and a few of his fellow legislators started cautiously asking questions of the lottery officials. Did prize amounts need to be so high? Why were executive bonuses so high?
The Legislature wound up passing a bill to cap executive bonuses, but Albers says they aren't likely to probe further if the lottery continues to produce good revenues. He says his conversations with lottery officers have been highly respectful, albeit with a tiny threat behind them. "After we passed the bill to control bonuses, it was like, 'If you want us to control everything with legislation, we can. You probably don't want us to,' " he says.
There are still questions about the distribution of the lottery money. Two-thirds of the revenues are devoted to the HOPE Scholarship, leaving one-third of the funds for prekindergarten. Some people think Georgia Pre-K is being shortchanged. "If I had my druthers — it sounds like heresy for a Republican — I would probably have put more money into Pre-K than the HOPE Scholarship because I think it's so important to get it on the front end," says Millar.
Deal tried to address that concern by reducing the amount of the HOPE Scholarship awards. Before he took office, HOPE scholarships covered 100 percent of an eligible student's tuition. Now, award amounts are based on a percentage of the student's tuition. Without that change, the scholarships would have gobbled up all of the available lottery money because college costs were rising so fast, said Kristin Bernhard, who was Deal's education-policy adviser at the time.
"We were going to respect that one-third/two-thirds distribution, and there was no way to do that unless we looked at what people were receiving on the HOPE scholarship side," says Bernhard, who became a deputy commissioner at the state's Department of Early Care and Learning in January.
Early-education advocates are pushing beyond these parameters, saying it's time to start talking about using the state's general funds for prekindergarten. "We need to be realistic and clear that we don't have a lot of our state dollars going to education," says Mindy Binderman, executive director of GEEARS. "If we really want to expand, at some point we're going to have to figure that out."
State officials are so far rejecting that idea. "This was founded primarily as a lottery program, and we have remained true to that and the discussions have really not gone to general funds," Cagle says.
Still, advocates like Binderman are in a pretty good position relative to early education advocates in other states. Polling by her group shows that 66 percent of Georgia voters would support a new tax for early education. Deal, in typical Republican fashion, is not receptive to a new tax right now, even for one of his favorite causes. But that could change. And even if it doesn't, Georgia and its preschoolers are way ahead of much of the country.