How Democrats Running for Governor Will Talk About Obamacare
The law is still unpopular, but Democratic gubernatorial candidates have found a silver lining in it.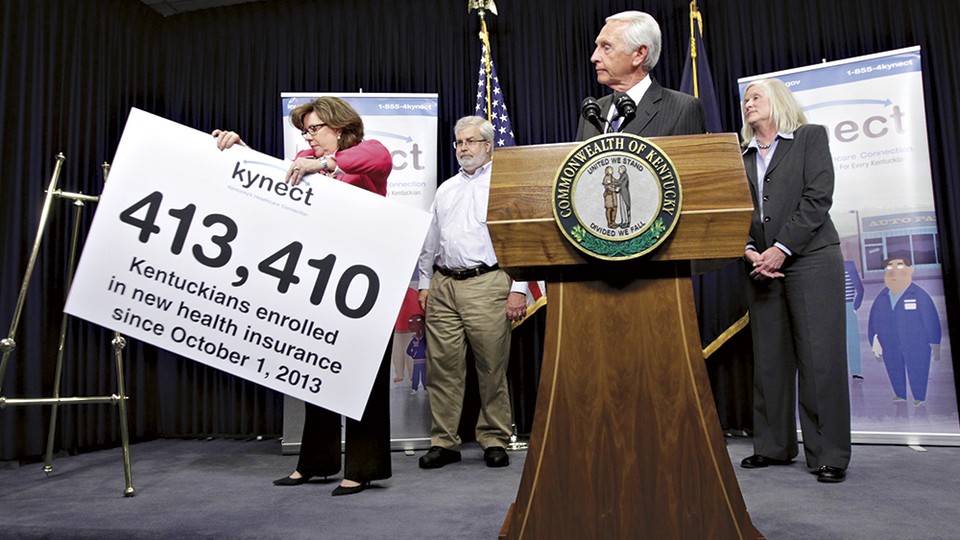 Democrats running for the Senate aren't talking about the president's health care law, outside of occasionally calling for a fix. But in several pivotal gubernatorial races, the party's candidates have shown they're much more comfortable embracing Obamacare.
The phenomenon is no accident. The bulk of this year's competitive executive contests are in Democratic-leaning states carried by the president in 2012, where the law is less toxic than in the red states that dominate the Senate electoral landscape.
Plus, state officials, such as Kentucky Gov. Steve Beshear, aren't struggling like their federal counterparts to square a congressional vote with sour public opinion. "The problem for the Republican governors is, this election may focus in congressional races on whether you voted for it or whether you didn't, but folks know Democratic governors and Republican governors didn't vote for it, because they weren't there. We had the job of implementing it," says Democratic Governors Association Chairman Peter Shumlin of Vermont.
In this year's gubernatorial contests, the main Obamacare issue is Medicaid expansion, the only part of the Affordable Care Act that consistently polls well across the country and also rests singularly in the hands of the nation's governors. In at least half a dozen races from Wisconsin to Georgia, Democrats plan to attack Republican incumbents for not expanding Medicaid — and they believe it's one of their top issues: An estimated 4.8 million people fall within the Medicaid eligibility gap because they don't live in states where they've been afforded the ability to enroll.
These opportunities have opened small windows for Democrats to campaign on the law's positives, but it's a strategy that so far has mostly been adopted by several Democratic underdogs looking to catch late momentum in contested primaries. Rep. Allyson Schwartz began the year as an early favorite to face embattled GOP Gov. Tom Corbett in Pennsylvania, but she now finds herself struggling to run competitively against wealthy Democratic rival Tom Wolf. Schwartz launched an ad in mid-April pointedly defending her work on the Affordable Care Act and has since called on her primary opponents to stop shying away from the issue. "All the other Democrats should speak up and talk about their pride in this law," Schwartz said.
The ad flashes images of her standing beside President Obama before Schwartz proclaims direct-to-camera, "It's something I'm proud of," and proceeds to call out Corbett for his decision not to take federal money to expand Medicaid. She notes that 500,000 Pennsylvanians are missing out on health coverage because of that decision.
In Florida, Republican-turned-Democrat Charlie Crist has defended his support for the law even though he's been regularly attacked by Gov. Rick Scott for his position. His strategy appears to be geared toward winning over liberal skeptics, but it nonetheless sets him a world apart from most Democrats. The Sun-Sentinel in Fort Lauderdalereported in April that Crist said during a campaign stop, "I don't shy away from it. I don't back away from it. I don't apologize for it. It's the right thing to do."
But in some places, problems with state-level insurance exchanges have caused gubernatorial candidates as much heartburn as opportunity. In Maryland, state Attorney General Doug Gansler is facing tough odds against front-runner Anthony Brown, the lieutenant governor, in the race to succeed outgoing Gov. Martin O'Malley. The state is one of several where exchange websites have suffered serious problems; the Maryland site's launch and subsequent repair process looks like it might cost an additional $40 million on top of the $130 million already spent to switch to Connecticut's system. Though Brown was not personally responsible for the website, he was the one O'Malley chose to guide implementation of federal health reform. Gansler has been using the issue to aggressively question Brown's leadership ability, calling the website a "mess" and "a $200 million failure" in a series of campaign ads.
Gansler cochaired Obama's campaign in Maryland in 2008 and led Democratic attorneys general in filing an amicus brief in support of the law with the Supreme Court.
"The thing we're hearing from voters is that Maryland's health exchange should have led the nation, but instead it's failed, and it's been an embarrassment, and it hurt people. That's why Anthony Brown's failure is so egregious," said Gansler spokeswoman Katie Hill. "We can do better and should have done better."
The botched Cover Oregon statewide health care exchange — which The Washington Post labeled the "worst Obamacare website" — is also emerging as a major issue in Gov. John Kitzhaber's reelection campaign. Last Friday, the Cover Oregonboard decided to join the federal HealthCare.gov exchange in the wake of persistent technical problems. State Rep. Dennis Richardson appears likely to win the Republican primary and face Kitzhaber in November, and he plans to make the exchange the central focus of his campaign. In a recent interview with the Associated Press, Richardson called it "an indication of the failure of leadership of our governor."
Asked whether more candidates would be endorsing Obamacare as part of their campaign messaging, Shumlin declined to comment. Instead, he said he expected that many GOP governors' opposition to Medicaid expansion would become an issue in the general election. "I would argue that on health care, those that will be punished in governor's races are those that refuse to give access to their most vulnerable because they're trying to make a political point."