House Votes to Hold Former IRS Official Lois Lerner in Contempt
Republicans take their campaign against the agency to the next level.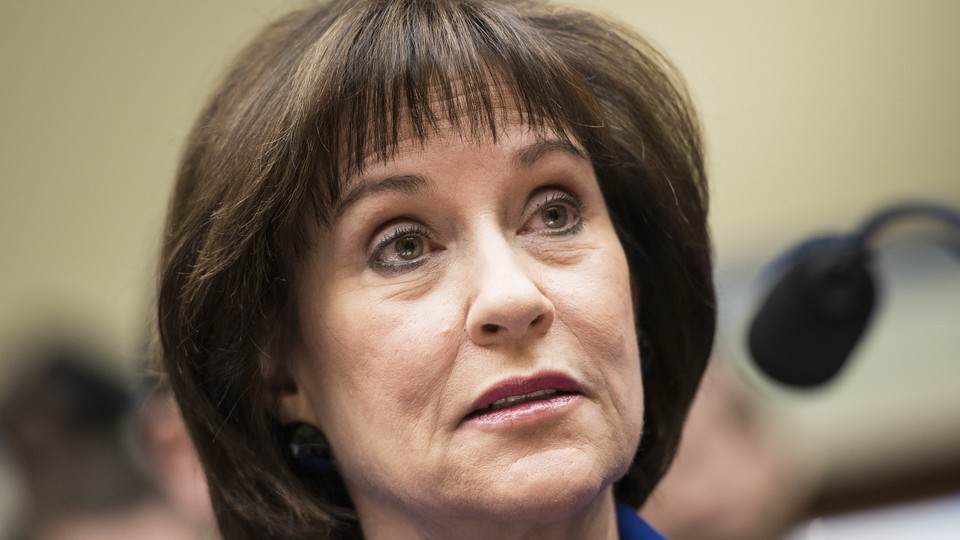 The House voted to hold former Internal Revenue Service official Lois Lerner in contempt on a 231-187 vote Wednesday, as Republicans work to uncover the depth of Lerner's involvement in the agency's targeting of conservative groups from 2010 to May 2013.
Six Democrats broke with their party to support the contempt vote: Ron Barber of Arizona, John Barrow of Georgia, Collin Peterson of Minnesota, Mike McIntyre of North Carolina, Nick Rahall of West Virginia, and Patrick Murphy of Florida. All are facing Republican challengers in tough districts for Democrats in November.
"Who's been fired over the targeting of conservative groups by the IRS? No one that I'm aware of. Who's gone to jail for violating the law? When is the administration going to tell the American people the truth?" House Speaker John Boehner told reporters Wednesday morning. "One would have to guess, if they're not willing to tell the American people the truth, it must not be very pretty."
Lerner was found in contempt of Congress after invoking her Fifth Amendment right against self-incrimination at a House hearing last May. House Republicans argue that, because Lerner gave an opening speech testifying to her innocence in the inquiry before pleading the Fifth, she had waived her right to refuse to testify. Republicans subpoenaed Lerner to testify again in March, when she again asserted her right to remain silent, setting off the contempt proceedings.
The issue is now headed for the courts, where a judge will have to determine whether Republicans' claim that Lerner waived her rights is correct. The House also voted Wednesday to request that Attorney General Eric Holder appoint a special prosecutor in the case. Twenty-six Democrats, including those who supported the contempt vote, backed this second vote. If convicted, Lerner faces a maximum penalty of a $100,000 fine and up to a year in jail.
This is the second time in as many years that the House has voted to hold a member of the Obama administration in contempt. In 2012, House Republicans and 17 Democrats voted to hold Holder in contempt of Congress over his refusal to turn over documents related to the Fast and Furious scandal. That contempt vote went nowhere, as members of the Justice Department announced they would not pursue criminal charges or a grand jury against the head of their own department. The administration later invoked executive privilege over the documents in question.
But Republicans say they feel more confident that the contempt vote against Lerner will be successful. "Eric Holder, of course, is the highest law-enforcement officer in the country. Lois Lerner is not," said Rep. John Fleming, R-La. "And so she doesn't enjoy the same level of protection that he does personally, and also she can't claim executive privilege, which Eric Holder perhaps can."
"There's a fairly substantial difference between asking [Holder] to ... prosecute himself and someone else," a senior House Republican aide said.
But it's unlikely that the administration's response to Congress's holding Lerner in contempt will be any different. Lerner has reportedly already been interviewed by the Justice Department, and anonymous "law-enforcement officials" told The Wall Street Journal in January that no criminal charges would be filed against IRS officials over their targeting of conservative groups. President Obama told Fox News during his Super Bowl interview that he does not believe the IRS displayed "a smidgen of corruption" in the matter.
All the same, Republicans are hopeful that the contempt vote will provide some real pressure for Lerner to testify.
"Ultimately, she's going to be forced to either come forward and testify, or she's going to have to apply for immunity and testify," Fleming says. "And pressure will continue to mount until that happens.... And if not, again, I think there's a lot of mounting evidence against her — criminal evidence — and so we're going to continue to mount the pressure and this is just a next step in that direction."