Here's Chuck Grassley's Real Problem With the Use of Executive Authority on Immigration
Barack Obama's not George W. Bush.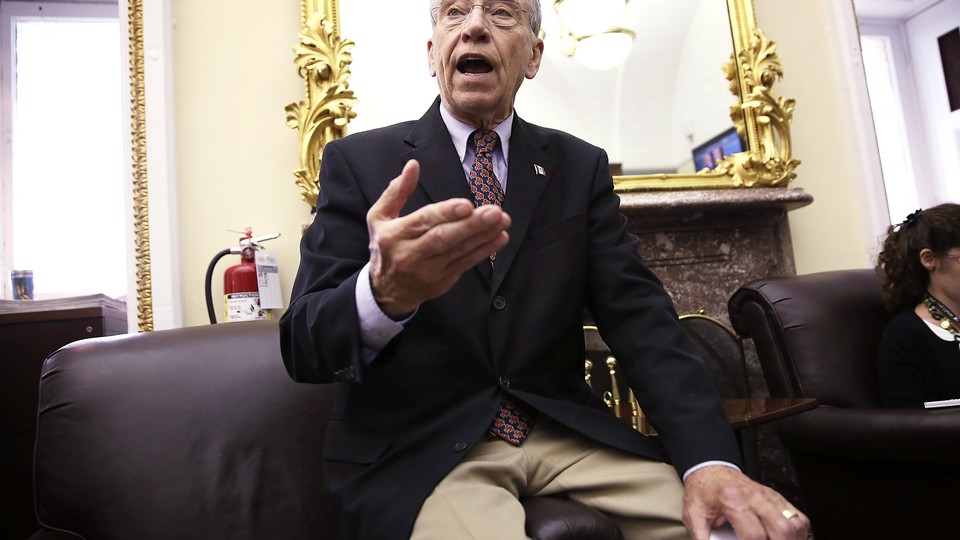 Yesterday, when the Obama administration unveiled a number of proposals that would relax restrictions on foreign workers and their spouses, Chuck Grassley was all verklempt.
"The Obama administration claims it wants immigration reform, but they can't wait for Congress. They act on their own," Grassley, a top Republican on the Senate Judiciary Committee, said on the Senate floor, according to his prepared remarks. "What's next? Will the president unilaterally legalize the undocumented population because he can't have his way with Congress?"
Grassley's feeling that the president is overstepping his powers in revamping immigration policy via executive action is something of a change of heart. Back in June of 2008, when President George W. Bush used an executive order to require federal contractors to participate in the Homeland Security Department's E-Verify system, Grassley was all for it.
Appearing on CNN's Lou Dobbs Tonight several days after the announcement in 2008, Grassley voiced his support for Bush's action, saying, "It's so important that the president do that," since Grassley would have put something similar in legislation of his own if the president hadn't. "It's quite a victory to get it done by executive," Grassley said at the time.
Grassley deserves points for ideological consistency on immigration, and his office argues that the situation was different — that there was clear authority in the law for every employer to use E-Verify, including the federal government. "President Obama's executive orders, on prosecutorial discretion for H-1Bs for example, fall, in Senator Grassley's opinion, outside the constrictions of existing law," his spokeswoman, Beth Levine, wrote in an email. "Senator Grassley wishes the president would use his executive authority to benefit American workers, instead of working to their detriment." Bush, the logic goes, was merely requiring what the law already authorized.
The upshot though, was that Bush took a law Congress established as a voluntary system in 1996 and greatly expanded the program's reach, affecting at least several hundred thousand workers a year nationwide, according to The New York Times' estimates. The real difference then, was that Obama's proposal uses executive authority to make life a little easier for foreign workers, and Bush was using it to do something Grassley agrees with. It would behoove Grassley to just say so.