Even If We Find Them, It's Unclear Whether Military Forces Can 'Bring Back Our Girls'
A Defense Department official said Thursday that the Nigerian military is unwilling to take on Boko Haram.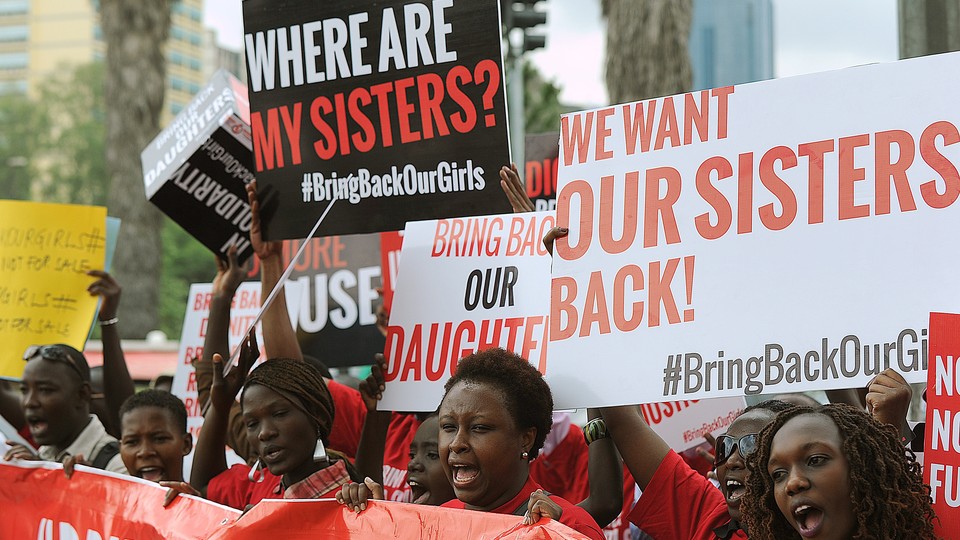 In a testy exchange during a Senate hearing Thursday, a Defense Department official repeatedly told Sen. Robert Menendez that the U.S. government couldn't say whether Nigerian forces are prepared to rescue more than 300 girls who were kidnapped in the country last month. The Democrat was not pleased with her response.
"Here's my problem. Here's my problem, Friend," an increasingly irritated Menendez told Alice Friend, the principal director for African affairs at the Defense Department. "We're going to support [Nigerian forces] as much as possible. But if we found actionable intelligence that identified where a large part or all of the girls are, and we do not believe or we don't know if they have the capacity to act on it, what good will that be?"
Although State Department and Defense officials are now on the ground in Nigeria, helping gather intelligence and train Nigerian forces in hostage negotiations, it's unclear whether the Nigerian military is capable of using any of that to act. Friend told Menendez at Thursday's Senate Foreign Relations Committee hearing on terrorist group Boko Haram that she could not speculate on the Nigerian military's readiness.
But the Democratic senator from New Jersey pressed on.
"It is impossible to fathom that we might actually have actionable intelligence and that we would not have the wherewithal either by the Nigerians themselves or by other entities helping the Nigerians to be able to conduct a rescue mission. And so all of this would be worthless," Menendez said, instructing Friend to return to the committee with that information at a future date. "We're not going to wait until we find out that we have actionable intelligence and then find out that we don't have the capacity to do this."
"I'd be happy to come back to you with that information, sir," Friend replied.
"Jesus," Menendez sighed, pulling away from the microphone.
The situation in Nigeria, Friend admitted earlier in her testimony, is a mess. The military there is poorly trained, poorly equipped, and so afraid of an increasingly brutal Boko Haram that its members are reluctant and perhaps incapable of taking on the terrorist organization. The military had been kept for decades at a low level of capability, Friend said, because of fears by the country's government about a possible military coup. Those concerns are no longer an issue in Nigeria, Friend added, but the weakness of the military there remains a dangerous reality.
Even worse, perhaps, is a growing fear within the ranks of the Nigerian military of taking on Boko Haram. "They don't have the capabilities, the training, or the [equipment] that Boko Haram does. And Boko Haram is exceptionally brutal and indiscriminate in their attacks," Friend said. "So we are now looking at a military force that's, quite frankly, becoming afraid to even engage."
The Defense Department's efforts to train Nigerian military officials have been crippled by a U.S. law passed in 1997 to combat human-rights abuses. The Nigerian military has at times responded to aggression from Boko Haram with their own human-rights violations. Because the Leahy Law, as it's known, prevents the U.S. military from assisting any foreign military that has committed human-rights abuses, the Defense Department is having difficulty find a unit that it can legally help.
"It affects [our ability to engage in Nigeria] very much," Friend told the Senate panel about the law. "We have struggled a great deal in the past to locate units that we can work with and, indeed, to convince the Nigerians to change their tactics, techniques, and procedures toward Boko Haram."
For now, the U.S. is focused on finding the kidnapped girls. Reports indicate that they may have been separated and possibly taken to neighboring Cameroon, Niger, or Chad. Friend did not confirm such a report, but said that the U.S. is coordinating with Nigeria, and its three neighbors to the north and east, as the search continues.