Equality Often Missing as Early as Preschool
Bigotry in basketball draws attention, but there's evidence discrimination also distorts young lives.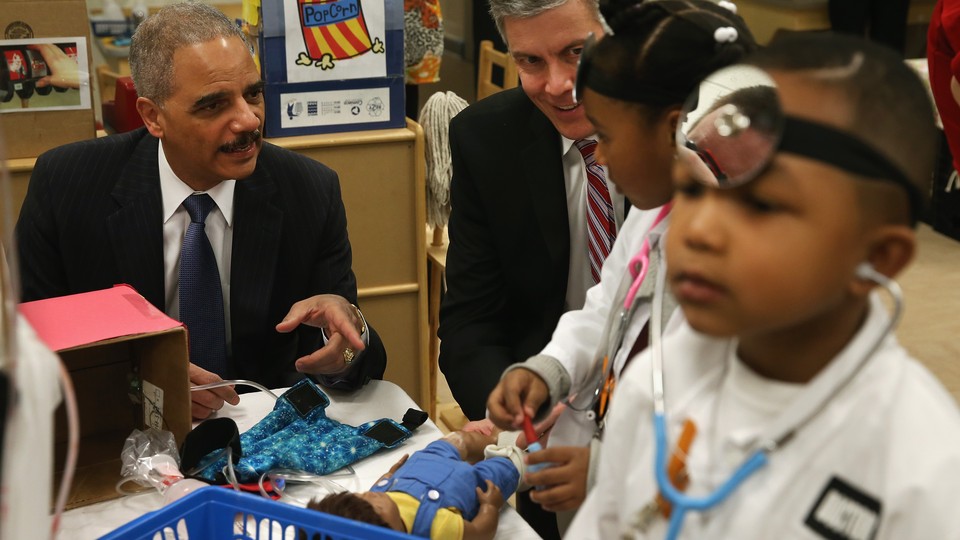 In April, the U.S. Education Department's Office for Civil Rights released data for the first time examining the number of young children suspended from preschool programs in public schools.
The data revealed a seriously troubling pattern in school discipline for young children during the 2011-12 school year.
Black children represented only 18 percent of the nation's preschool students in public schools in the 2011-12 school year but 42 percent of students suspended once — and an even more shocking 48 percent of students suspended more than once from preschool. In contrast, white children represented 43 percent of the preschool population and 26 percent of those suspended one or more times.
These facts become more disturbing when viewed alongside the research of Walter Gilliam, a Yale professor of psychology and the director of the Edward Zigler Center in Child Development and Social Policy. Gilliam's 2005 study on preschool expulsions found that young black children were far more likely to be expelled than other racial and ethnic groups.
Gilliam's study examined a diverse sample of preschool settings. He found that the public-school-based preschools and Head Start programs it examined had lower expulsion rates than those operated inside faith-affiliated centers and for-profit child-care programs, settings not included in the Education Department's Civil Rights Data Collection report.
Both the Gilliam study and the Education Department's new data point to a serious problem: Young children, especially young children of color, are being removed from preschool settings and robbed of early opportunities to learn.
Even worse, racial disparities in preschool suspensions and expulsions seem to mimic a larger trend throughout public schools. During the 2011-12 school year, black children in grades K-12 were suspended and expelled from schools around the country at a rate three times that of white children, according to federal data.
The story here is not the numbers themselves but the message they convey about our lack of commitment to ensuring a head start and a fair start for our youngest children. A small group of preschool programs — only 6 percent of the nation's school districts offering preschool — reported suspending any children. But any suspension or expulsion of our youngest and most vulnerable children is unacceptable. When we suspend or expel a child, we adults are saying to that child, "We cannot meet your needs. We give up on you."
How can we give up on a young child before he or she reaches kindergarten?
Gilliam's research shows that high teacher-child ratios and teacher stress — indicators of a low-quality preschool program — are closely associated with an elevated rate of student expulsions. Black children "experience a serious opportunity gap in the form of limited access to high-quality early care and education," and are more likely to be placed in low-quality care, according to research released in November by the National Institute for Early Education Research.
What research and data collection on preschool suspensions and expulsions really reveal is our failure as adults to provide high quality care for all of our children during their most crucial years of rapid brain development. If our society has reached the point where it is deemed acceptable to give up on 3- and 4-year-old children, we have indeed fallen far from our national creed of being the "land of opportunity."
Marian Wright Edelman, president of the Children's Defense Fund, often quotes the great German theologian Dietrich Bonhoeffer, who once said that the test of the morality of a society is what it does for its children. CDF believes that we are miserably failing Bonhoeffer's test.
We fail Bonhoeffer's test every time we decide it is easier to punish a 4-year-old rather than support her.
We fail Bonhoeffer's test when we place a lower value on the life of a black child than the life of a white child, allowing black children to disproportionately attend low-quality preschool programs and face exclusionary discipline.
We fail Bonhoeffer's test when we overburden educators with too many preschoolers in each class and when we fail to train and support those who devote their lives to the care of our youngest children.
We fail Bonhoeffer's test when we give up on a child's future before he can even tie his shoelaces.
However, it's not too late for our preschool-age children, and it is not too late for us to build a foundation for future success. We must follow the lead of the bipartisan group of governors and mayors in states and cities across the country who are working hard to make access to high quality early-childhood development and learning a reality for all of their children. All children through age 5 need a high-quality early-childhood system with comprehensive services and supports so those most in need do not slip through the cracks.
As the wealthiest nation in the world, we must embrace our moral responsibility to care for all of our children. It is the right thing to do and the smart thing to do. The future of the nation depends on it.
MaryLee Allen is acting policy director and Daniel Hains is an early-childhood policy assistant at the Children's Defense Fund. 
HAVE AN OPINION ON POLICY AND CHANGING DEMOGRAPHICS? The Next America welcomes op-ed pieces that explore the political, economic, and social effects of the profound racial and cultural changes facing our nation, particularly relevant to education, economy, the workforce, and health. Email Janell Ross at jross@nationaljournal.com. Please follow us on Twitter and Facebook.