Environmentalists Struggle to Make Climate Change Politically Relevant
Voters almost always choose the promise of keeping electric bills low and coal jobs intact over action on climate change that could threaten both.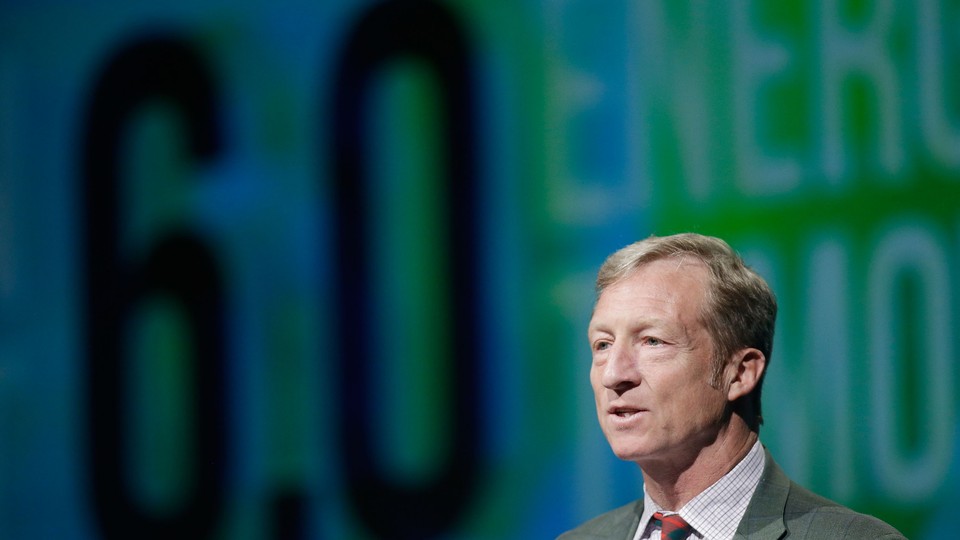 Few natural disasters epitomize the political dilemma facing climate-change activists more than the massive glacier in West Antarctica beginning an irreversible slide into the ocean. Scientists, who earlier this month described the event as a mini-apocalypse, warned its dissolution would raise sea levels to catastrophic heights for coastal cities and countries.
But back on America's campaign trail, the news didn't merit so much as a press release from most candidates. They instead kept up the steady drumbeat of talk about jobs, the debt, and the occasional social issue — the kind of issues that are more relevant to voters' everyday lives than ice melting thousands of miles away.
Even as scientists warn about the mounting dangers of climate change, the political operatives are confronting the same problem that has plagued the movement to curb carbon dioxide emissions for decades: How can they make the dangers of global warming real for voters?
It's a challenge that's taking on extra urgency this year, especially once President Obama — as expected — announces on Monday an aggressive set of new regulations to curb greenhouse-gas emissions in the nation's power plants. And it's one that a flotilla of environmental groups, spearheaded by a $100 million effort from hedge-fund billionaire Tom Steyer, are working overtime to address ahead of the midterm elections. They're convinced that in 2014, with the electorate starting to feel the effects of climate change, politics will turn in their favor in a battery of key races.
How can they make the dangers of global warming real for voters?
"We view this is as pivotal year to demonstrate exactly that question: Can climate be used as wedge issues in campaigns?" said Chris Lehane, a senior adviser to the Steyer-backed group NextGen Climate Action.
Climate change has been used as a wedge issue in past campaigns, but usually not in favor of environmentally minded candidates. Voters almost always choose the promise of keeping electric bills low and coal jobs intact over legislative action on climate change that could threaten both.
Polls reflect those priorities. An early March survey from Gallup found that only 24 percent of Americans worry about "climate change" a great deal — less than half of those who said they cared a "great deal" about the economy, the debt, or the unemployed. It also ranked lower than the "availability and affordability of energy," which 37 percent of adults said they worried about a "great deal."
It's why approval of the Keystone XL pipeline, a major battleground for environmental activists, draws 2-1 support. People favor the promise of jobs over the threat of a changing climate.
"A major challenge facing scientists and organizations that view global warming as a major threat to humanity is that average citizens express so little concern about the issue," Gallup wrote in conclusion to its March poll.
Strategists aligned with the environmental groups are aware of what the polls numbers say — they just also think that they're about to ready to change. Their confidence stems from what they describe as an unfortunate paradox: As climate change gets worse, people are more likely to feel its effects.
"I think when people are reminded of drought and superstorms, super tornadoes, rising sea levels, these kind of things, they're not as big abstractions as they were 10 years ago," said Mark Longabaugh, a Democratic strategist who has worked for years with environmental groups.
A half dozen strategists who have worked in the environmental movement all said an essential part of any effective message will show how climate change can be real in people's everyday lives. It's the only way a voter will buy into it as a genuine threat, including to a family's pocketbooks, they say. In effect, turning something abstract into something that's very real.
"You don't talk about butterflies, you don't talk about polar bears, you talk about their health and their family's economic security," said Lehane.
He added: "Mother Nature has a vote, she's exercising her vote, and she's exercising her vote in a way that directly impact family economics and family security."