Environmentalists Have Succeeded in Making Noise — Is Anybody Listening?
Efforts to make climate deniers pay a political price for their views may finally be getting somewhere.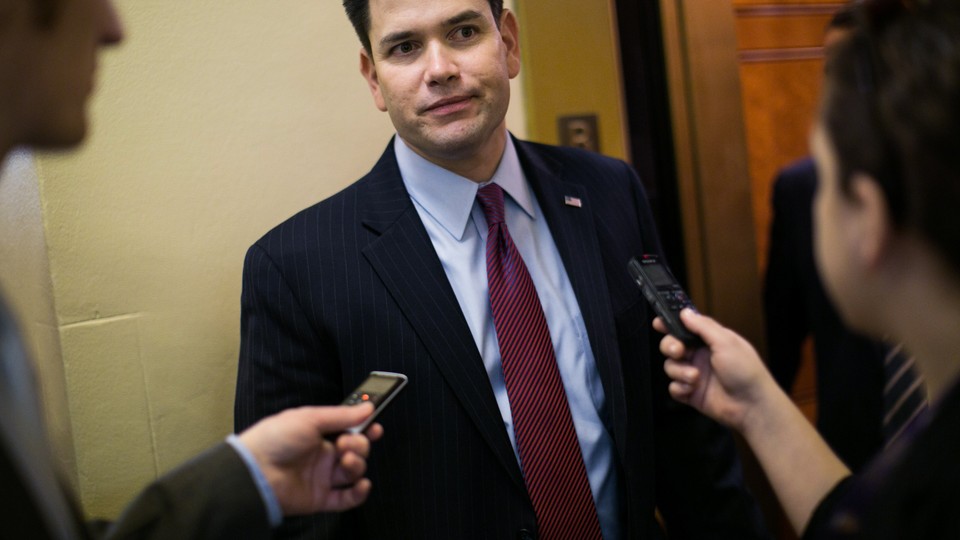 For years, environmentalists have been trying to make climate-change denial a vulnerability for Republicans.
In 2013 Organizing for Action, the advocacy arm pushing the Obama administration's agenda, targeted climate deniers in Congress. And the League of Conservation Voters spent millions of dollars on an ad campaign to "hold climate-change deniers accountable."
Now, there's some evidence it's paying off — specifically, that along with other defining issues like gun-control, gay marriage, and immigration, the media is increasingly asking GOP candidates about their views on climate change.
At a Thursday night debate in South Dakota, for instance, Republicans running for the Senate were asked to weigh in on climate change. Earlier this week, Sen. Marco Rubio of Florida caused a tremendous stir when he announced he doesn't believe human activity makes a major contribution to the earth's warming climate. (Rubio later told The Miami Herald's Marc Caputo, "I think all science deserves skepticism.")
Before that, Democratic Rep. Gary Peters, who is running for the Senate in Michigan, called on his Republican rival Terri Lynn Land to state for the record whether she believes the science behind man-made climate change. He even announced to The Washington Post's Greg Sargent that he intends to make climate change a key issue in the race.
Other GOP candidates who have been questioned lately on climate include Republican Rep. Cory Gardner, who's running for a Colorado Senate seat, rising Iowa Senate candidate Joni Ernst, and all four Republican candidates in the North Carolina Senate race. An editorial published Tuesday in the Concord Monitor called on Republican Sen. Kelly Ayotte of New Hampshire to keep pushing the GOP on climate. And a Thursday editorial in Kentucky's The Courier-Journal criticized Mitch McConnell and Rand Paul's climate-change denial.
The rise in climate-denial mentions in the media is observable in the past few months:
And in the past few years:
Climate change, as National Journal's Ronald Brownstein has observed, is one of several issues that matter to core Democratic constituencies, including and maybe even especially young voters. By embracing priorities that matter to these groups, like climate change, gun control, and gay marriage, Democrats are hoping to appeal to what Brownstein describes as a "coalition of the ascendant."
Republicans are fighting for that constituency too, as evidenced by a recent ad buy in which a mustachioed twentysomething or thirtysomething in tortoise-shell glasses proclaims he's for an "all of the above" energy strategy.
But whether environmental groups can make Republicans pay a political price for climate denial remains to be seen. For instance, while North Carolina state House Speaker Thom Tillis and every other Republican running for Senate in North Carolina was asked if they believe climate change is a proven fact, every single one of them answered no.