Donald Sterling and Other Landlords Openly Discriminate Against Low-Income Renters
Gaping holes in the nation's fair housing law and enforcement practices allow property owners to discriminate frequently and face no consequences.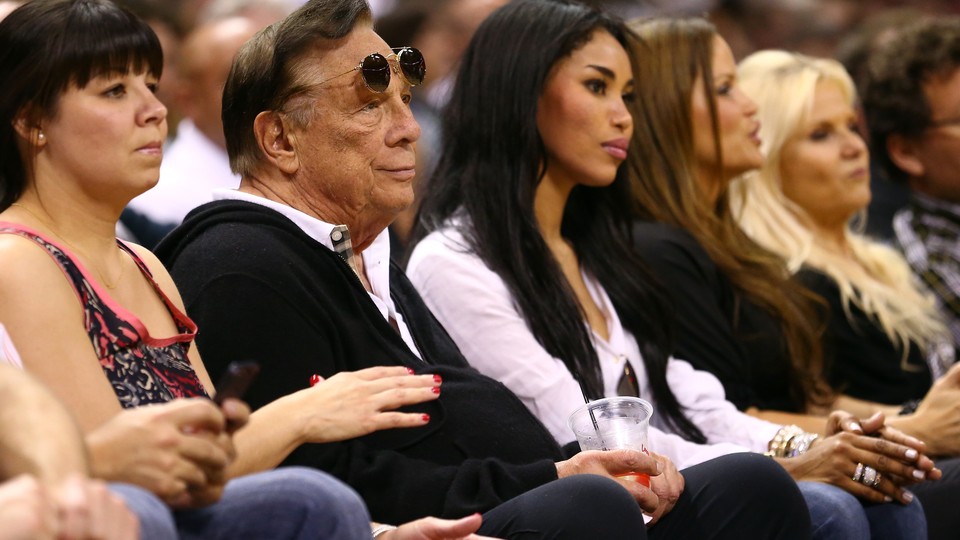 Donald Sterling, owner of the Los Angeles Clippers, has been all over the news lately. Maybe you're sick of hearing about him, and you've wondered, "Why are we giving him more airtime? And why is this all coming to a head now?"
As Kareem Abdul-Jabbar and others have noted, despite ample evidence of racist ideas and business practices, only recently has Sterling been called out publicly. Sterling "was discriminating against black and Hispanic families for years, preventing them from getting housing. It was public record. We did nothing," Jabar wrote on Time.com. Indeed, Sterling's behavior as a landlord and property owner has been consistently deplorable. But some of it has actually been legal.
Back in 2004, Sterling refused to accept a tenant's Section 8 voucher--a federal rent subsidy--as payment and the court took his side. After waiting five years on a long waiting list of low-income families to receive a Section 8 voucher, Sterling's tenant, an elderly widow named Elisheba Sabi, finally got a voucher but wasn't able to use it to manage her rent.
How could this happen?
Let's start with the program in question: the Section 8 Housing Choice Voucher Program (or "vouchers" for short) is designed to give eligible low-income households that want to rent an opportunity to find their own housing in the private rental market and, theoretically, a chance to escape neighborhoods often hobbled by concentrated poverty, high crime, and low-quality schools. The household is responsible for paying rent (30 percent of their adjusted income) while the region's federal housing authority makes up the difference to the landlord.
But the program requires landlord cooperation, and it can be complex for tenants and landlords alike. Too often voucher holders run into problems finding a landlord who will accept a voucher as payment. If the search process drags on too long, the prospective low-income renters can lose the voucher entirely. In most states, there's no law against the discrimination that voucher holders may face when trying to find suitable housing.
Blame a gaping hole in federal fair housing law for the outcome of Sabi and Sterling's case. Section 8 voucher holders are not a protected group under the Fair Housing Act. As a result, landlords in most states are free to turn down otherwise qualified tenants simply because they don't want to rent to people with vouchers. The reasons why landlords wouldn't want to rent to voucher holders are admittedly complex, but the National Fair Housing Alliance and other groups have identified discrimination as a major factor.
In fact, a Chicago Area Fair Housing Alliance study released this year used pair testing to find that landlords who were already renting to other voucher holders discriminated against prospective tenants with vouchers in 59 percent of tests conducted. Pair tests are an effective way to assess discrimination because they involve real-life interactions with a landlord: first, someone from a "neutral" group makes contact with a housing provider to document baseline treatment and the availability of a unit. Then, a member of a group facing potential discrimination follows up in the same way to identify any discrepancies. In the Chicago study, examples of discrimination included property managers not returning voucher holders' phone calls (but returning calls from testers who did not have a voucher), presenting different or more limited options, and outright refusing to rent to the voucher holders.
The Section 8 legal loophole leaves low-income people in the program vulnerable to being unable to rent desirable properties in safe neighborhoods of their choosing with quality schools. Nearly one-third of households with a voucher include a member with a disability, 19 percent are elderly, and half have children, according to the Center on Budget and Policy Priorities.
It's clear--Section 8 voucher holders need protection from fair housing violations. Congress should move to extend such protection. Otherwise, Section 8 can not meet its purported goals: to assist "very low-income families, the elderly, and the disabled to afford decent, safe, and sanitary housing in the private market."
However, prohibiting discrimination against voucher holders isn't a cure-all. Why not? All we have to do is look to another type of discrimination for evidence of how it continues, despite clear laws forbidding it.
Last year, the Urban Institute teamed up with the U.S. Department of Housing and Urban Development (HUD) to conduct 8,000 pair tests across the U.S. to evaluate discrimination against black, Asian, and Latino renters and aspiring homebuyers.
Researchers found that while testers of color and white testers were equally likely to receive an appointment to meet with a rental housing provider, the testers of color were told about fewer available units and shown fewer units than their white counterparts with similar incomes, savings, and credit scores.
Evidence from Chicago also suggests that discrimination against voucher holders often happens in conjunction with other forms of discrimination, exacerbating the problem. Landlords who already had tenants using vouchers showed a bias against voucher holders across the board — but it was even worse for black voucher holders: "More than half (53 percent) of landlords who told white testers that they accepted vouchers discriminated against African American testers who said they had vouchers."
Amazingly, Chicago actually bans discrimination based on a renter's source of income — including vouchers. Yet despite a local law prohibiting it, landlords are getting away with widespread mistreatment. These acts of discrimination — often behind closed doors — are hard for the victim to detect, even as they stifle opportunity. People experiencing a violation of fair housing law in real life don't have a point of reference to which they may compare their experience. Is bad treatment also unequal treatment? It's often hard to say. A member of multiple protected categories (say, a black family with a voucher) won't know what prompted the discrimination. And just how would such a family know if a landlord were being dishonest and discriminatory if they claim that a previously available unit has been rented?
Even with a place to call home, renters with vouchers can still face discrimination. Elise Goldin, a tenant organizer with the Urban Homesteading Assistance Board in New York City, has come across "sneaky ways" that landlords skirt the local law banning outright discrimination against tenants with vouchers. (Full disclosure: Elise Goldin and I are friends from college.)
"When a new landlord comes in after buying a property and existing tenants don't have updated leases, the landlord is slow or reluctant to give them a current lease, which messes people up on the program side," Goldin told me. "They can get kicked off Section 8, which means they won't be able to afford the rent and may get evicted."
Other New York landlords are selectively uncooperative. "They're being super attentive on the one side (such as taking tenants to court) but not on the other side with filing the appropriate Section 8 paperwork," says Goldin. In another case, Goldin reports that an elderly long-time resident in one building continues to pay her portion of the rent, "but the landlord is just refusing to file the paperwork to accept the Section 8 payments." That sounds a lot like what Sterling did to his tenant, Sabi — and he got away with it.
How can we stop this? Including voucher holders in fair housing law is an overdue first step — but insufficient on its own. We also have to strengthen the repercussions for landlords, property management companies, and other perpetrators of housing discrimination. While there are financial penalties in place, regulatory bodies responsible for monitoring compliance with the law are so weak that enforcement is not enough of a threat. Spending on fair housing represents just 5 percent of HUD's budget — and staff dedicated to fair housing-related activities make up less than 7 percent of all HUD staff. In a ProPublica piece documenting HUD's piecemeal efforts and scant attention to addressing fair housing discrimination, reporter Nikole Hannah-Jones concludes that "prospects for substantial change appear dim."
Despite growing evidence of widespread housing discrimination, it remains far too easy for landlords to operate in a discriminatory fashion. It's even easier for people who aren't personally affected to dismiss the issue as a one-time encounter with a bigoted, ill-intentioned person. But the reality is that it persists, with devastating effects in communities across the U.S. in the form of diminished opportunity and affronts to individuals' dignity.
Hannah Emple is a policy analyst with the Asset Building Program at the New America Foundation. Her research focuses on U.S. housing policy, racial wealth disparities, and strategies to improve public benefits programs to promote the financial stability of low- and middle-income families.
HAVE AN OPINION ON POLICY AND CHANGING DEMOGRAPHICS? The Next America welcomes op-ed pieces that explore the political, economic and social impacts of the profound racial and cultural changes facing our nation, particularly relevant to education, economy, the workforce and health. Email Janell Ross at jross@nationaljournal.com. Please follow us on Twitter and Facebook.