Conservatives Want a Bigger Obamacare Fight Around HHS Nominee
The senators behind the government shutdown say Sylvia Mathews Burwell shouldn't get confirmed until she answers more questions about Obamacare.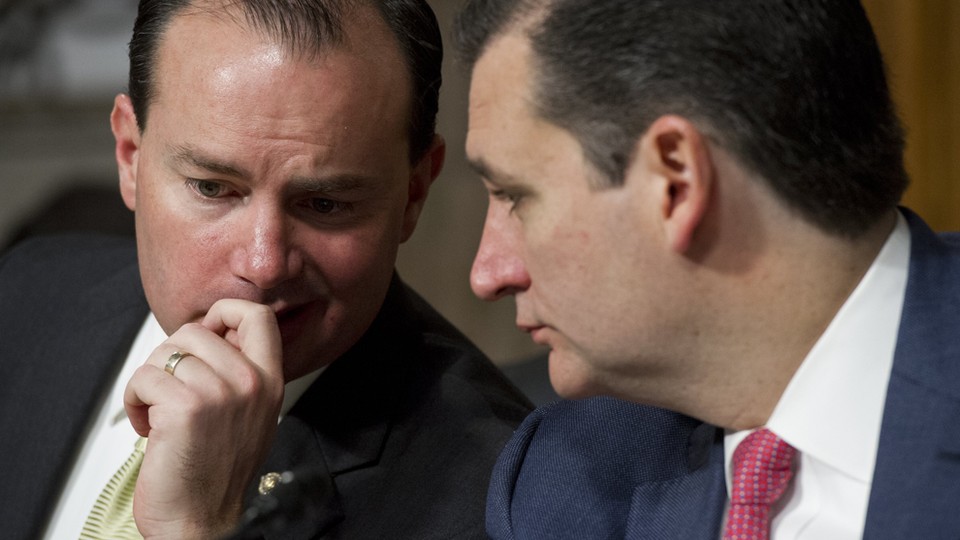 Conservatives are angling for a bigger fight over Sylvia Mathews Burwell's nomination for Health and Human Services secretary.
Burwell has attracted some bipartisan support already and has breezed through two confirmation hearings. But Sens. Mike Lee and Ted Cruz — who spearheaded the anti-Obamacare campaign that led to a government shutdown last year — said Friday that the Senate should delay a confirmation vote until Burwell answers more questions about the Affordable Care Act.
In a letter to Burwell, Lee and Cruz sought more information about Obamacare enrollment figures and the administration's approach to implementing the law. They said Burwell has been "less than forthcoming" in her confirmation hearings and questioned whether she would cooperate with congressional oversight if confirmed.
"The questions we propose in the letter have not only been asked repeatedly, but deal with issues she should have been prepared to answer at her hearings but did not," Lee said in a statement. "We are therefore going to attempt one more time to get answers to these simple questions and the Senate should not move forward on her nomination until we get them."
Some conservatives have grown frustrated with Burwell's confirmation process. At least three Republican senators have endorsed Burwell, and her nomination has not become a broader referendum on Obamacare.
But conservative activists want to force the issue.
"I certainly think you will hear more about what her role will be once she gets to the floor," said Dan Holler, communications director for Heritage Action, the advocacy arm of the Heritage Foundation.
Still, there are limits to what conservatives can truly accomplish. Thanks to a recent change in the Senate's rules, Burwell's nomination needs only 50 votes to advance — meaning Republicans have little leverage to extract concessions. Democrats could advance to the nomination even without any Republican support.
Lee's and Cruz's letter to Burwell reflects conservatives' skepticism about Obamacare enrollment. They asked her how many of the law's 8 million sign-ups have paid their first month's premium, how many were previously uninsured, and whether that total includes duplicate applications.
Insurers have said 80 percent to 90 percent of their new customers are making their first premium payment — the final step to actually getting covered. An official breakdown of newly insured consumers is not available. Some outside estimates suggest the number is as low as one-third, although surveys also show the share of uninsured Americans falling.
Lee and Cruz also asked for more information about implementation decisions, including delays in the law's employer mandate and the administration's approach to safety-net programs that compensate insurance companies whose enrollment experience is worse than expected.
And they pressed Burwell to explain how she would implement the Independent Payment Advisory Board, an expert panel tasked with cutting Medicare payments to doctors if the program's spending grows too quickly. President Obama hasn't nominated anyone to the board yet, and if he never does, the HHS secretary can step in as an "IPAB of one."
When asked about that possibility in her confirmation hearings, Burwell has punted, noting that Medicare spending is not currently growing quickly enough to trigger the IPAB.