Congress Is Quietly Functioning
Two appropriations bills down, 10 to go — in the House, anyway.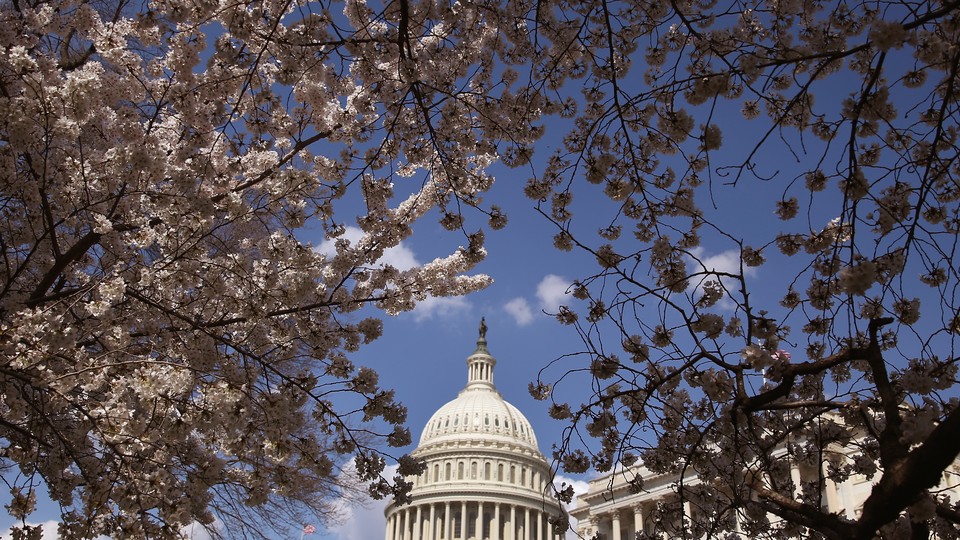 What's that? Could it be the pitter-patter of fresh appropriations bills making their way out of the House?
Congress is tasked with writing and approving 12 appropriations bills by Oct. 1 in order to keep the government funded for another year, and this week the House passed two of them with overwhelming majorities. That could be a positive sign for the rest of the year. "This is the earliest our appropriations Committee has started this process and produced bills since 1974," House Majority Leader Eric Cantor said proudly this week.
Each year, Congress is expected to pass 12 separate bills funding the government down to the department and program level — allocating funds for food-assistance programs, overseas operations by the Defense Department, agriculture subsidies, and myriad other aspects of the federal government.
Or at least that's how it's supposed to work. Over the last several years, Congress has had to pass a continuing resolution to buy more time for appropriations bills. But if they're able to do it this year, it will be the first time since 1996 that Congress has wrapped up its appropriations process on time.
Members in both chambers say they're well on their way to doing so. The House this week passed the Military Construction/Veterans Affairs and the Legislative Branch funding bills. House Appropriations Committee Chairman Harold Rogers, R-Ky., has said that the two measures are just the beginning for his committee and expressed optimism that they will get their work done on time this year. "We are well underway with the fiscal '15 process," he said in a hearing this week.
The Senate is moving a little more slowly, though still roughly on par with its typical appropriations schedule, and Senate Appropriations Committee Chairwoman Barbara Mikulski is no less optimistic. Her committee has been meeting regularly and will begin marking up its own bills at the end of the month, likely beginning with the Military Construction/Veterans Affairs bill and the Agriculture bill.
Senate Majority Leader Harry Reid has said he will grant Mikulski room on the floor during the last two weeks of June and the first two weeks of July to pass her committee's bills. If both chambers pass all 12 bills before the August recess, they'll have the entire month of September to go to conference and work out their differences.
That's not much time, but the Appropriations committees have been here before. After the Ryan-Murray deal gave them their top-line funding number in mid-December, staffers from both committees spent their Christmas recess in Washington crafting a 12-part omnibus ahead of a potential Jan. 15 shutdown — and that was without a full set of 24 House and Senate bills to build off of. Given enough of a head start over the next few months, September's work looks to be much more of a breeze.