'Conga Line of Problems' Awaits Burwell at HHS
A former department secretary says Obama's nominee would have to put out fires she can't anticipate — on top of handling Obamacare.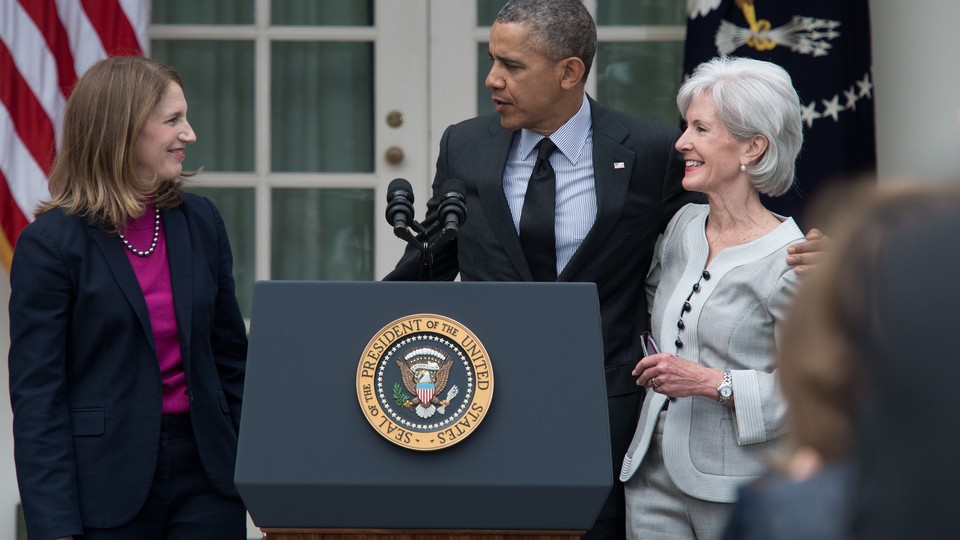 There's already a mountain of problems waiting for Sylvia Mathews Burwell at HHS. And that mountain will probably grow even bigger by the time she's confirmed.
Burwell's confirmation process begins Thursday with a hearing in the Senate Health Committee, followed sometime soon by a Finance Committee hearing. She'll likely be confirmed. Democrats have enough votes on their own, and she's already drawing some bipartisan support.
And if she is confirmed, she'll then have to actually take over a sprawling, poorly managed department responsible for the president's top domestic priority — not to mention the country's most expensive entitlement programs, its food and drug regulations, and its most important medical research.
Obamacare implementation would certainly be Burwell's biggest responsibility, and there's still a lot that needs to be done. The new secretary would face an immediate political challenge as insurers begin to file their premiums for plans sold through the health care law's exchanges, and she also would have to navigate unfinished policy and technological work.
HHS is already looking for new contractors to overhaul HealthCare.gov, the primary Obamacare enrollment site, in time for the next sign-up period. Those contractors will have to build new systems, repair or replace old ones, and have the whole thing tested and ready to open for business on Nov. 15, while also integrating the systems of states that are giving up on their own exchanges and turning to the federal government instead.
Burwell has a strong reputation as a manager, and people who have worked in or with HHS under outgoing Secretary Kathleen Sebelius say that's what the department needs most. The beginning of the next open-enrollment period will be a clear test of how much the department has improved.
Michael Leavitt, a former HHS secretary under President George W. Bush, said the department is inordinately hard to manage, even without something as huge as Obamacare implementation on the table.
"My advice would be to remember it's not the only thing that happens in that department," Leavitt said. "Make sure you begin to understand the other parts of the department that are going to require attention."
Which parts those will be is hard to predict.
HHS's umbrella includes Medicare, Medicaid, the National Institutes of Health, the Centers for Disease Control and Prevention, and the Food and Drug Administration, which itself regulates roughly 25 cents of every dollar Americans spend. Leavitt came into the job expecting to focus mainly on implementing Medicare's drug benefit but ultimately found himself putting out fires he never anticipated.
"We had food safety for a time, we had pandemic influenza, we had the rollout of Part D. We had a conga line of problems that are coming at HHS all the time," he said.
A pandemic flu — H1N1 — also dominated Sebelius's first days on the job, and Leavitt said a bad strain showing up now in the Middle East could do the same thing to Burwell.
The biggest surprise about being HHS secretary, Leavitt said, is just how many surprises kept happening while he was there.
"It was the breadth of responsibility."¦ The challenge was in being able to manage across that many platforms," he said.
Leavitt's political experiences at HHS also might be instructive for Burwell: In the last two years of his term, control of both the House and Senate flipped to Democrats.
House Republicans have already hounded HHS over its Obamacare implementation, but if Republicans win the Senate this year, responding to congressional inquiries will take up even more of Burwell's bandwidth.
"Life changed substantially."¦ It would amaze you how much resources in the department that activity takes up," Leavitt said.
He had a team of people whose sole job was to gather information Congress had requested and manage relationships as the department found itself caught between the White House and Capitol Hill.
Elsewhere, though, delegating responsibility is another hard part of leading such a large department, Leavitt said. He noted that, unlike other departments, HHS doesn't have any undersecretaries. He said he had 27 people reporting directly to him, compared with fewer than 10 for other Cabinet officials. And they all represent different parts of the health care system.
"That is the nature of leading a department like that — you have the potential of priorities shifting," Leavitt said.